'Maybe Mercedes didn't think Norris could do it'
Lando Norris put in the fastest lap of the Austrian GP on lap 71 to sneak into third place ahead of Lewis Hamilton by 0.198s.
Qualifying third for the Austrian Grand Prix, Norris had hoped for a good showing in Sunday's 71-lap grand prix.
The Brit was involved in several tussles, barging his way past Sergio Perez to run fourth after the third and final Safety Car restart.
That looked to be as good as it would get only for the stewards to announce that second placed Lewis Hamilton had a five-second penalty for causing a collision with Alexander Albon.
McLaren informed Norris of the penalty with the Brit needing to get within five seconds of Hamilton to make it onto the podium.
Norris responded with the fastest lap of the grand prix.
He took third place, and his maiden Formula 1 podium, by a mere 0.198s.
His team boss Andrea Seidl says he honestly didn't think the McLaren driver could pull it off.
"We kept him [Norris] up to date all the time about the penalties and the gaps," Seidl said after the race, as quoted by FormulaSpy.
"To be honest I didn't expect that he could pull off that lap at the very end.
"But obviously he had a strategy in mind and that such a young guy can pull off such a lap [on] the very last lap and end up on the podium, it's just great!"
LANDO! HAHAHAHAHA pic.twitter.com/zcxDZtKJmY

— Ky (@FiftyBucksss) July 5, 2020
Asked if he felt that Mercedes had been caught napping, thinking only Charles Leclerc in third at the time of Hamilton's penalty could be a problem, Seidl said he really doesn't care why it happened, he's just happy that it did.
He replied: "Obviously it's difficult for me to say at the moment, we need to analyse what happened in detail.
"Maybe they didn't think that we had the potential to do that lap at the end.
"To be honest, I don't care I'm happy with how it ended."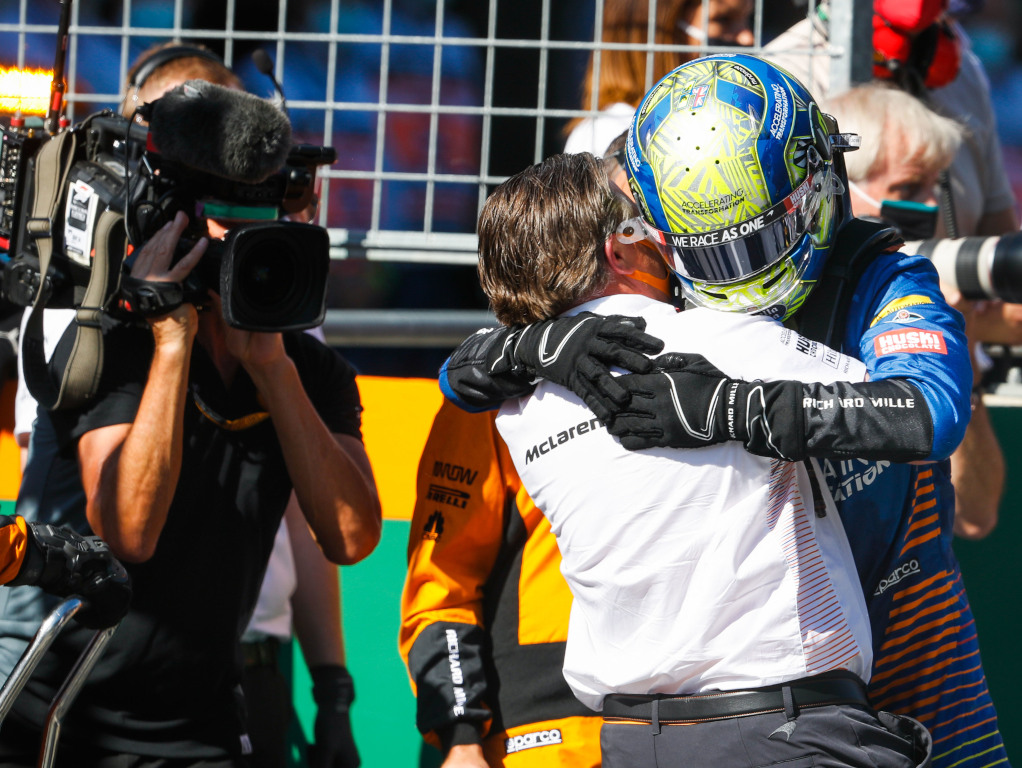 Opening the 2020 season with a podium was an incredible result for McLaren as weeks earlier the team was facing the prospect of insolvency.
The company, which had to make staff redundant, was saved by a last-minute loan.
"I'm just proud to be part of the team today," Seidl said.
"There could be nothing better for the entire team, especially, after this difficult period also than such a result, especially with P3 and P5 I think.
"It's simply unbelievable."
Carlos Sainz finished the grand prix in fifth place to cap off a great weekend for McLaren.
The team sits second in the standings after Austria with 26 points, 11 shy of Mercedes.
Follow us on Twitter @Planet_F1 and like our Facebook page.