'Maybe McLaren think Lando Norris isn't quick enough and Oscar Piastri's the future'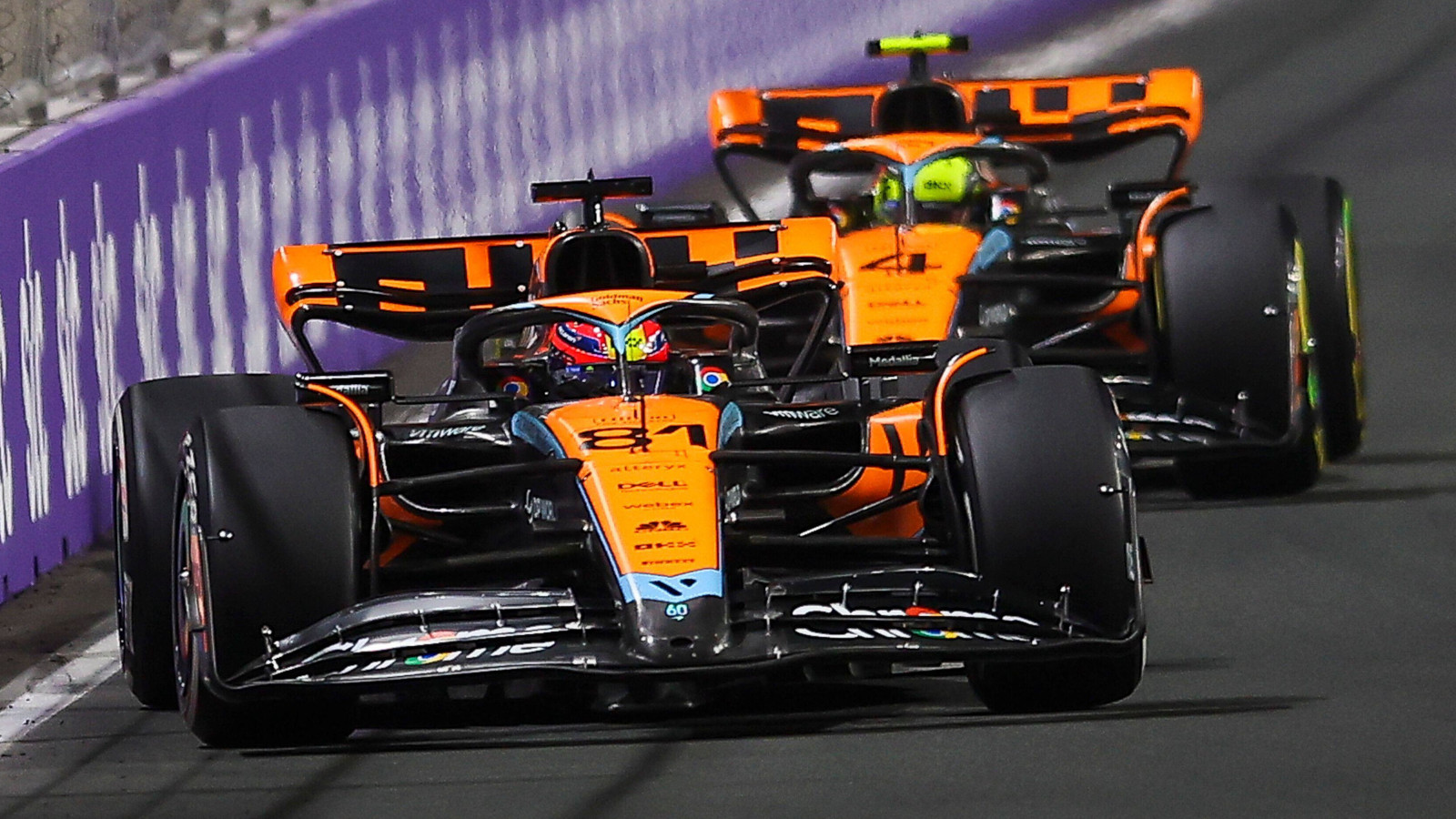 Formula 1 journalist Peter Windsor fears that Oscar Piastri's arrival at McLaren for the 2023 season will have a detrimental effect on Lando Norris's development.
After making his F1 debut in 2019, Norris has emerged as McLaren's lead driver in recent seasons with eight-time grand prix winner Daniel Ricciardo dropped by the team at the end of last year having failed to match the British driver.
Ricciardo has been replaced by fellow Australian Oscar Piastri, who has made an assured start to life in F1 in the first two races of his career in Bahrain and Saudi Arabia.
As Piastri reached Q3 for the first time in Jeddah, Norris was out in Q1 after damaging his car when striking the inside barrier at the final corner.
Likening the incident to Ayrton Senna's costly mistake while leading the Monaco Grand Prix of 1988, former Williams and Ferrari team manager Windsor feels Norris's mistake was a worrying sign.
Appearing via his YouTube channel, he said: "I speculated over the winter that I didn't think that Piastri's arrival at McLaren was going to be necessarily the best thing for Lando Norris, only because Lando now is going to have to be looking alongside him rather than in his mirrors – which is what he was doing with Daniel Ricciardo.
"And that gave him the presence to be Lando Norris and develop as the driver he wanted to be with the team moulding around him.
"But the minute you put in somebody like Piastri who's really quick – short corners, very nice touch – you can almost see the effect now in the car, there's a slight change in the urgency in Lando Norris's driving.
"And he made a mistake that comes under the heading of, in my view, a lack of concentration in Q1.
"He was on a reasonable lap but he knew by the time that he got to the last sector that he was going to be no better than this incredibly quick new team-mate that he's got and, I don't know whether he was thinking about that or thinking about what he was going to do about getting another lap in or coming in and changing the car.
"But he did what Ayrton did at Monaco all those years ago when he hit the apex of the last corner and effectively broke the steering, and that was it for qualifying.
"Not the sort of thing you'd expect of Lando Norris, not the sort of thing we've ever seen from Lando Norris.
PlanetF1.com recommends
'Daniel Ricciardo spent a bit too much time on activities out of cockpit rather than in it'
Daniel Ricciardo 'living best life' as he parties hard in Vegas ahead of Aus GP
McLaren's aggressive recruitment drive continues with Aston Martin signing
"I put that down to the effect of Oscar Piastri alongside a driver like Lando.
"I think Lando's concentration now needs to be focused in a different way and that's not necessarily a good thing.
"I still question why McLaren, having got that Lando Norris/Daniel Ricciardo [partnership] – very smooth, very well operating team – have put this young guy who's super quick alongside Lando.
"Maybe they think Lando's not quick enough and the future's Oscar Piastri?
"That's hard to believe because Zak [Brown, McLaren chief executive] is such a Lando Norris guy – but he's obviously an Oscar Piastri guy as well."
Expanding on his view on his Twitch stream, Windsor admitted he is still bemused by McLaren's decision to drop Ricciardo for 2023, claiming his partnership with Norris made for one of the best driver lineups of the modern era.
That is despite Ricciardo's lack of contribution alongside Norris costing McLaren a position in the Constructors' Championship in consecutive seasons, first to Ferrari in 2021 before the team were pipped to P4 by Alpine in 2022.
Windsor explained: "I still don't understand why [Zak] got rid of Daniel Ricciardo and replaced him with Oscar Piastri, because he had a really well-balanced team around Lando Norris who was maturing and is maturing really well.
"The one thing you don't want to do around a Lando or a Lewis [Hamilton], or anybody of quality, is distract them and start putting somebody super quick and young alongside him when you've got a Daniel Ricciardo, who was developing into being one of these vary rare commodities: a great wingman in Formula 1.
"[There are] not many of the them around. I would say Perez is obviously one; Daniel for sure; maybe Carlos Sainz is kind of falling into that category. Not many others.
"It's a difficult role to play. You've got to be quick enough to win grands prix when the other guy has a problem, you've got to be a team player and you've got to be good enough to be able to take over if there's any issue with the number one driver.
"Daniel, I think, was the perfect driver for McLaren.
"I still think Norris/Ricciardo is one of the best driver pairings – I wouldn't have said strongest, but best – we've had in Formula 1 for a long time – and they just blew that apart, sacked him and got Oscar Piastri.
"I don't see the logic of that at a time when they didn't have a problem with drivers. Their problem was the car."