Following on from Daniel Ricciardo's belief that his partnership with Lando Norris won't become a "comedy show", Zak Brown says he expects "seriousness" from his new line-up.
Ricciardo has signed as Norris' 2021 team-mate with fans around the world eager to see one what the two practical jokers get up to.
The Aussie, though, has already made it clear that he has joined McLaren to win, not to create laughs.
"It's not going to be a comedy show," he recently told Sky Sports. "I'm going there for business, I'm going there to improve the car.
"My personality won't change so I think I do enjoy doing what I do… but I'm certainly not going there to be this meme power couple or whatever it's described as these days!"
2021. The year Ricciardo and Lando become teammates. Can't wait 😂 pic.twitter.com/AmG67INuBT

— ESPN F1 (@ESPNF1) January 3, 2021
And business is what Brown expects.
"Everyone is expecting them to be a goofy odd couple but I am expecting more seriousness. They are both out to prove something," he said in an interview with The Sun.
"Daniel is at the stage of his career where he wants to fight for a World Championship. I don't think we will be able to do that this year, but hopefully we will in the future.
"And Lando is no longer the 'younger brother' of his team-mate and so I think we are going to see two extremely fast racing drivers with personalities, but once they are in the garage it will all be business.
"Lando is going to be coming into his third year and has matured as a driver and Daniel is a seven-time race winner and those results speak for themselves."
But while it is clear from what we have seen so far of the two that there is a relaxed friendship in place, Brown admits things could be more tense out on track.
The McLaren chief says he will need to stay on top of things as doubts his drivers will be giving one another any leeway.
"They are both extremely fast and Daniel is very aggressive and I think they will be tough to each other on track," he said.
"I think we are going to have to manage them on track. Carlos and Lando gave each other a lot of room when they raced, but I think Daniel and Lando will be closer wheel-to-wheel.
"So we might need to make sure that everyone races hard but also races clean.
"I do think we have the most exciting driver pairing both on the track and off it.
"They both have an energy and ambition that has made McLaren a youthful and energetic racing team."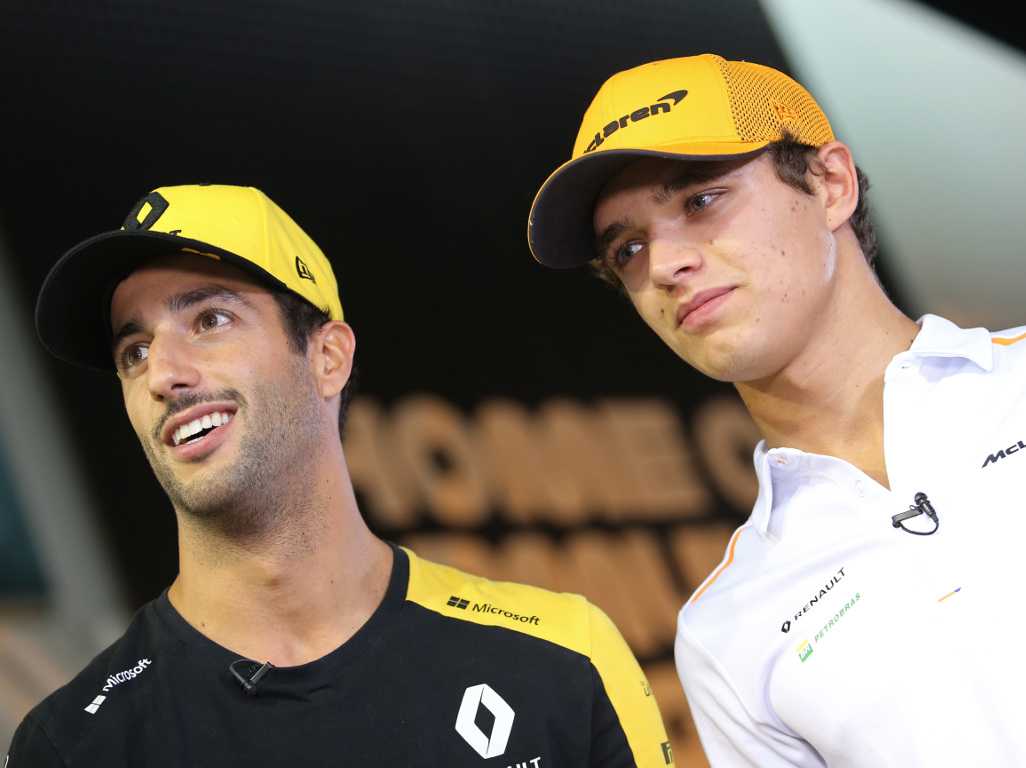 Driver and team face coverings are available now on the official Formula 1 store!
Last year McLaren finished third in the Constructors' Championship with Norris and Carlos Sainz flying the flag.
A run of five double points-hauls to finish the season saw the Woking team edge Racing Point, now Aston Martin, by seven points.
Brown expects a tough battle this year to hold onto P3.
"The reality is, we went into the last race of the year and we could have finished, third, fourth or fifth," he said.
"AlphaTauri came on strong. If it had been a 22-race calendar with five more races, they were catching the midfield.
"And Ferrari you can never count them out with the resources they had. And if you had two Charles Leclercs, I don't think they would have finished the season in sixth.
"Sebastian Vettel had a poor season for whatever reason and now they have Carlos.
"So I think three to seven is going to be the same group but you could throw balls in the air and the third placed team could be seventh!
"There was nothing in it. At one point last year, all those teams were the quickest and when it is that close, it is exciting for the fans of the sport, but also nerve-racking."
Follow us on Twitter @Planet_F1 and like our Facebook page.