McLaren tormented by wind at Portuguese GP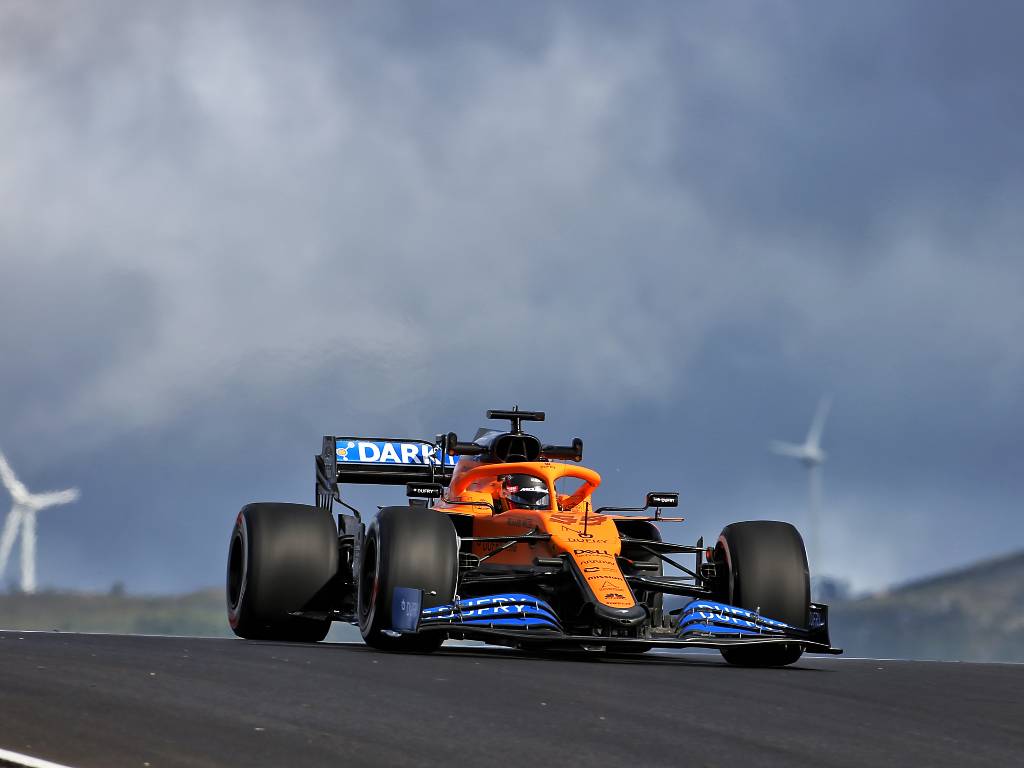 Carlos Sainz and Lando Norris spoke of how sensitive their McLarens were to the wind during qualifying for the Portuguese GP.
Sainz will start Formula 1's first Portuguese Grand Prix since 1996 from P7, while team-mate Norris lines up P8, which on the face of it looked a strong session for McLaren.
But Sainz was frustrated with how sensitive the MCL35 continues to be to the wind, evidenced by how his times declined as qualifying went on.
Asked by reporters at the Algarve International Circuit if there was more to come from the car, Sainz said: "Definitely, we've been quick all weekend, but as soon as we left the pits in quali, both I and Lando were complaining about the same things.
"It wasn't the same as FP3, so we knew we were going to struggle and then unfortunately the wind picked up throughout qualifying and we just got slower and slower.
"I did a [1]:17, could have done a [1]:16.9 in Q1, [1]:17.1 in Q2, [1]:17.5 in Q3, so half a second slower through a session.
"We know why, we know our sensitivities to the wind and track conditions, so we know at least why, but there was definitely potential for more if we'd have been a bit luckier."
The wind is expected to pick up for Sunday's race, while there is also the potential for rain, so does that mean McLaren are on the back foot already?
"Potentially, the wind yes, the rain and all the other things, maybe not," Sainz explained.
"Maybe it gives us more, so on the longer runs regarding tyre strategy, normally we are pretty good reacting to that.
"The only negative is that the wind is going to pick up but if it rains and it's windy then I don't mind."
Carlos qualifies for the #PortugueseGP in P7 with Lando finishing P8. 🏁

We'll give it our all tomorrow. 🤝🧡 pic.twitter.com/AizDFITZ8c

— McLaren (@McLarenF1) October 24, 2020
Get your hands on the official McLaren 2020 collection via the Formula 1 store
Norris shared Sainz's frustrations, saying the McLaren had felt "terrible all weekend".
"The car has felt terrible all weekend, but I'm sure every person is saying that," he explained.
"The wind and the track surface, it's making our lives very tricky and one lap to another things change.
"And you feel confident on one lap, and you think you're getting into a little bit of a rhythm, and then you go to push on the next lap and you just have to abort.
"So it's a weird one, it's very tricky, sometimes it's just a bit of luck, if the wind just changes into a little bit of a headwind all of a sudden for whatever reason, you can gain one or two tenths instantly.
"It's luck of the draw with the wind on some of the laps, but P7 and P8 for us is reasonably good."
Follow us on Twitter @Planet_F1, like our Facebook page and join us on Instagram!