Mercedes 'idled' in 2014 to avoid engine backlash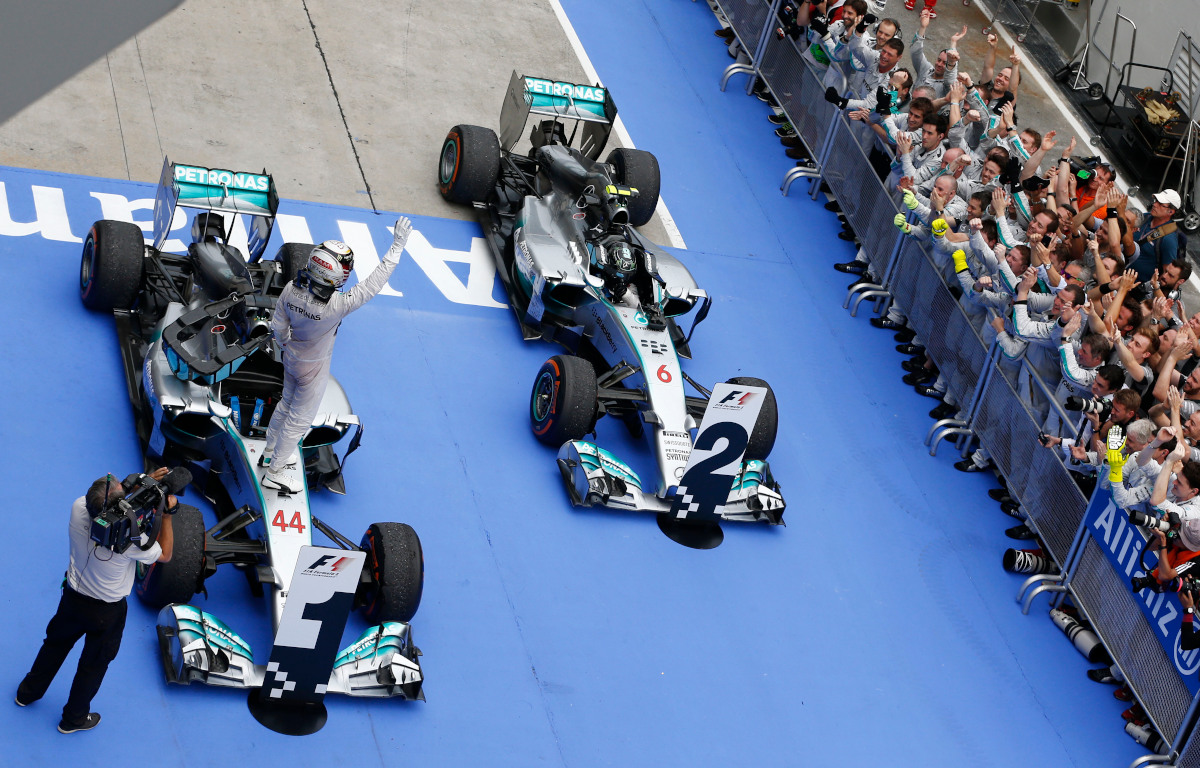 Mercedes ran its engine in "idle mode" for most of the 2014 season to avoid a backlash and Formula 1 doing something to curb their advantage.
Formula 1 said goodbye to the 2.4-litre V8 engines at the end of the 2013 season, replacing them with 1.6-litreturbocharged V6 power units.
And so began Mercedes' reign.
Stringing together a run of six consecutive race wins to start the 2014 season, five of which were 1-2 finishes, Mercedes have never looked back.
The Brackley squad has claimed seven successive championship doubles since 2014, an unprecedented run.
But it was one that Mercedes feared would never get off the ground if Formula 1 realised back in early 2014 how big of an advantage they had.
With then F1 supremo Bernie Ecclestone harping on about his dislike for the new engine regulations, Mercedes feared he could step in and do something to curtail it.
As such Paddy Lowe, the team's former technical executive director says Mercedes sandbagged for "most" of that season.
Lewis Hamilton and Nico Rosberg still claimed 18 of 19 pole positions and 16 race wins.
Check out all the latest Mercedes merchandise via the official Formula 1 store
"You've got Bernie running around 'saying this is all a nightmare, these engines are terrible'," Lowe recalled on the 'Beyond the Grid' podcast.
"Well, the thinking was if Mercedes had looked ridiculously good, then something would be done about it.
"There was a lot of tension about how good to look."
"By the way was a good car as well," Lowe added. "It wasn't just the engine, we had terrific aerodynamics as well, better than anyone actually, which we used to track because we would engine-correct all of our data.
"And that car was better than any car, quite apart from the engine.
"In qualifying, we would never turn the engine up for Q1 or Q2 – it was run in a sort of idle mode.
"The debate would then be how much to turn the engine up for Q3.
"I'd be getting it in the ear from Toto: 'That's too much, that's too much'. And I'm thinking 'yeah but if we don't get pole, we'll look like a right bunch of mugs'.
"So what number to pick that would do the job and knowing you didn't want to err on the wrong way?
"So that was a big part of the discussion on a Saturday afternoon. Nice chat to have.
"Actually that went on quite a long time. Through most of 2014, that engine was never on full power for qualifying."
Follow us on Twitter @Planet_F1 and like our Facebook page.