Mercedes 'adamant' after Hamilton ignored call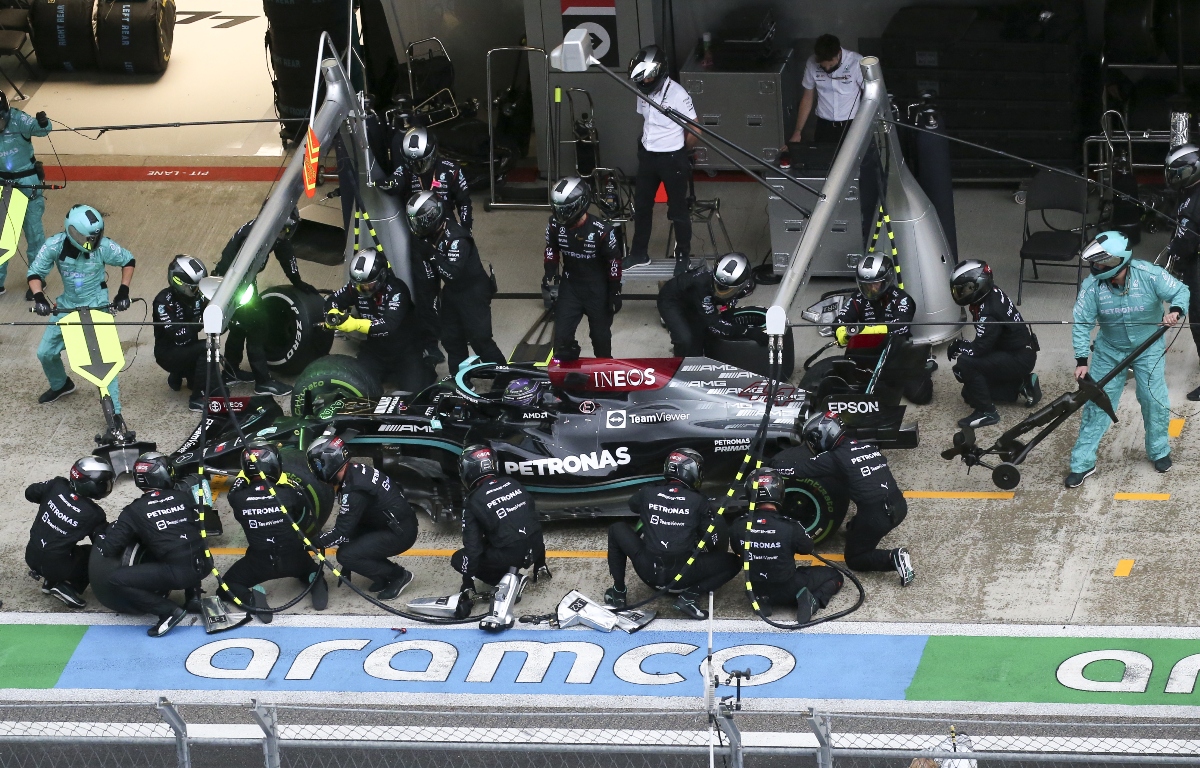 Toto Wolff says his team were "adamant" that Lewis Hamilton had to pit in Sochi, even after he ignored the first call to do so.
The Mercedes driver secured his 100th victory in Formula 1 in dramatic fashion at the Russian Grand Prix, taking the lead with precious few laps to go.
He did so as he pitted for intermediate tyres when the rain started to fall while then-leader Lando Norris decided to stay out and try to make it to the end on slicks.
Hamilton initially wanted to do the same thing, ignoring the team's first message telling him to come in, but Wolff says that even then, the strategists had no doubts.
"I think for the driver, it's always very difficult when half of the track is dry and the other one is just a bit humid," he told reporters in Sochi.
"We knew that the big weather was coming. So Valtteri [Bottas] pitted the lap before, and then our weather frog and the strategists were adamant to pit."
Check out all the latest Lewis Hamilton merchandise on the official Formula 1 store
Heartbreak for @LandoNorris and the team. 💔

Daniel finishes P4 and Lando P7 as rain disrupts the end of the race.

We were so close. #RussianGP pic.twitter.com/u3oPTxiLVt

— McLaren (@McLarenF1) September 26, 2021
McLaren suggested that Norris boxed too, but he wanted to stay out and, unlike Mercedes, they initially let him do so and left him to it.
It proved costly as he went off soon afterwards, losing the chance of taking his first-ever win in Formula 1.
Wolff understands why he and his team made such a call though.
"We were in a way prepared to brace for the tough end, whether we could overtake Lando on-track or not," he added.
"Then the rain hit, and things got pretty erratic at that stage. I understand why it was so difficult for McLaren to take this decision to stay out or come in.
"As a leader, you can only lose. We benefitted from that, and it's spectacular for the fans I guess."
He also isn't sure if Hamilton would have been able to take the lead if not for the rain given he had struggled to pass the other McLaren of daniel Ricciardo earlier on in the race.
"Lewis was stuck behind Ricciardo at the beginning of the race, although Ricciardo had DRS," stated the Austrian.
"I think it would have been difficult to pass. They had a fast car today, and it was well managed from his side."
PlanetF1 verdict
Mercedes win but concerning signs at Sochi
While Mercedes continued their dominance at Sochi, it was far from a convincing performance.