Mercedes banking on race pace at Silverstone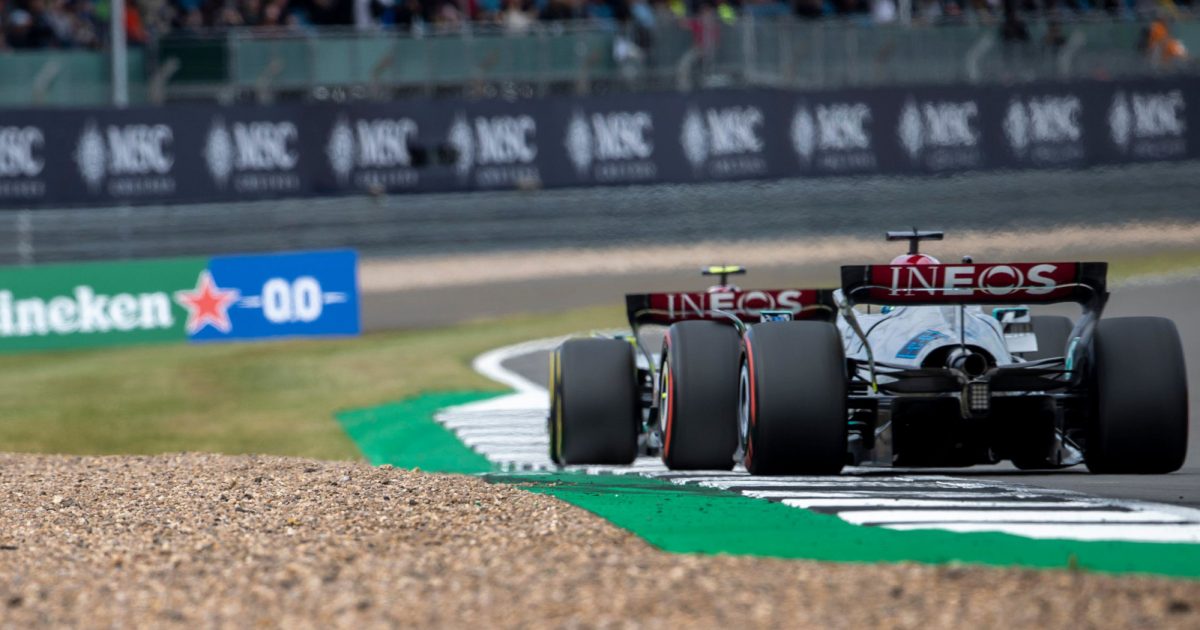 Although Lewis Hamilton was runner-up on Friday's timesheet at Silverstone, it is Mercedes' long-run pace that has the Brackley squad hopeful.
After Friday's opening damp squib of a practice hour, the Formula 1 teams laid down the laps in the afternoon when Hamilton was second quickest behind Carlos Sainz.
The Briton, running his updated W13 with new front suspension, floor and sidepod inlets, was just 0.163s slower than the Ferrari driver.
As for the long-run pace, F1.com's data suggests Red Bull have the edge over Ferrari by 0.21s with Mercedes around 0.67s off the pace.
The Brackley squad believe they are closer than that.
"It felt pretty good," said Hamilton, while George Russell described it as "pretty promising".
He added: "We were significantly faster than them [McLaren] and when the tyres were warm at the end, we were even faster than Ferrari. They dropped a bit at the end but we improved lap after lap."
https://t.co/42XicoYcrC's data suggests that Red Bull Racing have the edge over Scuderia Ferrari on long run pace. 0.21s behind, whilst Mercedes are around 0.67s off the pace – but the word inside the paddock is that the Silver Arrows are ultimately a fair bit closer than that. pic.twitter.com/fVnJKH7RZu

— Junaid #JB17 (@JunaidSamodien_) July 1, 2022
Mercedes trackside engineering director Andrew Shovlin added: "Normally we see the sort of gap half a second, maybe even seven or eight tenths to the faster teams on a long run. And that didn't look like it was there.
"Probably a bit it's the circuit suiting the car."
But while Mercedes may have the pace come Sunday's race, Russell is a little worried still about how they will perform in qualifying.
While Red Bull and Ferrari are expected to fight for the front row, Lando Norris was not far off Hamilton's pace in FP2 over a single lap.
Russell said: "McLaren were pretty strong on one lap and we can't get the tyres to work. But we are in a good window over the race. It's always a matter of balance, of course, but you can't put everything on Sunday."
As for Mercedes' porpoising problems, Hamilton said: "It still bounces quite a bit. Not necessarily on the straights, but in the corners."
Shovlin says Turns 9 and 15 were where it was at its worst on Friday.
"We struggled at Turn 9 and we had some bouncing at Turn 15 too," he said. "But those are things we will look at when we get back to the office."
He added that Mercedes are unlikely to try to find gains for the car in qualifying, focused instead on Sunday.
"We tried a lot throughout the races and learned big steps for qualifying are not a great idea because if you get it wrong then you are bound to get it in qualifying and in the race," he said.
"We were pretty aggressive here at the beginning and maybe there will be a little bit more."
Torquing Point: Home drivers looking forward to the weekend
With the British Grand Prix this weekend, Henry and Sam discuss the feelings for the home drivers of Lewis Hamilton, George Russell, Lando Norris and Alex Albon.