Mercedes manage tyres better than Ferrari, but know qualifying an issue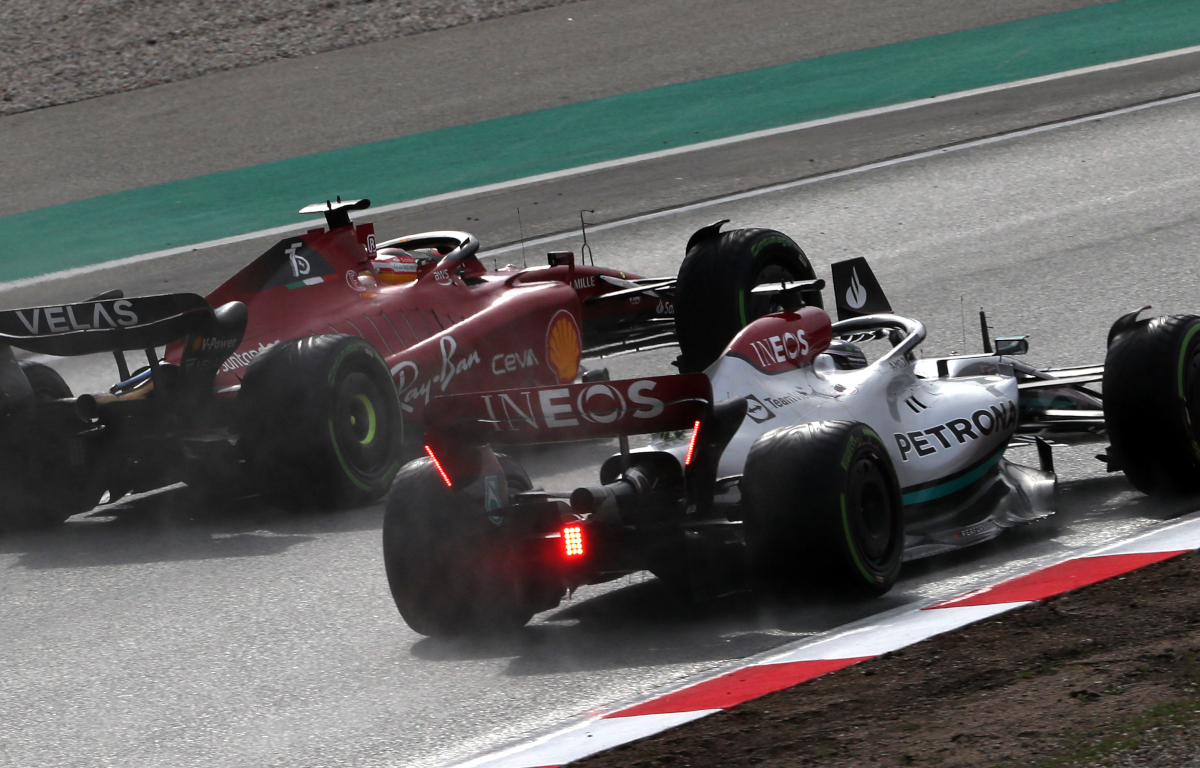 Mercedes believe tyre management helps them get the edge on Ferrari in race trim, but they cannot overlook their problems in qualifying.
Mercedes' 2022 challenger, the W13, has been unable to take the fight to Red Bull and Ferrari at the top of the standings, Mercedes not faring well with the new regulations introduced for 2022.
But, arguably the most confusing aspect of the W13 is its inconsistency, with an apparent step forward commonly followed by a return to square one.
For example, in Hungary George Russell sprung a major shock by claiming his first career pole, and Mercedes' first of the season, yet at the following round in Belgium, they were 1.8 seconds off the qualifying pace, and 1.2 seconds slower than Ferrari.
One consistent trend though for the Silver Arrows is that race days have tended to suit them far better than qualifying, Russell overtaking the first Ferrari of Charles Leclerc and closing in on Carlos Sainz in Belgium as he ultimately finished just a few seconds behind.
So, that deficit of over a second across one lap, suddenly made way for Mercedes having the pace advantage over a race distance.
Speaking in Mercedes' Belgian GP debrief, their motorsport strategy director James Vowles explained that Mercedes are seemingly able to look after their tyres better than Ferrari, a key advantage during a grands prix.
However, with Alpine and also McLaren often making Mercedes' life harder by taking the fight to them in qualifying, Vowles admits that Mercedes must leave this battle behind if they are to make further progress.
Asked why Mercedes' race pace was similar to Ferrari's after that gulf in qualifying performance, Vowles replied: "This pattern hasn't been just in Spa, it's actually been there most of the season.
"In Budapest, we made some steps, we managed to move forwards and we were able to qualify on pole, capitalising on that performance. But that was also a little bit of an outlier in itself.
"Normally prior to that, Ferrari could be up to six tenths faster in qualifying and yet we were able to close in on them in the race. Spa was no different to that. The approach and philosophy of what you are doing in terms of prioritising race pace or qualifying pace, I think might be different between the two teams.
"Obviously, the numbers are large, they are far more vast than we normally see, you would normally expect a tenth or two, not a second.
"What I can say is that we are gaining to them on degradation in the race. So, part of it might be just how the tyres are being used and car performance, part of it is degradation.
"And the bias we've got is the one that is scoring points race on race, clearly though, we have to improve our qualifying position because it is not just relative to Ferrari, we are also racing in a qualifying condition McLaren and Alpine as well.
"And in order to be racing at the front, in order to get our first win this season, we have to make sure that the qualifying improves from where it is and that's the focus that hasn't just been this race, we've been looking at it, but across the season, and will continue to do so."
Russell was reeling Sainz in during the final stint at Spa, at one point a battle for the final podium position looking very likely. However, it was in a situation like this where Mercedes' choice of rear wing did them few favours.
Although they enjoyed the benefit of better tyre life, on the flip side it meant that the W13 was more draggy and slower on the straights, hindering Russell's chances of overtaking.
"A lot of your straight-line speed, a lot of your drag, yes, is a function of the rear wing," said Vowles when asked if the rear wing was behind Mercedes' lack of straight-line speed.
"There are other aspects as well of car setup but primarily it is down to what rear wing choice you have. Spa is one of those circuits that there is a fine balance between Sector 1 and Sector 3 where straight-line [speed] really is rewarded compared to Sector 2 where you can just maximise your cornering speeds.
"For us, the rear wing choice that we had, we had a few different selections and we tried a few of them across the weekend but opted for the one that we thought would preserve the tyres for the race and that ended up being the one that was slower on the straight line.
"But as you could see for example in the final stint of the race relative to Sainz when we were closing him down, we were nearly a second a lap at times faster in Sector 2, just using those tyres far better as a result of it. The weakness however was it's very, very slow on the straight line comparatively and difficult to defend and difficult therefore also to attack unless their tyres are going off."