Mercedes' bouncing down to '2G to 3G at most' in Canada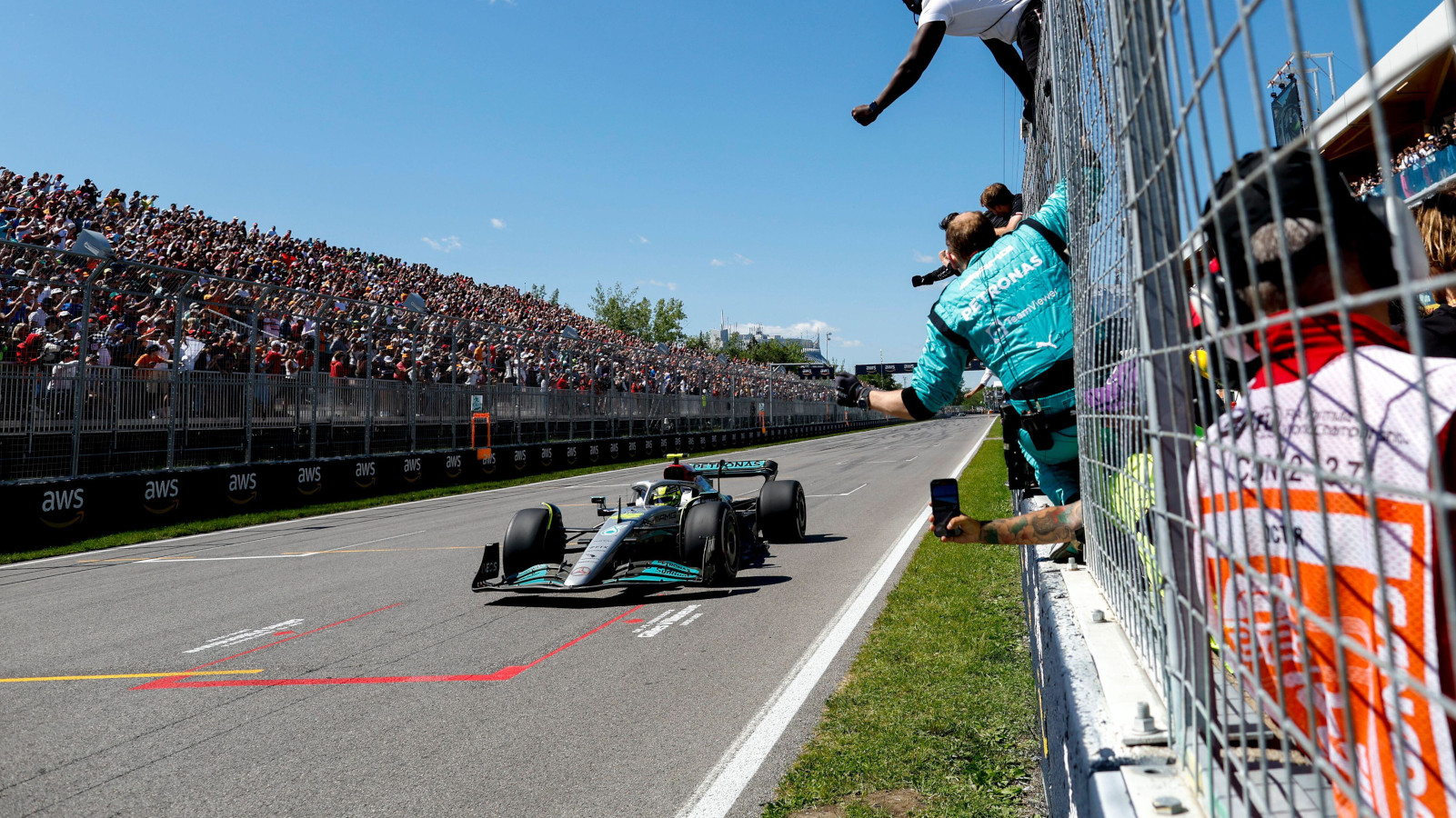 Back on the podium at the Canadian GP, Lewis Hamilton has revealed Mercedes' porpoising was "2g to 3g at most", a huge help for the drivers.
Mercedes have struggled more than most with porpoising or bouncing, the W13 all over the place at the Azerbaijan Grand Prix.
Such was the impact of that on Hamilton's body, the Briton had to be helped from his car and was seen clutching at his back after bringing his car home in fourth place.
Mercedes motorsport boss Toto Wolff even went as to far as to say the seven-time World Champion was a doubt for the Canadian Grand Prix.
But what a difference a week makes.
With his car bouncing a lot less than usual, Hamilton raced his way to third place – his first podium since the opening race of the championship – and declared that he was "ecstatic" with the result.
"If we got 10Gs in Baku, it was 2G to 3G at most here," Hamilton told Auto Motor und Sport.
Lewis getting asked about Silverstone and mentioning that they still have bouncing so Copse could not be so much fun.

And then Max tried to show the bouncing. pic.twitter.com/EUmJCWppQe

— tami. (@Vetteleclerc) June 19, 2022
"For the first time I could see the leaders right up to the end. At times we were as fast as Red Bull and Ferrari."
His team-mate George Russell was fourth on the day, Mercedes celebrating a solid strategy having pitted Hamilton under the first VSC phase and Russell in the second.
A Mercedes engineer told the German publication: "We are currently not making the car faster with new parts, but with clever set-ups."
Hamilton was asked about his W13's bouncing during the post-race press conference, the driver reiterating that it was "nowhere near as bad as the last race."
"The last race, there was no words for how hard it was.
"But this weekend, we managed to… we did have bouncing but it was nowhere near on the… if the last race was 10G's this one maybe was to two or something like that, you know, so it's liveable.
"But we still, I think, as a sport need to do better and I think us as a team also need to do better."
The FIA has already taken steps, announcing on the eve of the Canadian Grand Prix a new technical directive to help protect the drivers against the impact of porpoising.
But while Mercedes have welcomed it, Ferrari say it is "not applicable" while Red Bull believe the rules cannot be changed because "one team" can't get the design right.
Hamilton bags much needed podium
Mercedes came away from the Canadian GP with a much needed podium for Lewis Hamilton and strong fourth place for George Russell.