Mercedes confirm 'radical changes' are coming soon to flawed W14 design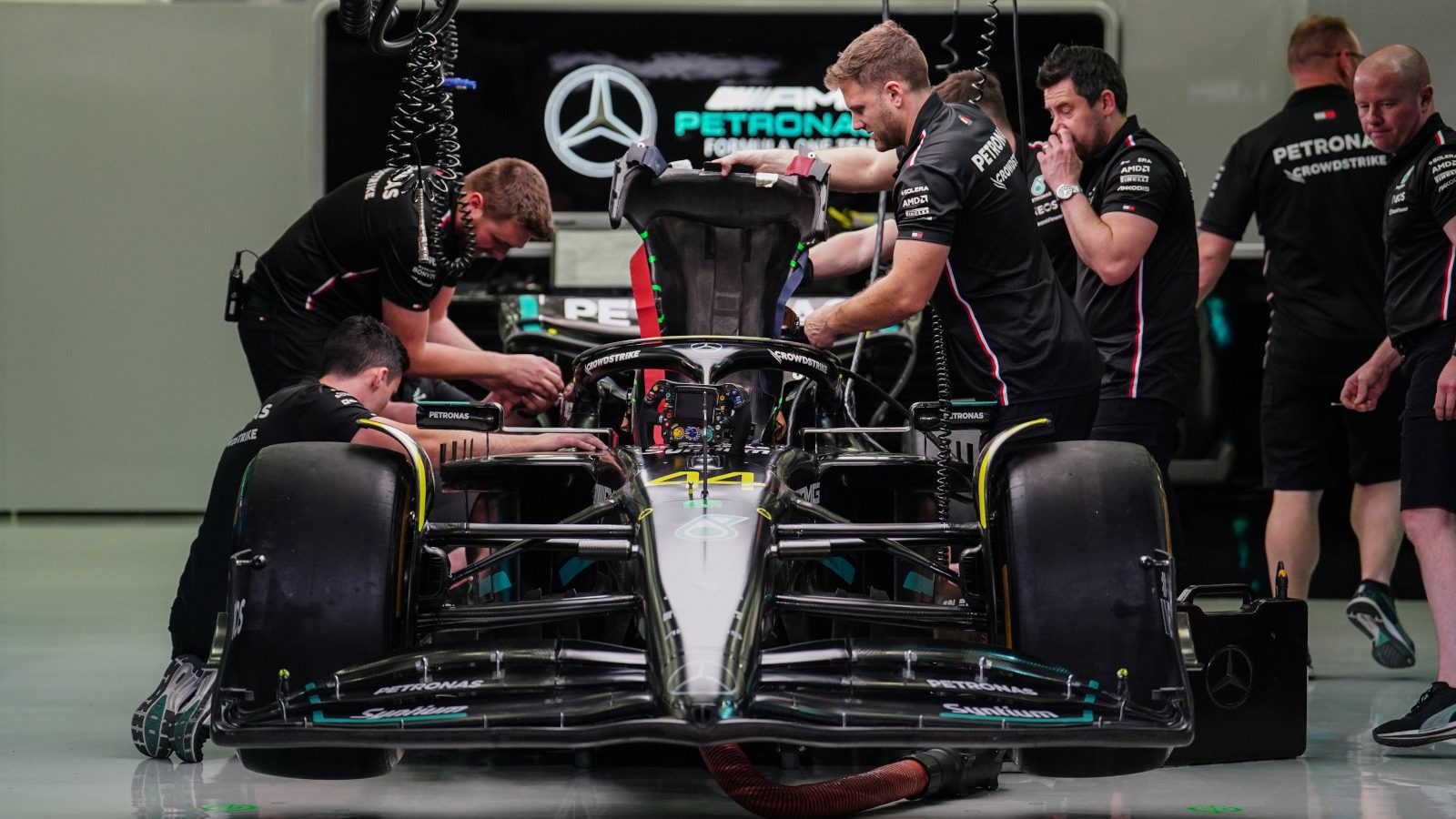 Mercedes' Andrew Shovlin says "more radical changes" are needed to the W14 design following the Bahrain Grand Prix.
As they were this time last year, Mercedes started well off the pace in the opening race with not just the Ferraris and Red Bulls proving to be quicker but one of the Aston Martins as well.
While the Brackley team will take some solace at the lack of porpoising, the large difference between themselves and the front runners remains, raising suggestions as to whether they will alter their car's design.
Talk had already been going on that Mercedes had a B-spec version of their car waiting in the wings and trackside engineering director Shovlin has confirmed "visible changes" are on their way.
"People have tended to use the word concept when they mean the sidepod design and Toto [Wolff] had said recently that we are looking at a revision that is going to come along in the next few races anyway," he said in Mercedes' post-race debrief video.
"Given the gap to the front of course we are going to look at bigger departures and more radical changes.
"But those changes take time to turn into a faster solution in the wind tunnel – you can't do them overnight. There is quite a lot of development that you've got to do around any sort of big change in geometry in that area.
"Of course, we are looking at where we can improve the car, we are looking for potential to develop and you will see visible changes coming on the car over the next few races."
Wolff admitted after Bahrain that he had given up hope that the current W14 design would ever be competitive.
Shovlin said the biggest learning point the team took from the opening race was "we've got a lot of work to do."
Rumours of a Mercedes concept change were also followed by speculation that former chief technical officer James Allison, who is currently working away from the team's Formula 1 operation with the INEOS Americas Cup sailing team, could be brought back into the fold – though PlanetF1.com understands these reports are wide of the mark.
PlanetF1 recommends
Five reasons why Ferrari fans should still be optimistic after Bahrain
Bahrain 2023: When Lawrence and Lance Stroll finally won Formula 1's acceptance
The Mercedes W14's main strength that Aston Martin are currently missing
"That gap in qualifying was quite large, we were over half a second to the front. In the race that was even bigger," Shovlin explained.
"That was compounded by the fact that when you get the tyre degradation you get a bit more sliding, the tyres run hotter, and you end up finding it very difficult to keep them under any kind of control.
"There is a lot that we need to understand but the key things are really getting on top of that long run degradation, which last year was a strong point for us.
"Clearly, we've got something that's not in the right place that we need to work on but ultimately the other thing is that performance gap to the front. The raw pace of the car is not good enough.
"We are working very hard at the moment to understand what we can do in the short-term future and in the mid-term future to try and get ourselves in a better place."