Mercedes criticised for missing 'blindingly obvious' strategy calls in Zandvoort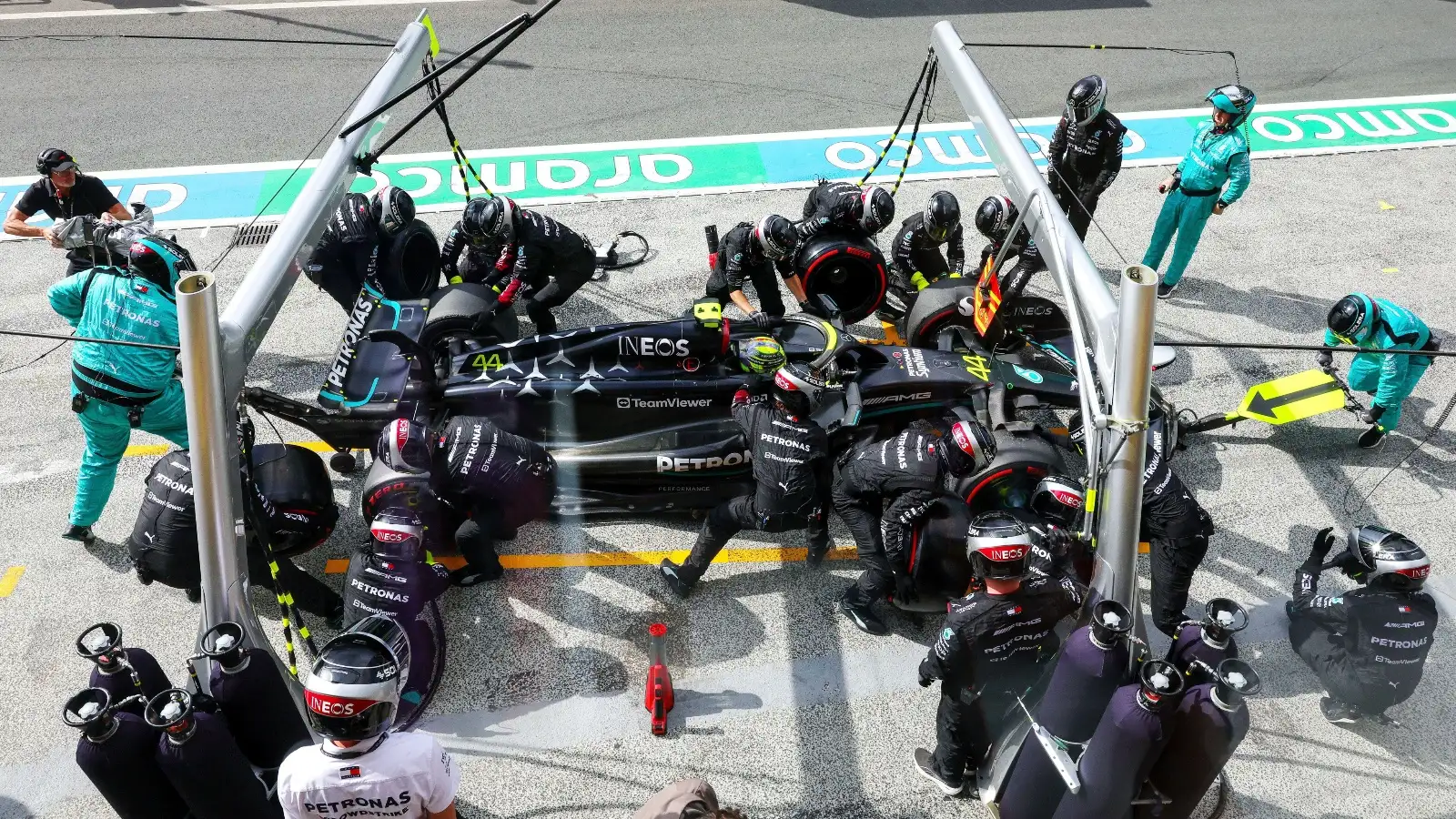 Mercedes have been criticised for their poor strategy by Le Mans winner Richard Bradley who said the right call was "blindingly obvious."
The weather in Zandvoort proved a challenge to the teams all weekend but never more so than during the opening laps of the grand prix.
With a grid on the slicks, the heavens opened and drivers were faced with a choice of braving it out or heading in for some intermediates.
Mercedes punished for not going all-in with strategy call
The majority opted for the latter with Sergio Perez being the first to come in. It proved a wise move with the Mexican eventually able to build a sizable lead in front as Max Verstappen opted to stay out an extra lap.
After two laps, the grid was split between those like Alex Albon, Oscar Piastri and Valtteri Bottas who were opting to stick out the weather and the rest of the field who were making good time on the inters. But Mercedes found themselves right in the middle of that.
Lewis Hamilton came over the radio to criticise the team for not bringing him in and by the time he did pit in lap 3, he had already lost a significant amount of places and had moved down to 12th. To make matters worse, he was at the very back of the pack and was forced to come in just six laps later to move back onto the slicks.
George Russell did not fare much better. He came in a lap after Hamilton and would emerge in 16th when he exited the tight pit lane.
In the end, Mercedes came away with eight points as Hamilton finished P6 while Russell retired with a puncture late on.
That indecision has been criticised by Le Mans winner Bradley who said the right call was "blindingly obvious."
PlanetF1.com recommends
F1 2024 driver line-up: Who is confirmed for next season's grid?
F1 2024 cars: What name has each team given their chassis for the 2024 season?
"It gets to the point where you can't even drive the car in a straight line eventually," Bradley told the On Track GP podcast of the wet weather conditions. "The thing which I found incredible about it, though, was that some of the strategy decisions were so blindingly obvious.
"You saw some of the mistakes that Mercedes made.
"You have to go one extreme or the other. Williams braved it out completely and decided not to make the stop at all with Albon then started to get some rewards for it.
"It was the wrong decision, if you actually look at the time he lost, but they went one direction, whereas Mercedes they just kind of went 'Oh' and then they bailed on the gamble that they were taking. So they were going to be screwed either way."
Read more: Exclusive – Why Alonso and Ocon's decisions are limiting Pierre Gasly's Alpine development