Mercedes reportedly delay debuting front wing amidst claims 'FIA would not have approved' it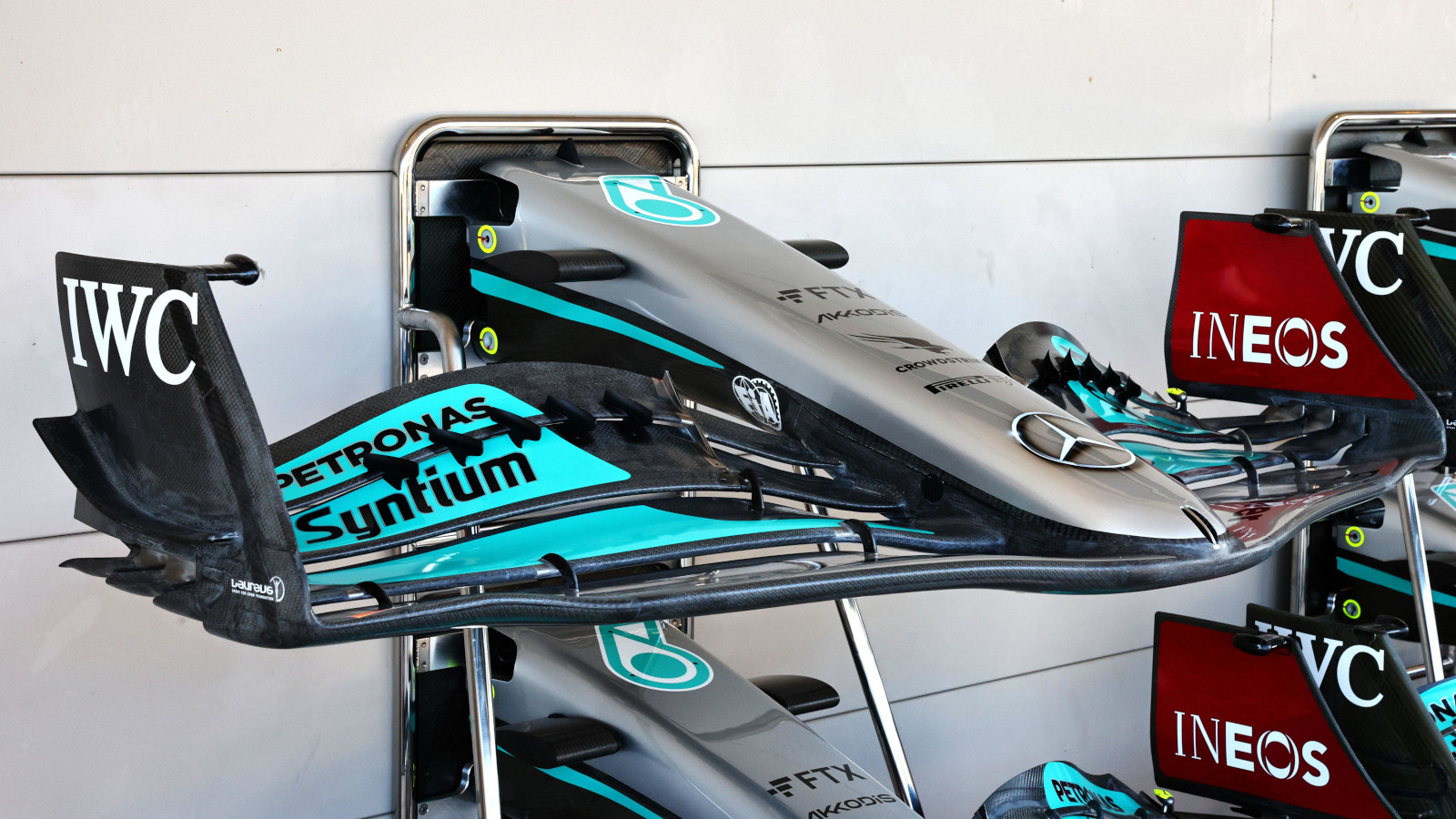 Mercedes brought a new front wing to the Circuit of The Americas but opted not to run it in Friday's practices, reportedly due to suggestions it doesn't comply with regulations.
Mercedes arrived at the Austin track with an extensive upgrade for the W13 that included changes to the front wing, floor edges, floor fences and rear wing endplate.
It was the front wing, though, that caught the attention.
Featuring five plate-style separators between the two upper flaps, these separators have a more aerodynamic profile than their predecessors.
That's not allowed as Sky Sports' Ted Kravitz explained.
"You're allowed to have these slot gap separators," he said as per the Express. "That's to actually separate the front wing flaps and to make sure they all stay together and have a consistent slot gap. You're allowed as many of them as you need on the front wing.
"Now what you're not allowed is any of the old front wing furniture that used to direct air flow in any direction you wanted to put it. You're not allowed any of those bits now.
"What Mercedes have done with their new front wing is said, 'aha, but look these are just front wing slot gap separators, your honour. They're in no way designed to capture air and push it outboard around the front tyre and back towards the side. It just looks like they are.'
"So I think that's where the questions from the other teams have come.
"The other teams have said, 'okay look, I know what you're saying. You're saying that these are basically slot gap separators.
"But clearly they're slot gap separators which are masquerading as air flow conditioners around the front to create an outwash.' Well it's obvious what they want the air to do."
Mercedes' front wing, which is yet to be used, is causing a bit of a stir 👀

Ted Kravitz: 🗣️ "𝗧𝗵𝗲𝗿𝗲 𝗮𝗿𝗲 𝘀𝗼𝗺𝗲 𝗿𝘂𝗺𝗼𝘂𝗿𝘀 𝘁𝗵𝗮𝘁 𝘁𝗵𝗲𝘀𝗲 𝗲𝘆𝗲𝗯𝗿𝗼𝘄 𝘄𝗶𝗻𝗴𝗹𝗲𝘁𝘀 𝗮𝗿𝗲 𝗻𝗼𝘁 𝗰𝗼𝗺𝗽𝗹𝗶𝗮𝗻𝘁 𝘄𝗶𝘁𝗵 𝘁𝗵𝗲 𝗿𝗲𝗴𝘂𝗹𝗮𝘁𝗶𝗼𝗻𝘀." pic.twitter.com/scVVlhdvhc

— Sky Sports F1 (@SkySportsF1) October 21, 2022
The wing, of which Mercedes only had one available, never made it onto either of the cars in Friday's practices.
According to Auto Motor und Sport that's because the FIA don't believe it is compliant with the regulations.
Michael Schmidt reported: "The FIA would not have approved the wing in this form. From the point of view of the control experts, the separators have turned out to be too large."
Mercedes are said to be confused by that as they had previously sent the "CAD construction plans to the FIA, and they had also been approved by the authority. The fact that they now have to make alterations costs time and money."
The wing is expected to be on the W13 at next weekend's Mexican Grand Prix with AMuS reporting that the Brackley squad will tweak the separators.
Lewis Hamilton was third fastest in Friday's opening practice at the COTA, his team-mate George Russell P7.
The seven-time World Champion was satisfied with the improvements Mercedes made during the session, declaring FP2 a "waste" given the drivers were tyre testing for Pirelli.
"I kept the car in one piece today, which is good, and definitely felt improvements in the car," he said.
"Obviously this [FP2] was a bit of a waste of a session in terms of performance but P1 was feeling quite good.
"I'm hoping we make some changes tonight and we'll find out tomorrow exactly where we stand. But it doesn't feel like we're too far away from everyone."