Mercedes' 'chain reaction' of errors cost 0.3-0.4s at start of F1 2022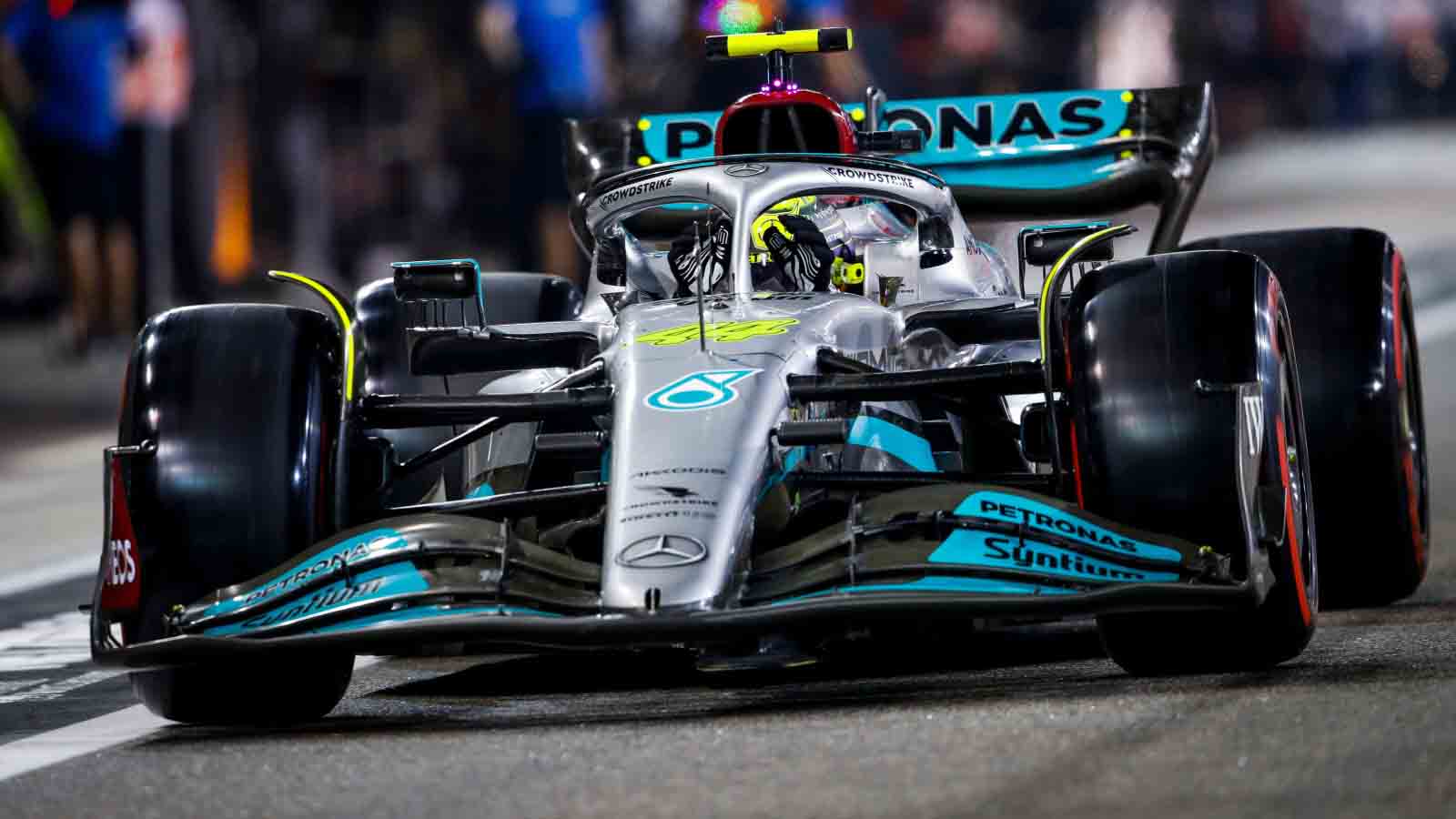 Mercedes' 2022 title challenge was doomed before it began, after one dodgy data set sent the W13 down a losing path, according to the German team's technical director.
With Lewis Hamilton out for revenge on Max Verstappen and George Russell going in search of victories, the pressure was on Mercedes' dominant designers to produce another engineering marvel within 2022's brand new Technical Regulations.
But if Verstappen and Abu Dhabi killed the Silver Arrows' era of supremacy, the first rounds of 2022 buried it. Hamilton and Russell only finished P3 and P4 in Bahrain thanks to a freak double Red Bull DNF, having lapped well behind the front-runners' pace.
Although Russell continued scoring top-five finishes, Mercedes were regularly lagging one second slower than the pole positions being gobbled up by Verstappen and Charles Leclerc. Soon, team boss Toto Wolff had to concede the championship.
Drivers up and down the grid were complaining of porpoising issues but the Mercedes men seemed to have the worst, brain-rattling ride – with Hamilton leaving the cockpit in particularly severe pain after the Azerbaijan GP.
That's when the spotlight turned to Mercedes' radical commitment to a slimline sidepod design. The Silver Arrows had gone in search of more downforce but ended up bouncing along the straights, forcing them to carve away at the floor and sacrifice performance.
In the impossibly complicated business of constructing an F1 car, even a fractional mis-step can cost positions. Mercedes technical director Mike Elliott explains: "What we were aiming for with the car, we had that going for us initially," the British engineer told Motorsport.com.
"Then something came out of a simulation that moved us to go in a slightly different direction with the car.
"It's easy in hindsight to shout 'if we had made a different decision at that point, we would have finished in a completely different position'. But that there was something wrong with the data was just very hard to see at the time.
PlanetF1.com recommends
Mercedes enter launch season chat with W14 launch date confirmed
Five drivers under the most pressure ahead of the F1 2023 season
Ranked: The best and worst F1 tracks on the F1 2023 calendar
"The first thing that went wrong with us was very difficult to spot. Then there was a chain reaction and, as a result, we ended up where we did.
"When you eventually get there, it's easy to see where you took a wrong turn."
Mercedes toiled away all season, with Russell and Hamilton repeating the mantra "keep pushing" over the radio after each chequered flag. Gradually they edged into race-winning contention, with Hamilton enjoying a streak of five consecutive podiums in mid-season.
Finally, the breakthrough came in Brazil. Although all-too late for the Championship, George Russell's maiden victory at Sao Paulo and Hamilton's second-place were light-relief after a season of headaches.
"At the start of the season we were at the front of the midfield. At times we were even worse off," Elliott added.
"But at the end of the season I think we had the second fastest car. If we had made the right decision right away, we might have been three or four tenths faster at the start.
"But that's hard to know, because you can't replay the cards you've played. It would also be arrogant to think that without that mistake we would have had a car that could have won us the championship.
'That's not the right way to look at this. But we know where it went wrong and that we can get more performance out of the car if we change that. A few of the end-of-season upgrades were aimed at confirming that notion. The rest of the work should be done this winter. We'll see where it takes us."
Mercedes will unveil their brand new W14 car for the 2023 season on February 15.