Mercedes say why third Hamilton stop was ruled out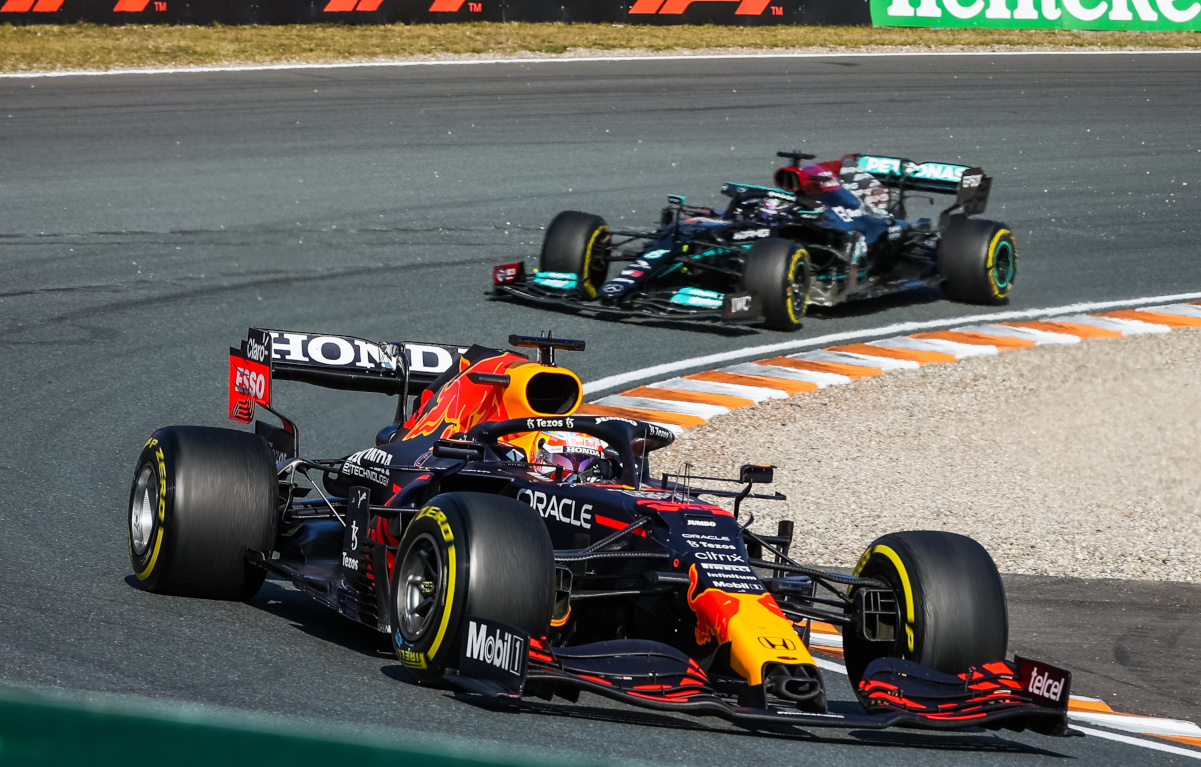 Mercedes have explained why a third pit-stop for Lewis Hamilton in the Dutch Grand Prix to chase down Max Verstappen "wouldn't have worked".
Never able to launch a serious challenge to his World Championship rival at Zandvoort, Hamilton's third stop for a set of soft tyres was only made right at the end of the race in a successful bid to secure the point for the fastest lap.
Ross Brawn, Formula 1's motorsports managing director, suggested in his regular post-race column that perhaps Mercedes should have fitted the soft tyres in a "little window 20 laps from the end" to give the World Champion a big pace advantage over Verstappen, albeit with lots of ground to make up.
But in the team's post-race debrief, trackside engineering director Andrew Shovlin was convinced such a move was doomed to failure.
"Was there an opportunity to stop Lewis for a soft tyre 25 laps from the end and do something similar to Budapest in 2019 or what we did in Barcelona this year?," was the question Shovlin considered, referring to previous strategies that had paid off.
He answered: "The reality with this race was most people were actually making it a one-stop, a one-stop that needed some management.
"You saw up at the front Lewis and Max were pushing those tyres harder, they were on the two-stop strategy.
"And while that was viable, it was potentially even the fastest way to do the race – when you make that extra stop there isn't enough tyre degradation to make up the fact you have another 20 seconds or so in the pits.
"The reality is the third stop wouldn't have worked. We are monitoring these things live, always looking at every opportunity that we can to try and generate some strategic advantage.
"But what we could see in this instance was you'd make that third stop, you'd drop back and you'd never even catch back up during the remainder of the race."
Nine races to go. Two world titles. Let's go and fight for them, boys. 👊

Massive attack, all the way to the final lap in Abu Dhabi. pic.twitter.com/5P09b8ZN3p

— Mercedes-AMG PETRONAS F1 Team (@MercedesAMGF1) September 7, 2021
Check out all the latest Mercedes merchandise via the official Formula 1 store
Hamilton was critical of the strategy over the team radio, thinking he had been brought in for his second stop too early when he still had life in his medium tyres and then rejoined the circuit in traffic.
Mercedes team principal Toto Wolff admitted after the race "we didn't time it right".
Shovlin said work was ongoing into what would have been the most effective point at which to make the second stop.
"The basic problem was that if we had left it later and later, at some point Max was going to stop anyway," he said. "So you would lose the ability to attempt an undercut.
"That was the reason we knew we would have to drop into backmarker traffic. It's fair to say we did lose quite a critical chunk of time.
"But the strategy group are taking the race data, reconstructing the tyre curves and we will then forecast what would have happened if we had gone a few laps later, a few laps earlier.
"That's all part of the process of using our experience of racing to try and learn and improve each race. That work will get done over the next day or two."