Mercedes on 'pulling the trigger' on Hamilton stop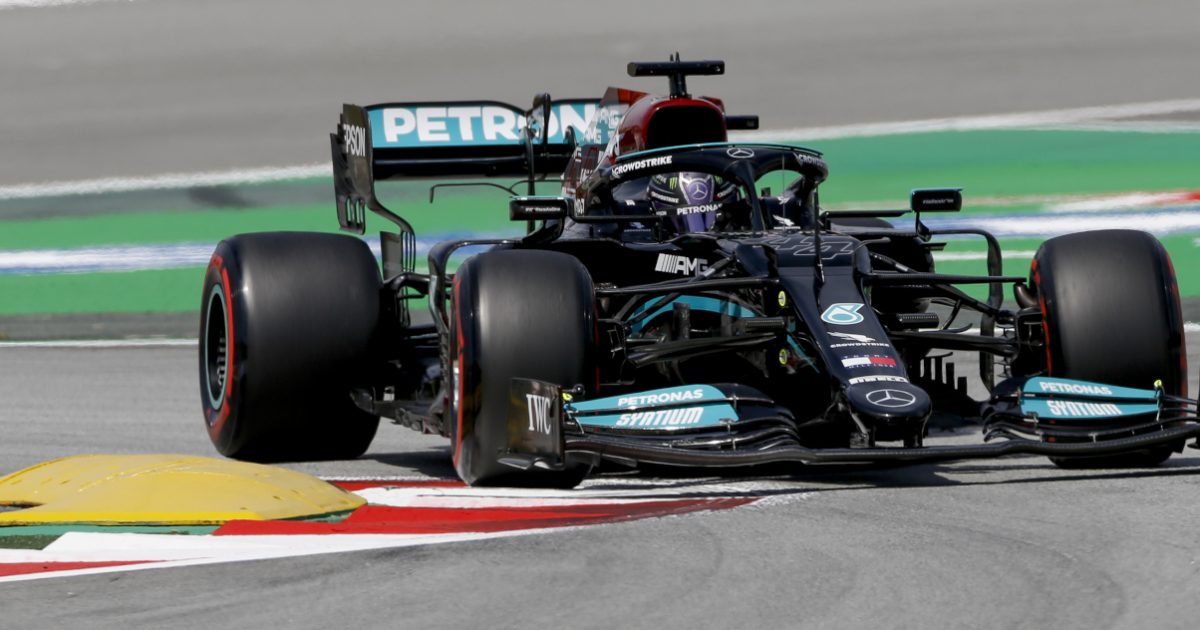 Andrew Shovlin explained why Mercedes "pulled the trigger" on Lewis Hamilton's switch to a two-stop strategy that enabled him to win the Spanish Grand Prix.
With the World Champion stuck behind Max Verstappen near the DRS window, Mercedes' track engineering director Shovlin and the team's strategists pulled Hamilton in for a second stop.
The Brit chased down Verstappen by more than a second per lap and was able to pass easily with several laps to go, on his way to his 98th victory. Hamilton was described as a "strategist's dream" by former F1 driver Jolyon Palmer, after he was able to make a new approach work on a whim.
Based on the available data, Shovlin said that the team's move was a logical one to enable Hamilton to win, with only a small window to get the call right.
"The conditions were quite different to those that we had seen in Free Practice but from the runs that Lewis and Max were doing, we could see that the tyres were dropping and they were dropping a bit more than we expected from our pre-event simulations, where we actually thought a one-stop and a two-stop were very close in terms of performance," Shovlin said in Mercedes' race debrief.
🥇🥈🥇🥇 = Lewis' 𝗕𝗘𝗦𝗧 ever start to an @F1 season. ✊ pic.twitter.com/RUxQHmvjA5

— Mercedes-AMG PETRONAS F1 Team (@MercedesAMGF1) May 11, 2021
Check out all the latest Mercedes merchandise via the official Formula 1 store
"What we could start to see when we put that degradation and put it into our linear strategy tools was that the two-stop was now coming out as a clear winner and the point that we actually decide to trigger the stop, well, really, that's the point where we are talking about calling the driver in and getting the pit crew out.
"We knew it was somewhere in that [lap] 40 to 43 region and if we go too early, by the time he catches Max, his tyres haven't got enough grip to be able to pass, if we go too late we haven't given him enough laps remaining in the race to be able to actually catch and attack.
"So, as I said it was really just a case of finetuning, but the decision isn't taken until we decide to actually pull the trigger and go for it."
Shovlin revealed that Hamilton had considered asking to be left out on a one-stop but, if he had overtaken Verstappen, the Mercedes crew were worried about Red Bull pulling the same move and bringing the Dutchman into the pits, to allow him to chase Hamilton down on fresher rubber.
"[Lewis] actually said to us after the race, I was almost about to do it and perhaps you should have left me out, I would have done it on track and that looked like it was quite possible," 'Shov' explained.
"I think with the fresher tyres that were on Lewis' car it would have probably happened at some point because Max would have started to get pretty significant degradation towards the end of the race.
"However, if we had done that you then have the disadvantage almost of being the race leader and Max could have done to Lewis what we did to him. So, he could have converted to a two-stop as soon as Lewis had overtaken him, and this might have happened around the point that we decided to pull the trigger on the extra stop anyway.
"So, in some ways it was actually better to not do that overtake on track, use the fact that for Lewis he was in P2 and the worst case scenario of the extra stop was that he would finish in P2, so for us it was worth a gamble but there was less chance that Max as the race leader was going to make that move for the extra stop."
Follow us on Twitter @Planet_F1 and like our Facebook page