Mercedes make gains off the track thanks to cost cap adjustment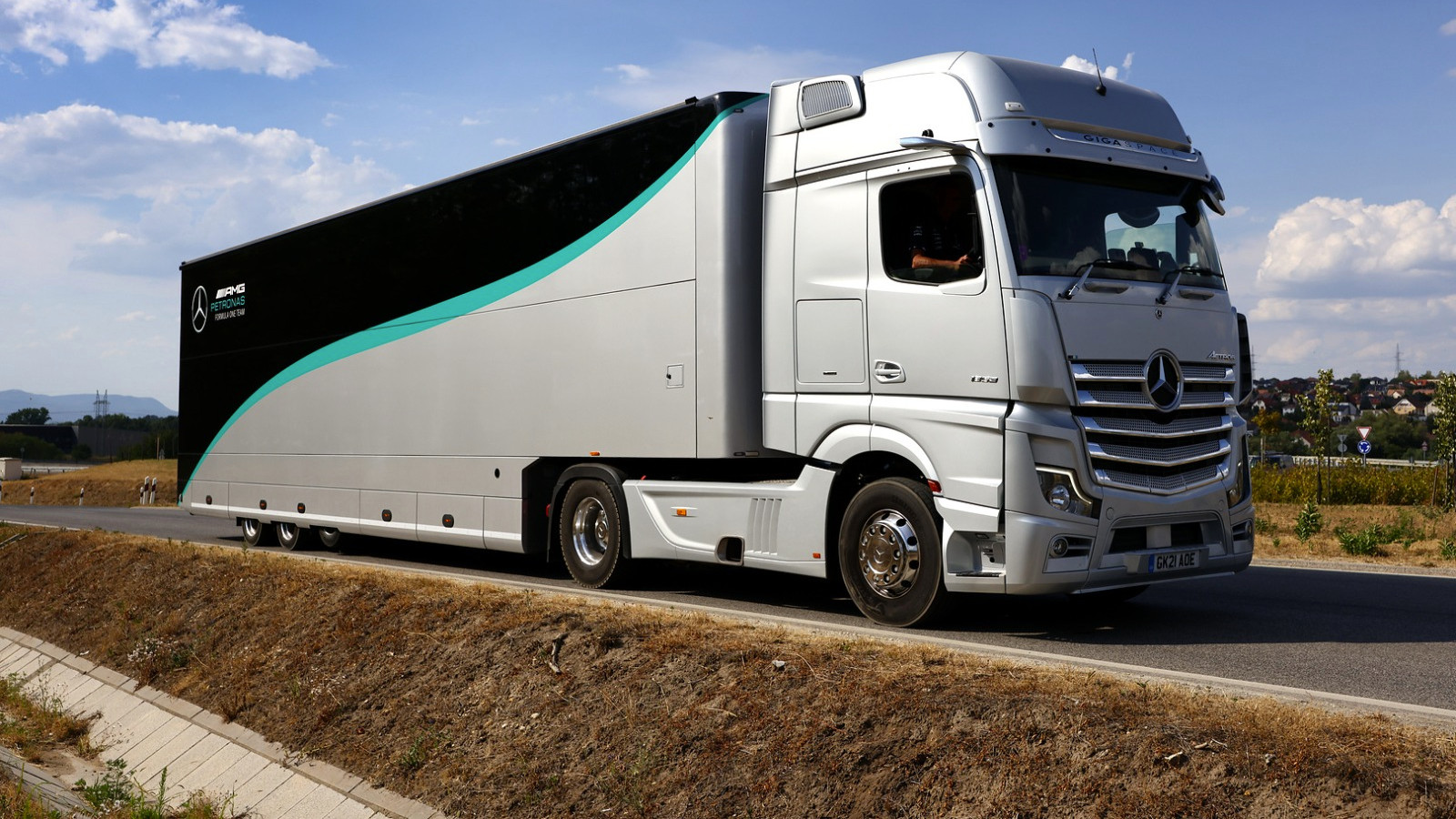 Mercedes will use biofuel for the entirety of their European season logistics and on-road travel, reducing their emissions by a huge amount.
After trying out the use of biofuel in their trucks at a select number of European races last year, Mercedes have confirmed a ramp up in their efforts for 2023 as part of their push to reduce carbon emissions.
Together with team title sponsor and fuel supplier Petronas, Mercedes' fleet of Actros trucks that are used to transport all of their freight around Europe's road network will refuel with HVO100 – a second-generation biofuel.
The fuel is 100% renewable and made from sustainably sourced materials, with Petronas saying progress is being made in the right direction to allow for fuel technology to be perfected to help them get ready for 2026 – the year F1 changes its power units regulations to introduce 100% sustainable biofuels.
In a press release to the media announcing their project, Mercedes stressed that it was only made possible by additional exclusions being made in F1's Financial Regulations, with sustainability measures being approved at the most recent F1 Commission meeting that allowed for additional opportunities in sustainability innovation to be tried out. Previously, such opportunities were "in conflict with on-track performance".
Mercedes to use HVO100 biofuel in their trucks for European season
With nine races in Europe in 2023, each truck will cover around 10,000 kilometres from their start-off points in the UK and Germany. With each truck being fuelled by HVO100, Mercedes expect their emissions for each kilometre covered to be reduced by 89%.
Given the logistical challenge of ensuring each trucks remains fully fueled by HV100 with no intention of using standard road diesel, Mercedes have set themselves the challenge of an overall 60% emissions reduction with 200 tonnes of CO2 saved. A final analysis and report on the project will follow at the end of 2023.
Mercedes will also use HVO100 in their race base generators to power their trucks in each F1 paddock, with a dedicated Petronas-branded tanker set to be on-site at each race from mid-season.
F1 as a whole is aiming to reduce carbon emissions to achieve 'Net Zero' by 2030, with Mercedes pushing hard to reduce their emissions year on year. The company has already invested in sustainable aviation fuel to reduce the emissions of their race team personnel by close to 50%.
PlanetF1.com recommends
Mercedes used triple-header to implement successful biofuel trial
The key takeaways from Mercedes second annual sustainability report
Mercedes' European road trip serves as part of steep learning curve
"Our aspiration to achieve a fully biofueled European season is a challenging and complex project which has been ongoing behind the scenes at the team for over a year," said Alice Ashpitel, Head of Sustainability at Mercedes F1.
"With the support and collaborative effort of our expert partners, we are tackling a key pillar in our strategy for achieving Net Zero and supporting the wider adoption of HVO100 across the sport and logistics industries.
"This project marks another step in our sustainability journey, but we are on a learning curve. From the evidence of our trial, we are excited to see that 89% emissions reduction is possible for every journey that our trucks make, whilst recognising that supply challenges in sourcing HVO100 across Europe remain significant."
Toto Wolff: Mercedes want to be pioneers
"Motor racing is fuelled by passion and we have a responsibility to use Formula One's global platform to be more than leaders; we want to be pioneers," said Mercedes' team boss Toto Wolff.
"Working with Petronas, we see sustainable fuels as central to our Team's strategy to reduce our largest sources of emissions and achieve Net Zero by 2030. Working together, we can be fully committed to sustainable high performance.
"Delivering an 89% reduction in emissions for every kilometre that our trucks travel this summer would be a real achievement for the combined efforts of the team, Petronas, and our logistical partners who have worked so hard on this innovative and challenging project."