Early Mercedes pace 'so much better than Bahrain'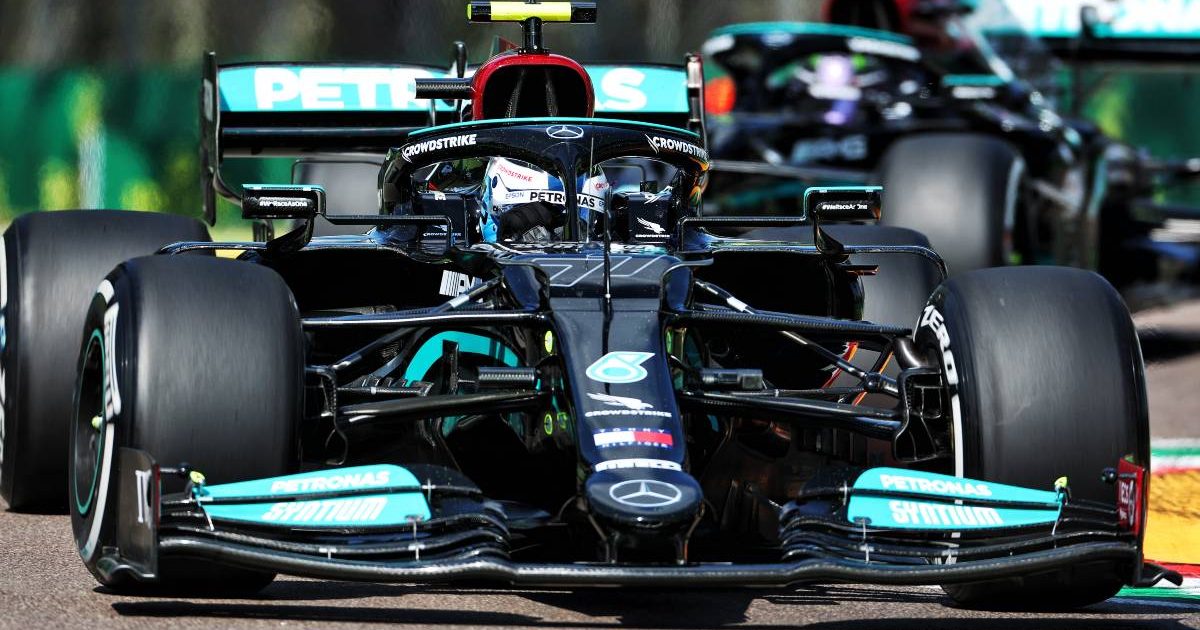 Mercedes boss Toto Wolff said that his team are already looking "so much better" than they did in Bahrain after Friday practice in Imola.
Valtteri Bottas topped both FP1 and FP2 for Mercedes, with Sir Lewis Hamilton making it a one-two to finish in the morning and again in the afternoon.
"Good, so much better than Bahrain," Wolff told Sky F1.
"The car seemed together this morning and in the afternoon, probably the temperatures helped a little bit because that is where we were suffering particularly in Bahrain.
"So for Friday I am really happy to see that. It was one of those debriefs that is really nice where they said the balance feels in the right place with the odd understeer or exit oversteer.
"But generally they feel very good with the car."
Mercedes' low-rake concept did not work in their favour at Round 1 in Bahrain, and even though it did not seem to be holding them back at Imola on Friday, Wolff said it will continue to be a "hit" for them throughout the season.
"Low rake is always an issue," he stated.
"I think what we have seen in our data is that the change of regulations has harmed the low rake cars more than the high rake cars, but you won't see that on every circuit if you have your car properly balanced in the right window, which is difficult to get in to.
"But relative when you look at it over the year it is definitely a hit."
Check out all the latest Mercedes merchandise via the official Formula 1 store
Mercedes come into the Emilia Romagna Grand Prix at Imola as the hunters looking to upset Red Bull again, as they managed to in Bahrain when Hamilton took the opening win for 2021.
And for Wolff, this creates excitement and takes him back to 2013, the year before Mercedes embarked on their domination of Formula 1.
"The race [in Bahrain] kept us very excited, for me it felt like 2013 where suddenly we started the season by being the challengers," he explained.
"And it's the same. They [Red Bull] have a quicker car, quicker package, and that is very easy to demonstrate.
"We haven't seen Max today either on a quick lap in the afternoon and that is an unusual role for us, but it is something that I really missed.
"Fatigue I guess is always a topic for all of us that travel with this crazy circus, working 12 months because there is truly no time off anymore, it is a problem.
"But I think we have good tools to combat that as good as possible, but that is what I enjoy in the current situation so much. It is just such a fun place, it's fun to hunt and we are just enjoying ourselves."
Bottas also felt a marked improvement in the W12 after topping the timings on Friday.
"To be honest, starting this weekend compared to Bahrain with how the car's feeling, it's definitely feeling better – so that's nice," he said.
"It is a different track, type of circuit, surface and grip level, but at least the weekend has started in a positive way.
"The car really wasn't far off in terms of the setup, we still have things to be tuned but overall, I'm a lot happier with the car now than three weeks ago.
"There are still the same kind of issues but less so. It's still not perfect, but we're only on event two out of 23 this season so hopefully we'll have time to fix it. But at least we've made steps forward, so that's good.
"There was quite a bit of track evolution, it's quite a grippy track overall so initially, already the feeling is quite nice compared to where we raced before.
"For sure we'll see, there may still be some rain this weekend, so you never know."
Pirelli stated in the build-up to the Emilia Romagna Grand Prix that they are expecting a one-stop strategy to be the way on Sunday, but for qualifying Mercedes will have to decide which compound they want to use in Q2 to secure them for the race start.
That may be a difficult decision since Bottas does not see much of a difference between the compounds.
"It's not a huge difference here with the compounds, so we'll have to see what tyre we want to be qualifying on," said the Finn.
"I'm sure there's still more we need to get out of the hard and soft tyre because for sure in qualifying, everyone is going to use them."
Red Bull merchandise is available to purchase now via the official Formula 1 store
Red Bull will likely be the biggest challenger to Mercedes across the remainder of the weekend, but Ferrari were looking strong on Friday despite Charles Leclerc's trip into the barriers in FP2.
Nonetheless Leclerc was only two tenths adrift of Bottas' ultimate pace, and he said that the whole grid looks very closely packed.
"The whole grid, the midfield and the front end, looks really close," he said.
"We definitely didn't see the best out of Red Bull yet today, we're going to see that in Q3 tomorrow but, no doubt, they're going to be fast.
"We still don't think we are the fastest car, but we really need to prove that on Saturday."
Follow us on Twitter @Planet_F1, like our Facebook page and join us on Instagram!