Mercedes explain 'bizarre' Qatar kerb theory
After plenty of damage throughout the grid in Qatar, Mercedes director of trackside engineering Andrew Shovlin said the cars would actually benefit from having more "aggressive" kerbs on the track.
Drivers from several teams reported damaged front wings and chassis floors after running too wide on the flatter kerbs around Losail and, after track limits were extended so that only a wheel needed to be on the kerb to count as being within the limits, drivers took more risks and cornering speed to try and gain more lap time.
As a result, front wings needed changing up and down the grid as the smoother kerbs left more risk of the wings running along the ground.
Coupled with the fact that tyres were being tested to their limits by the kerbs, Mercedes' belief is that having higher and harsher kerbs exhibited at other circuits may have solved this problem – potentially including the puncture suffered by Valtteri Bottas in the race.
"It is strange because the issue is that they are actually quite smooth, therefore you can run all over them," said Shovlin, quoted by GP Fans.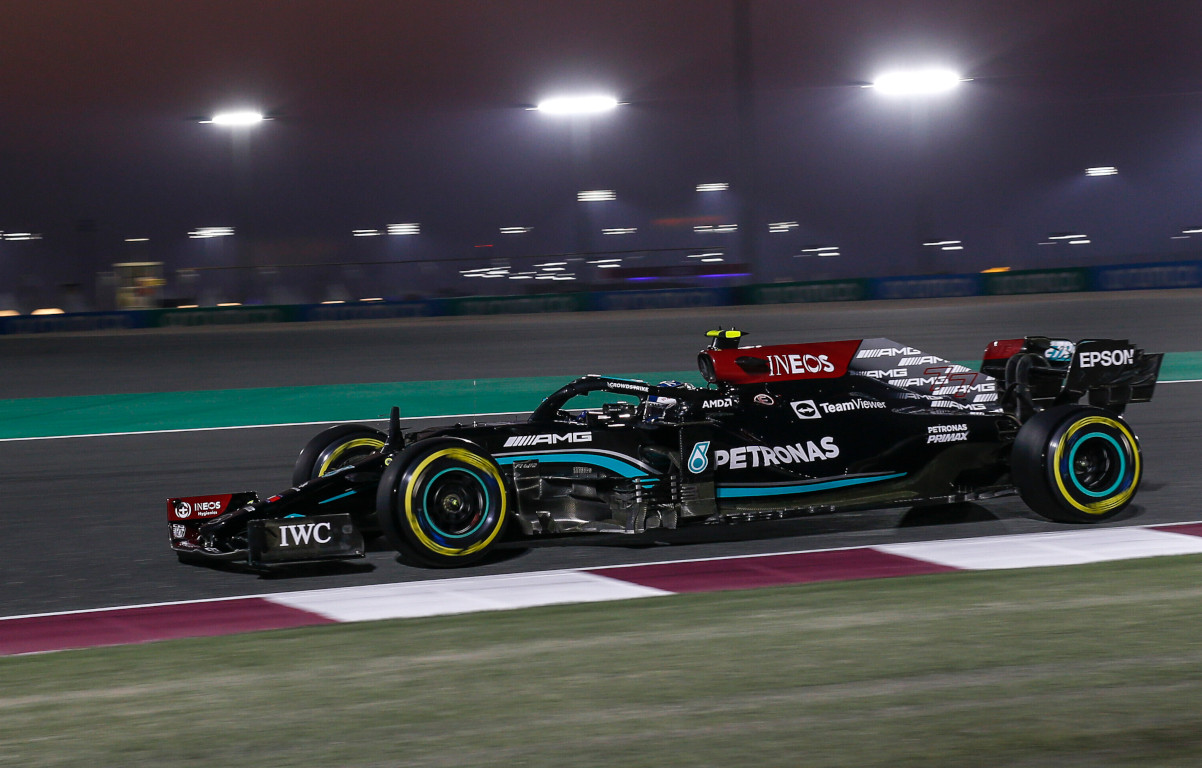 "When you run all over them, the front wings are very close to the ground and they are being clipped, the tyres are getting hit pretty hard by them.
"In a bizarre way, if they were more aggressive it was probably going to be easier for the car and the tyres.
"But it is the fact that you can get on them, and the quickest thing is to get on them as well. If it is the fastest thing you have got to do it and therein lies the risk."
Several drivers sustained damage throughout the weekend, as well as punctures ruining races for the likes of Bottas and Nicholas Latifi, but the practice sessions were where the drivers were testing the limits of the track.
Mercedes were no different in suffering the consequences of the impact of the kerbs in Qatar, but Shovlin said the team were able to find a way around the damage being caused.
"We had a bit like everyone on Friday, clipping off bits of the front wing [that were] getting hit," he said, "At the kind of speed you are doing, they just get wiped off and they are gone.
"We managed to get that under control. We were having to tell the drivers to be cautious in a couple of areas but I think everyone was in more or less the same boat.
"A lot of it is preserving your stock until you get into those final bits of qualifying, making sure the car was aerodynamically in good shape and then you can actually deliver the pace that is in the package."
Mercedes have out-developed Red Bull
Mercedes and Red Bull have seemed to be level all year, but now the Mercs are stronger.