Mercedes reveal insight into Silverstone upgrades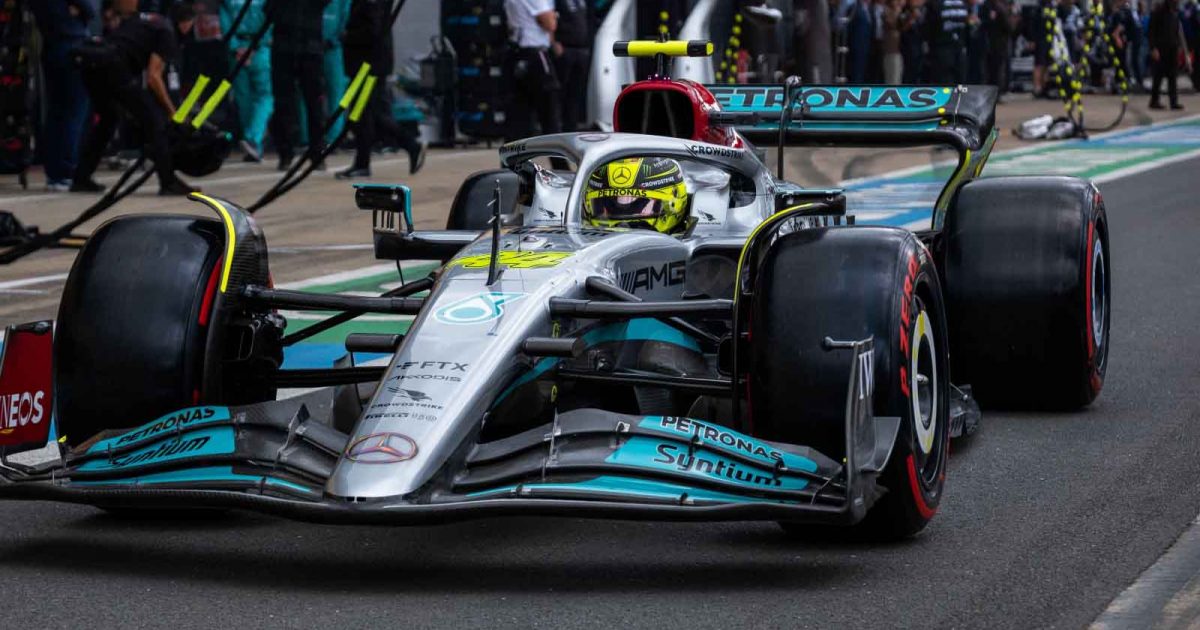 Andrew Shovlin revealed the upgrades Mercedes brought to their car at Silverstone worked as intended, and delivered "a few tenths" of extra performance which allowed them to close the gap to Ferrari and Red Bull.
Lewis Hamilton said earlier in the season that he hoped to see Mercedes iron out the 'bouncing' issues on the W13 by the time Silverstone came around, and it appears their targets were met.
Shovlin, Mercedes' trackside engineering director, added that he was happy to see the car running more smoothly after three bumpy weekends on the streets of Monaco, Azerbaijan and Canada.
While George Russell retired after tagging wheels with Pierre Gasly at the start of the race, Hamilton was able to earn a podium finish at the weekend.
"The key thing for us here was seeing they actually performed as expected and they did that – they were delivering a few tenths more downforce to the car and we think we saw that in terms of the performance on the weekend," Shovlin explained in Mercedes' post-race debrief video.
You always make Silverstone so special. Thanks for coming out and supporting us, Team. ❤️ pic.twitter.com/GFjjhBG77v

— Mercedes-AMG PETRONAS F1 Team (@MercedesAMGF1) July 6, 2022
"The other thing that was nice to see was that there was a bit less bouncing, the car was behaving a bit more normally, it was easier for the drivers to work with it to tune the balance.
"So overall, it was a pleasing result for us, not just to see Lewis on the podium but to see the update kit perform as we hoped."
Hamilton was able to largely keep up with both Ferrari drivers during the race – and was in fact reeling them in with a string of consecutive fastest laps before the Safety Car came out.
Shovlin acknowledged that returning to a more conventional "smoother circuit" played a part in Mercedes improving their performance at the weekend, and admitted there is still work to be done to make their car competitive on all track surfaces.
Nonetheless, there were positive signs to take in the Mercedes garage.
"Lewis' pace was matching the Ferraris and indeed at times he was a little bit quicker which was really encouraging to see," Shovlin said.
"But was this down to the fact that we could run the car down closer to the ground, was it that the track is a lot smoother at Silverstone, or the updates?
"Well, the reality in terms of how we were running the car, that was quite normal for ride heights and everything but it is a smooth circuit and, while we are working to make sure that our car works well on bumpy tracks, we've still got a bit to do there.
"So, no doubt the smooth track helped a bit towards that performance and then also, yes, the updates did play a part and that was encouraging to see because that's the bit that we will carry into the next race, the race beyond but we need to build on this performance because we know that we are not quite quick enough just yet."
Mercedes are currently third in the Constructors' Championship, with a significant 124-point deficit to Red Bull at the top.
Mercedes' season starts now
Mercedes showed improved performance at Silverstone. Can they challenge at the front moving forward?