Mercedes pushing Hamilton too far led to back pain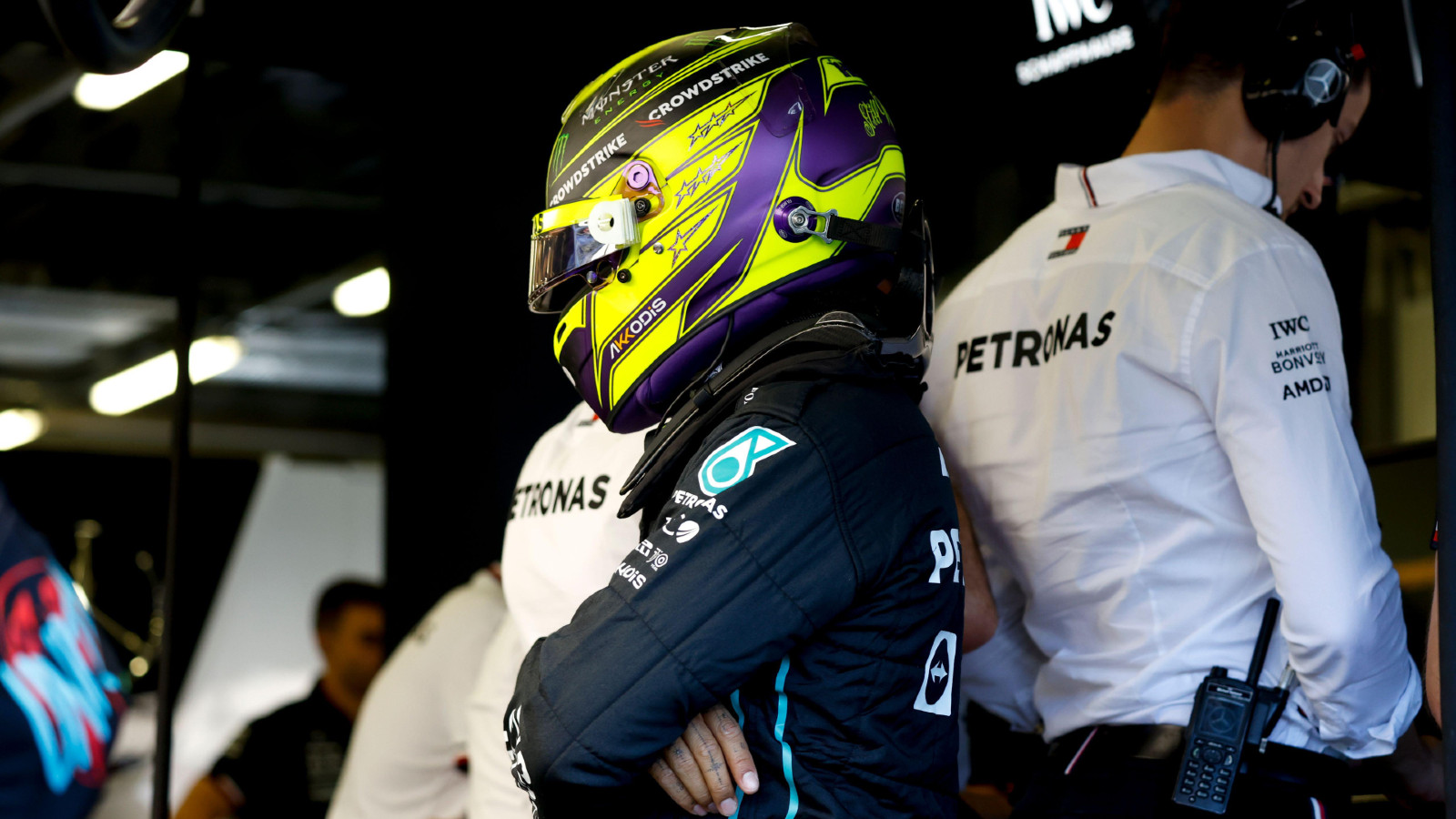 Mercedes have confirmed that Lewis Hamilton's back is on the mend, after being in agonising pain in Azerbaijan.
Lewis Hamilton's back is on the mend, following his struggles in the Azerbaijan Grand Prix.
The seven-time World Champion could be seen gingerly climbing from his Mercedes W13 after coming home in fourth place, clearly in severe discomfort after struggling with the porpoising of his car all weekend.
Hamilton had been in pain throughout Friday and Saturday, due to the bumpy Baku circuit exacerbating the problems Mercedes are having with their troublesome W13. While many of the drivers encountered the porpoising, with several voicing their concerns about the aerodynamic phenomenon and its effects on their bodies, Hamilton appeared to be affected the most in Azerbaijan.
Mercedes' boss Toto Wolff suggested that Hamilton could be in danger of missing this weekend's race in Canada, although Hamilton himself was quick to dismiss that possibility as he confirmed he will be taking part in this weekend's action as F1 returns to Montreal for the first time since 2019.
Mercedes' James Vowles offered an update on how Hamilton is faring, as he addressed fans and media in the team's official post-race debrief.
"I am pleased to report that Lewis is here [in Brackley] this morning," he said.
"I spent a few hours with him and he is OK, he will be back in the car in Montreal. He is an elite athlete that will push the bounds of endurance of himself and the car and that's what Formula 1 drivers do, that's what makes them exceptional."
With Mercedes doing everything they can to unlock the performance of the W13, Vowles admitted that the steps being taken by the team have pushed the drivers beyond what's comfortable.
"On this occasion, though we pushed the package and our drivers too far, we are putting them into significant discomfort and we simply can't do that again," he said.
"Our drivers are not the only ones suffering, you will see in the media a number of comments from a number of drivers who are equally in discomfort and pain. And we have a responsibility now to make sure that this doesn't carry on."
One concern arising from Azerbaijan was that Hamilton reported his back going cold in the closing stages of the race – an obvious issue given the sweltering heat in the cockpit of the car in Baku.
Vowles said Mercedes were mystified by his problem.
"It's a good question in as much as, I didn't have an answer until I spent a few minutes with Lewis earlier to actually ask him," he said.
"What happened is, nothing really had changed in the car, it just looks like after the amount of pummelling his back had taken from the bouncing, he fundamentally had a numbness that set in and it looks like the cold was a response to that. There wasn't anything colder in the car, it was just a response to the amount of endurance and pain he had been through in the race."
Torquing Point: Another 'little victory' for Mercedes
Mercedes had a 'little victory' in taking P3 and P4 in Baku, despite the pain Lewis Hamilton suffered.