'Mercedes wouldn't stand in Lewis Hamilton's way if Ferrari made an offer'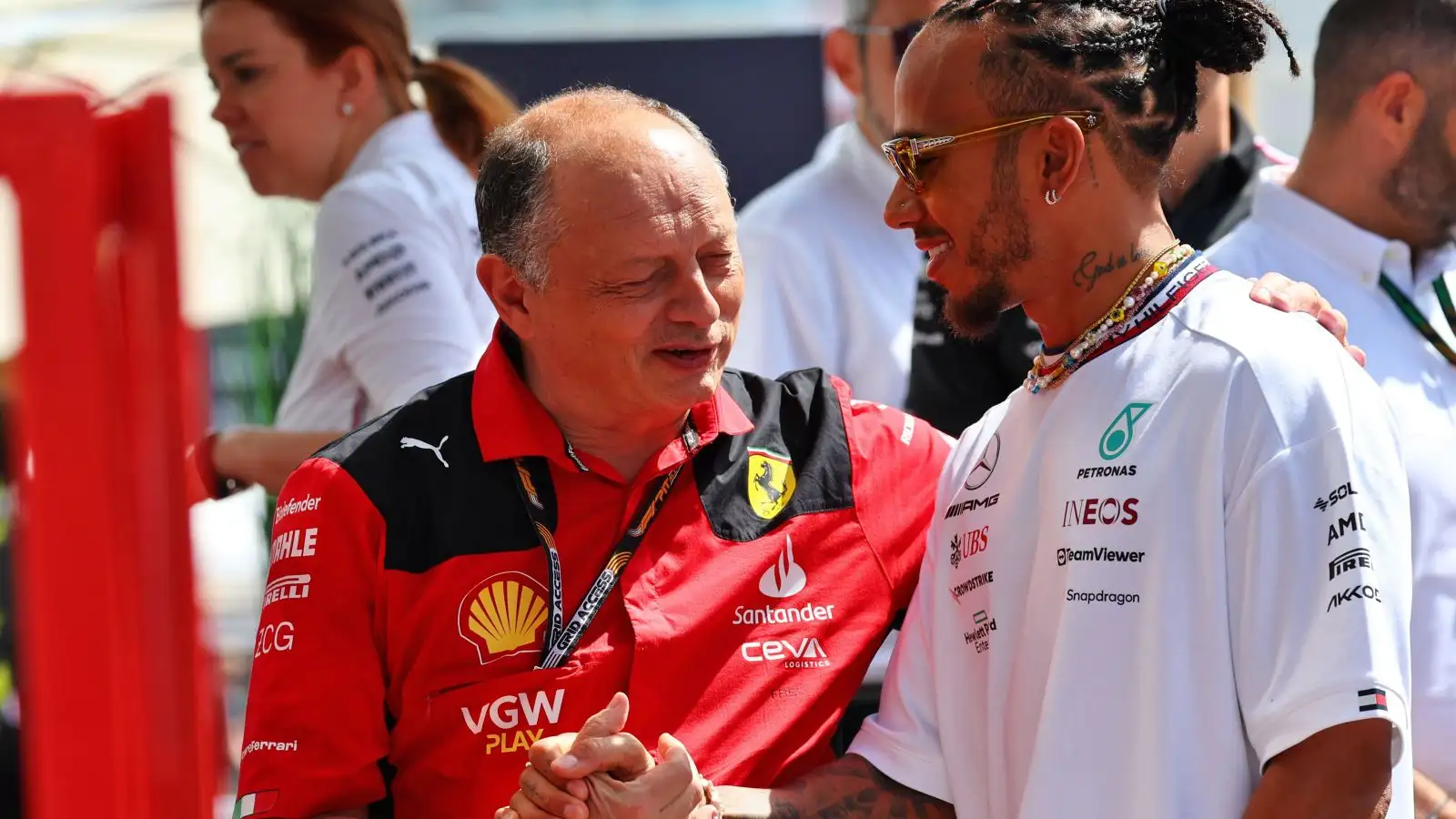 Formula 1 pundit Peter Windsor is convinced Mercedes would not stand in Lewis Hamilton's way if the seven-time World Champion received a "mega offer" to join Ferrari.
After enduring the first winless season of his illustrious career in 2022, Mercedes' underwhelming start to the new campaign has cast doubt over the future of Hamilton, whose current contract is set to expire at the end of the year.
Current Ferrari driver Charles Leclerc is said to be the leading candidate to eventually replace Hamilton at Mercedes, with team boss Toto Wolff admitting over the Azerbaijan Grand Prix weekend that the Monégasque must register on Mercedes' "long-term" radar.
With rumours persisting since the end of last season that Leclerc already has a pre-contract agreement in place with Mercedes, the 25-year-old was cagey in Baku when asked if he had held discussions with the eight-time Constructors' Champions.
"No, not yet," he replied.
Aged 38, retirement would appear to be Hamilton's most likely option in the event of him leaving Mercedes – but with his former McLaren team-mate Fernando Alonso thriving at Aston Martin as he approaches his 42nd birthday, a move to a rival team to continue his pursuit of a record-breaking eighth crown cannot be ruled out.
With Red Bull team principal Christian Horner rejecting the notion of a move for the British driver in March, Ferrari would arguably be the the most appealing option for Hamilton – and also raise the possibility of a sensational swap deal involving Leclerc.
Hamilton is known to have a good relationship with recently appointed Ferrari team principal Fred Vasseur, who oversaw his title-winning GP2 campaign at ART in 2006 before his graduation to an F1 seat the following year.
The pair were pictured in conversation in the paddock over the Azerbaijan GP weekend.
Speaking via his YouTube channel, former Williams and Ferrari team manager Windsor believes Hamilton and Mercedes could part way in a mutual agreement if the Scuderia came calling.
PlanetF1.com recommends
Jenson Button: 'Hungry' Lewis Hamilton will not 'walk away' from F1 this year
How Haas hope 'underdog story' will help them win the war for American hearts
He said: "My view is that if the Mercedes is not a great car and, say, Lewis doesn't win a race [and] maybe George [Russell] doesn't win a race and if he's got another year on his contract, if he said to Toto Wolff: 'Toto, I've given you everything.
"'I've now had two years of a bad car.
"'I've got a mega offer from Ferrari and I want to take it. Will you look into my eye and shake my hand and we'll call it quits?'
"I don't think he would say: 'No, you've got a contract. You must drive for us'.
"I think Lewis would just say: 'OK, well, I'm stopping in that case. Ciao'.
"He'd do a [Nigel] Mansell – if it ever came down to that.
"The odds are that it won't because I think he will win a grand prix or two this year – if not more – by the law of averages.
"And I think Mercedes will get better and they'll have a better car.
"And if nothing else, Toto will be very good at painting a picture in Lewis' mind of what it might be like in 2024, the race-winning car they're going to have in 2024.
"So it won't come to that.
"But if it did, I don't think contracts would be that important actually.
"I think the contracts in place at the moment basically are to govern the amount of money that he's earning.
"I can't imagine Toto really thinks: 'I can tie this guy down'.
"He can tie George down or he can tie [reserve driver] Mick Schumacher down, but he can't tie Lewis down to that extent in my view."
Hamilton's eye-watering salary has been cited as a potential stumbling block in any renegotiation with Mercedes following the emergence of team-mate Russell.
Russell claimed the team's only pole position and win of the 2022 season, with the former Williams driver outqualifying Hamilton at three of the first four races of 2023.