Downside to the rain for Mercedes: Not going to be great with our car and no DRS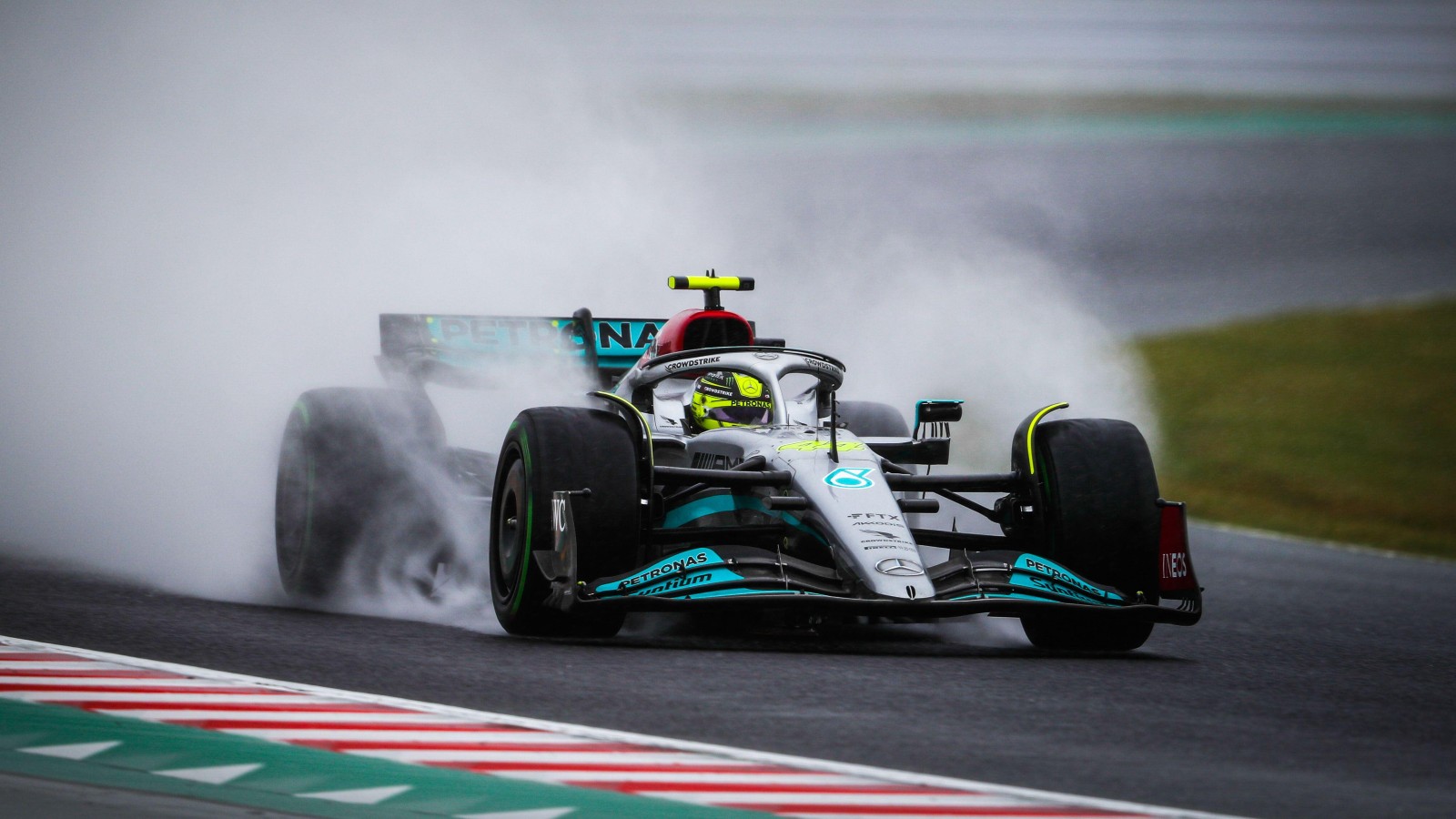 With rain heading towards the Suzuka circuit, Lewis Hamilton is hoping the weather could bring Mercedes into contention.
The Brackley squad finished first and second in Friday's practice on a sodden Suzuka circuit, however, in the dry on Saturday their deficit to Red Bull and Ferrari was apparent.
While Max Verstappen took pole position by 0.01s ahead of Charles Leclerc, Hamilton and Russell just weren't in the fight.
The seven-time World Champion qualified P6, almost a full second down on Verstappen, with Russel eighth.
Hamilton, though, reckons there's still a lot to be gained especially if it rains on Sunday.
"It depends on the conditions that we have," Hamilton told Sky Sports.
"If it rains, I think we didn't look too bad Friday in the wet conditions. I think we should be a little bit closer than we were today, and I'm just hoping for a better race result than we had last week."
The only down side to a wet track is no DRS, Race Control not making it available until they deem the conditions are safe to throw in that extra boost of speed.
That, Hamilton concedes, will make overtaking more difficult.
"It's not going to be great with our car and no DRS," said Hamilton.
"I think Red Bull is still quicker with no DRS on the straight than us when we have DRS open. But we'll be quick through the corners.
"The rain always opens up more opportunity. I think it could be not the most exciting race if it's dry. At least not for us, overtaking."
Not quite in the mix today, but Sundays are when the points are scored 👊 pic.twitter.com/294nPuaZBV

— Mercedes-AMG PETRONAS F1 Team (@MercedesAMGF1) October 8, 2022
But while the Briton didn't have the pace on Saturday to challenge for pole position, he says he still enjoyed qualifying at the Suzuka track.
"We were losing a lot of time on the straights but the car was feeling really good throughout the rest of the lap," he said.
"It was fun and my laps were generally good, I didn't have any problems otherwise. I think we losing something like five or six tenths just on the straight.
"We kind of anticipated it going in – we have a bigger wing than the other guys.
"I think that's a real reach to try to say that we can get a win, those guys are nine tenths ahead. You don't go from being nine tenths behind in qualifying to winning a race."
Hamilton will line up on the grid P6 in the Drivers' Championship with 202 points, one behind Carlos Sainz.