Shovlin hails Silverstone 'step forward' for Mercedes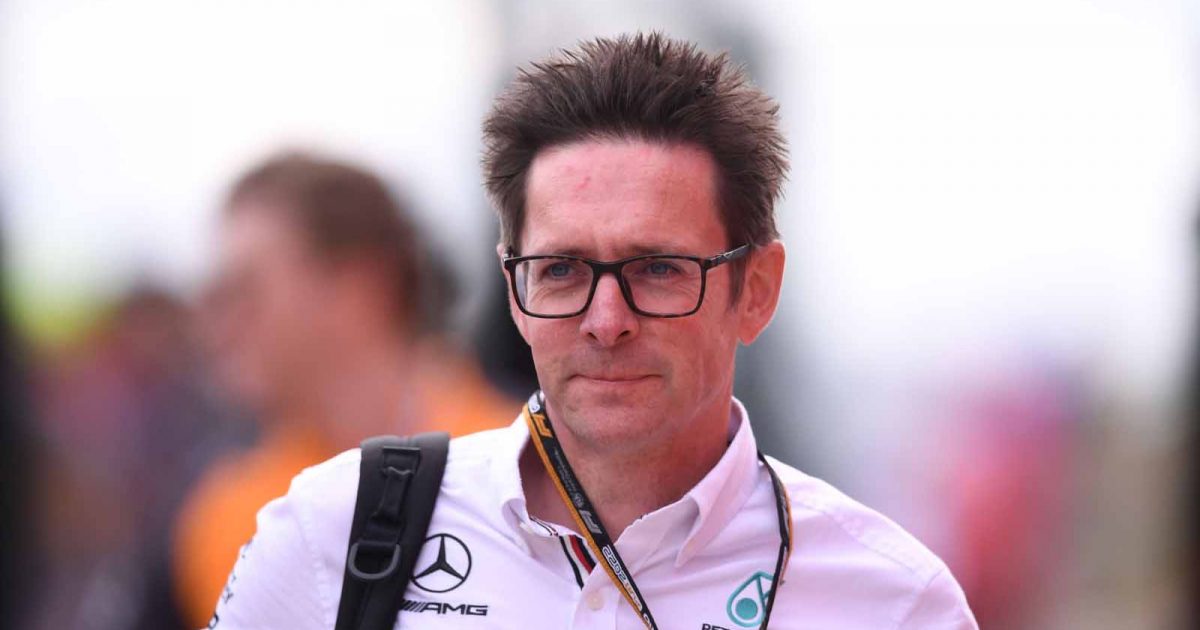 Andrew Shovlin hailed a "step forward" from Mercedes after Lewis Hamilton ended FP2 for the British Grand Prix in second position.
Back on a conventional circuit for the first time since the Spanish Grand Prix, Hamilton, seeking a record-breaking ninth Silverstone triumph, outpaced everyone except Ferrari's Carlos Sainz in the upgraded W13.
The result bodes well for the seven-time former World Champion's hopes of giving the home crowd another Sunday to remember – but his team-mate George Russell, 34 points ahead of Hamilton in the Drivers' standings, was cautiously optimistic too.
Shovlin, Mercedes' trackside engineering director, told Sky F1: "It does look like we've made a step forward because we are not normally up near the top on a Friday.
"Now I suspect there will be a bit more to come from Ferrari and Red Bull. But the long-run work was quite encouraging as well and those are overlaying quite nicely.
"Normally we see the sort of gap half a second, maybe even seven or eight tenths to the faster teams on a long run. And that didn't look like it was there.
"Probably a bit it's the circuit suiting the car. There's definitely a lot to work on, there's a lot of bouncing around and it's tricky in the high-speed [corners] at the moment. But hopefully the updates sort of pushed us in the right direction."
SO good to be back on track at Silverstone today 🙏 pic.twitter.com/V6h5JBO66v

— Mercedes-AMG PETRONAS F1 Team (@MercedesAMGF1) July 1, 2022
Russell was only eighth fastest and saw a disparity between the performances of he and Hamilton regarding their short and long-run pace.
"I struggled on the low fuel compared to Lewis, who put in a really strong lap. The high fuel was definitely more promising, I think, compared to the McLaren which was on the hard (tyres), the same as us," said the 24-year-old.
"By the end, with the tyres warmed up, we were quicker than the Ferraris, we were just improving lap after lap. There are some positive signs there but definitely room to improve.
"We need to understand why our race pace is so much stronger than our qualifying pace. We saw the McLaren really strong on a single lap, we just can't get the tyres working for one lap but over the course of a race we are in a good window. It's obviously always a balance – you can't just put your eggs in one basket for Sunday."
Russell agreed with Shovlin regarding the bouncing, which had appeared to be improved in particular areas compared to the recent street races.
"It's a very different circuit here," added Russell. "We knew through the high-speed corners it would be a challenge and that has turned out to be true. Through Maggotts, Becketts and Copse the car is bouncing around, so we need to try to understand that.
"But at least there's no porpoising down the straights, so that's one positive sign. There are positives there, we just need to dial into it and maximise it."
FP1 had taken place on a damp track and the weather forecast is unsettled for Saturday.
On the prospect of a wet qualifying session, Russell added: "We looked quite strong in the rain in Montreal.
"I'd take it [tomorrow] because our qualifying pace isn't quite there compared to our rivals."
Torquing Point: Mercedes looking to build on Canada form
After a podium finish last time out in Canada, Mercedes will be hoping to keep that momentum heading into the British Grand Prix weekend.