Mercedes duo bemused after 'substantially worse' pace from W14 in Austria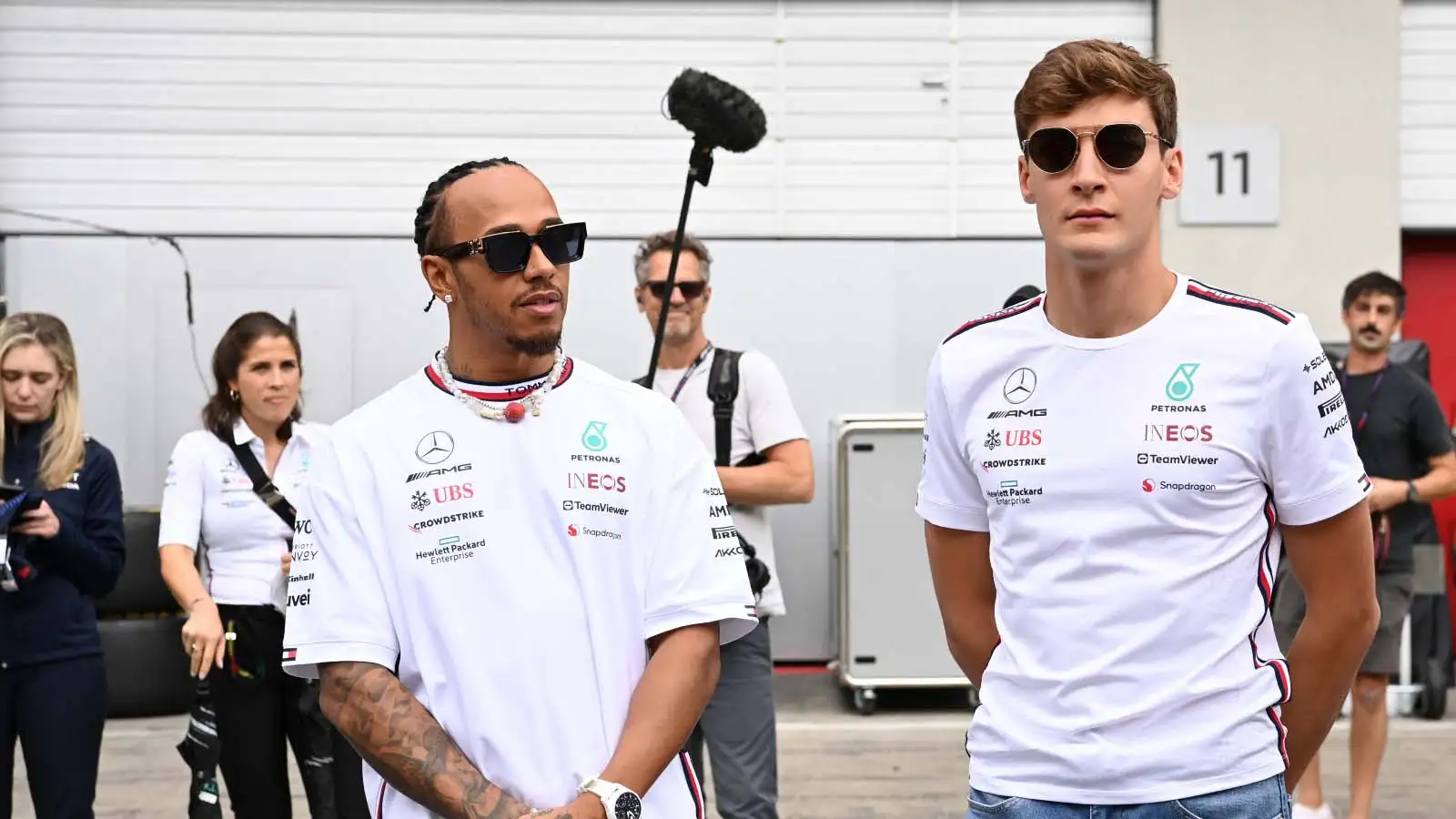 Mercedes drivers Lewis Hamilton and George Russell were left concerned after a drop-off in pace compared to recent weekends in the revamped W14 of late.
Mercedes arrived in Austria off the back of a double podium performance from their drivers in Spain and another podium finish from Hamilton in Canada, but P7 and P8 was the sum of their showing in the Austrian Grand Prix after a difficult afternoon for their drivers.
Hamilton fell back from his P5 grid slot after a time penalty for breaching track limits and pace from other drivers saw him drop down the field, while Russell recovered from a Q2 exit to get himself back into the points and finish one place behind his team-mate.
Lewis Hamilton: 'We weren't expecting to be as slow' in Austria
Team principal Toto Wolff called the Austrian Grand Prix a "bruising day" for Mercedes after a run of improved form in recent races, with Hamilton and Russell finishing a distant seventh and eighth come the chequered flag on Sunday.
Hamilton in particular voiced his concerns about the pace of the car throughout the race, as well as continually pushing for time penalties for other drivers for breaching track limits, having been punished with a five-second time penalty of his own.
He reported that his could would not turn properly early in the race, but later said the W14 was not performing in an unexpected manner during the Austrian Grand Prix.
"There was nothing wrong with the car. The car was fine," Hamilton clarified to Sky F1 after the race.
"McLaren did a great job today, they were super quick. Wasn't expecting them to be as fast as they were but we weren't expecting to be as slow as we were either.
"But this track just highlighted some other areas for us to work on, and not the greatest of days."
Given Hamilton's complaints about the handling of his W14 during the race, it's a contrast to the improvements he had been feeling in recent races.
When asked if this came as a shock, though, the seven-time World Champion replied: "The way the car felt doesn't surprise me, no."
PlanetF1.com recommends
Lando Norris pokes fun at Lewis Hamilton time penalty: It should have been way more!
F1 fastest lap: Which drivers have won the most fastest lap points in F1 2023?
George Russell: Mercedes 'substantially worse' than previous weekends
As for Russell, he admitted the car felt "substantially worse" than it has of late around the Red Bull Ring, and believes that the change in tyre compounds – with Pirelli moving to a more robust construction in recent races – could be a part of the reason why Mercedes have struggled.
But even so, he echoed Hamilton in acknowledging the progress McLaren made with their huge upgrade package on Lando Norris' car, with their compatriot taking the team's first top-five finish of the season in Austria.
But from a Mercedes standpoint, their lack of performance in Austria has given the Brackley-based team food for thought.
"We still have the same car as we had two races ago in Barcelona when we were flying, the only thing that's probably different is the tyres – something we need to understand," he said.
"A few surprises out there, Lando and McLaren did a really great job, so well done to them – but we need to understand what went wrong outside.
"It definitely doesn't feel as we want it to. The car's moving around a lot, a little bit worse than all of the other circuits, but the pace was substantially worse than we were expecting. So yeah, need to get to the bottom of it."
Read next: Austrian Grand Prix: Max Verstappen dominates penalty-laden race, Ferrari surge, Perez recovers