Mercedes technical director James Allison says the garage was tense as they tried to find the best Q3 strategy at the Portuguese GP.
Lewis Hamilton was able to take pole position at the Algarve International Circuit with the benefit of two flying laps on the medium tyres which unusually were providing more pace on Saturday than the soft compound.
Valtteri Bottas meanwhile only had the one run, and after falling short of pole by a tenth of a second, was left ruing the decision not to follow Hamilton's strategy.
But it wasn't a case of Hamilton getting the best option, instead Mercedes had no idea which was the better route to go down so chose to explore both.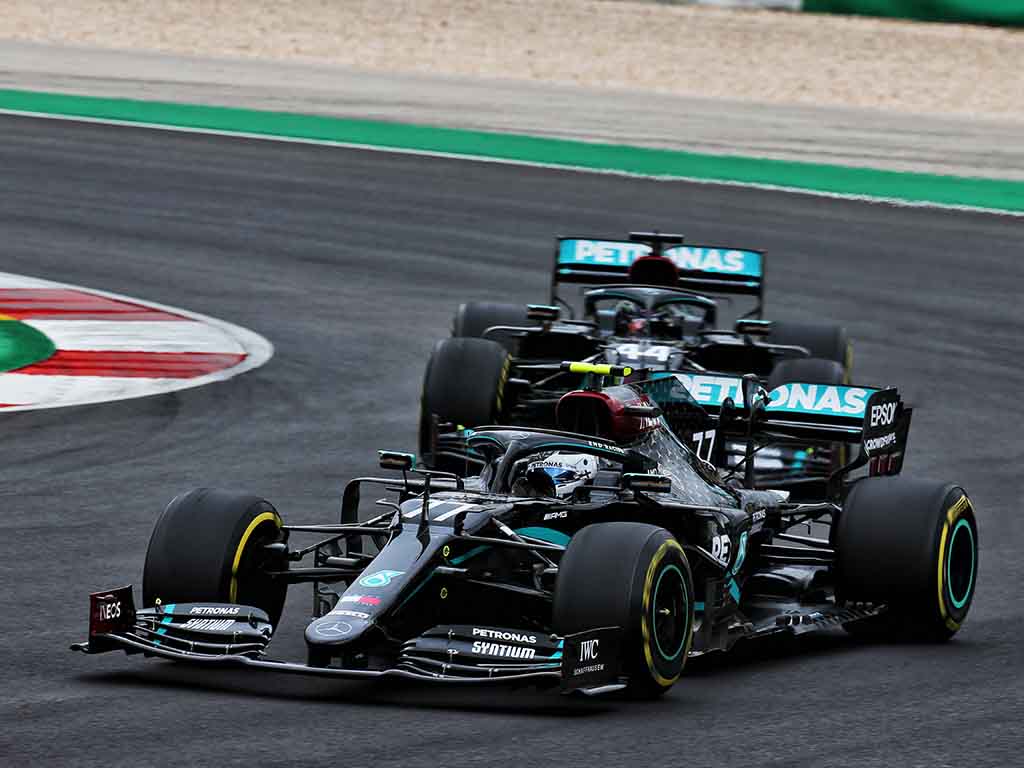 Get your hands on the official Mercedes 2020 collection via the Formula 1 store
"If you had been in our garage in the dying minutes of Q3 you would understand very well why Valtteri took a different approach to Lewis," he said as part of Mercedes' Portuguese Grand Prix debrief.
"It's because we didn't know what was the right thing to do. It was a very unusual set of circumstances with a tyre that was proving a little recalcitrant and where it was difficult to get the best out of that soft tyre in qualifying.
"We had found in the second qualifying session that the medium tyre actually gave us our best lap so far of the qualifying session and so when we were going into Q3, when it was
proving pretty tight on the soft rubber, we were thinking, well, we've got a brand-new set of mediums still sitting in the garage on heat, why don't we use that?
"But that's not normal pattern, normally you chose the softest rubber and so we were sort of slightly off kilter anyway contemplating using this medium rubber and then if you are going to use the
medium rubber what's the best way to use it?
"Well, do you just go out and hit it once with one flying lap, one lap of fuel in the car and therefore minimise the mass of the car or do you give yourself two goes at it and have a chance to get the tyre maybe a little bit warmer on a track where it was proving difficult to get the tyres up to temperature anyway and on a compound that is a bit stiffer, the medium than the soft, and where it might prove awkward to get it really, really happy in its temperature window.
"And we offered this option to both of our drivers and they chose a different path. I think Lewis chose two laps because in Q2 when he was on the medium tyre, that had been his experience. He felt that he got the better performance later.
"Whereas Valtteri had hit Q2 with the medium tyre, hit it on the first lap and got an absolutely brilliant lap out of it. He chose that in Q3 as his best shot. Lewis chose
the other path and ultimately Lewis just shaded it but it was a really, really difficult choice where we placed it in the drivers hands making that decision and it was quite a tense period
in the garage while they were weighing that up and while the clock was ticking down."
Follow us on Twitter @Planet_F1, like our Facebook page and join us on Instagram!