'No bouncing but too early to commit to design philosophy'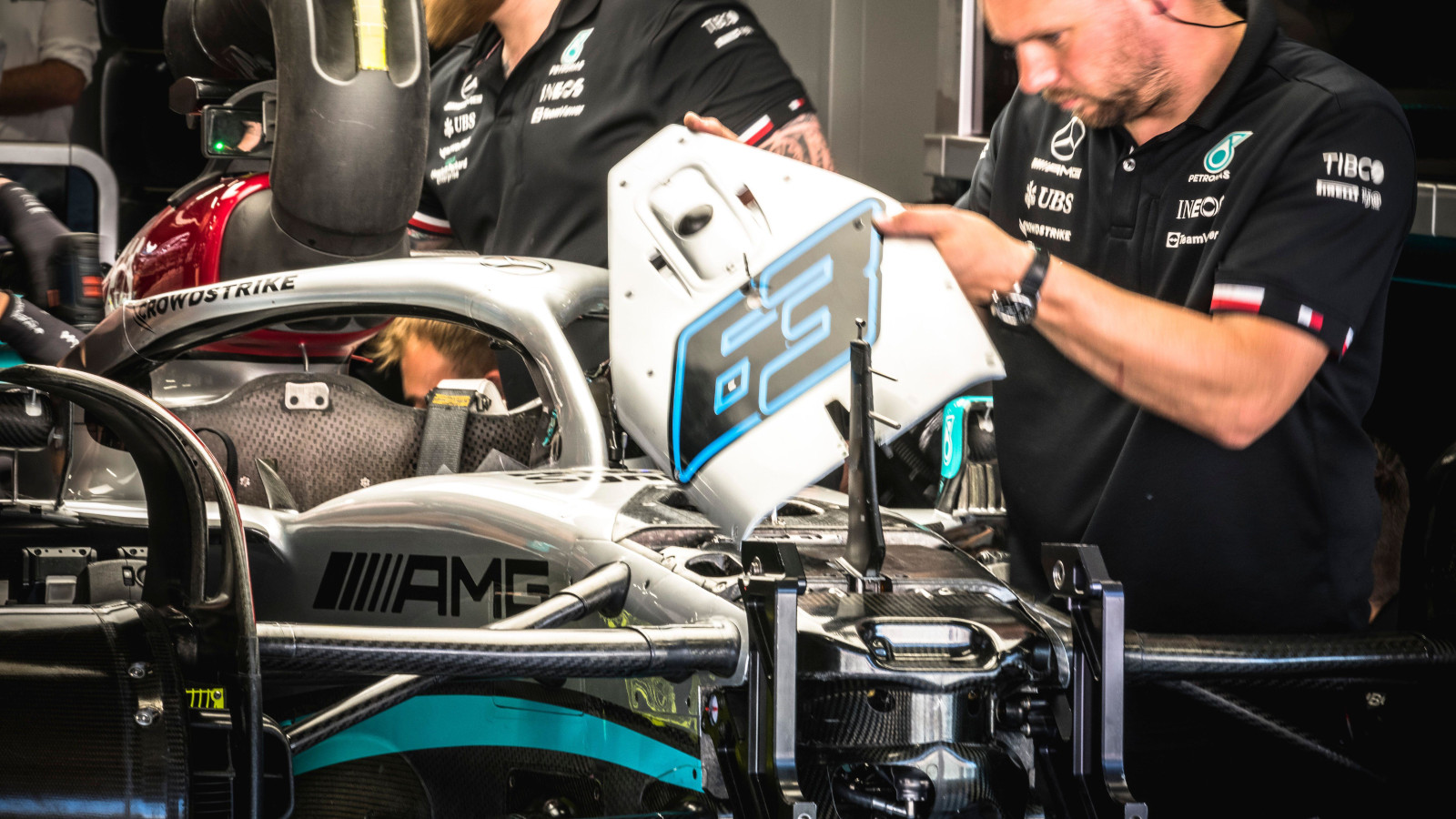 Mercedes say it is "too early" to commit to their zero-pod design despite making a "good step forward" in the Spanish Grand Prix practice sessions.
George Russell and Lewis Hamilton were second and third quickest in Friday's practice at the Barcelona circuit, probably the team's best Friday of this season.
But while Miami was also good, their performance on the Saturday went in the wrong direction.
There was no repeat of that in Spain, instead both drivers finished FP3 inside the top ten with Russell third and Hamilton P4.
The performance gains have been attributed to Mercedes' latest upgrades, the team arriving for round six of the championship with a new floor, front wing endplates and rear corner endplates.
The combination seemed to eradicate the porpoising that has cost the team dearly this season.
Bouncing more than their rivals, and at slower speeds, Mercedes have had to adopt a higher ride height to minimise that, which has cost them downforce.
In Spain, now that the porpoising is under control, the car was notably closer to the ground.
A few Friday favs 📸🤩 pic.twitter.com/lZlAPERdQt

— Mercedes-AMG PETRONAS F1 Team (@MercedesAMGF1) May 20, 2022
"We felt like we made a good step forward," Mercedes technical director Mike Elliott said. according to Autosport.
"The car seems a lot more settled – it did what we were hoping it to do.
"We've done quite a bit of work to understand the bouncing effect, to work out how we best mitigate it. We've brought bits which have definitely settled the car down.
"The package we've brought here, we were definitely able to run the car in a position much more close to where we'd like to ideally run it.
"So, there's a chunk of downforce that comes from that. The drivers look happy now."
With Mercedes motorsport boss Toto Wolff saying they'll decide after Spain whether to stick with their zero-pod design or return to the larger sidepods that they ran at the very first pre-season test, Elliott was asked whether their practice outings had Mercedes leaning towards the current design.
He replied: "I think it's still a little bit too early to say.
"We've changed the car so much for this weekend that we need to work out how we get the best out of it.
"We need to work out what more lap time there is in it and then do the assessment as to whether we think overall this is the better direction to develop in.
"The budget cap is quite constraining and as a consequence of that, you have to make good decisions about both what we do for the rest of the year but also what we do for next year."
Mercedes will line up on the Spanish Grand Prix grid still chasing their first win of this season with the team P3 in the Constructors' Championship, 62 points behind Ferrari.
It's decision time for Mercedes in Spain
Mercedes have had a tough start and, with upgrades due, the time has come to see if they can claw back any pace.