Wolff: Two loose screws led to Hamilton Brazil DSQ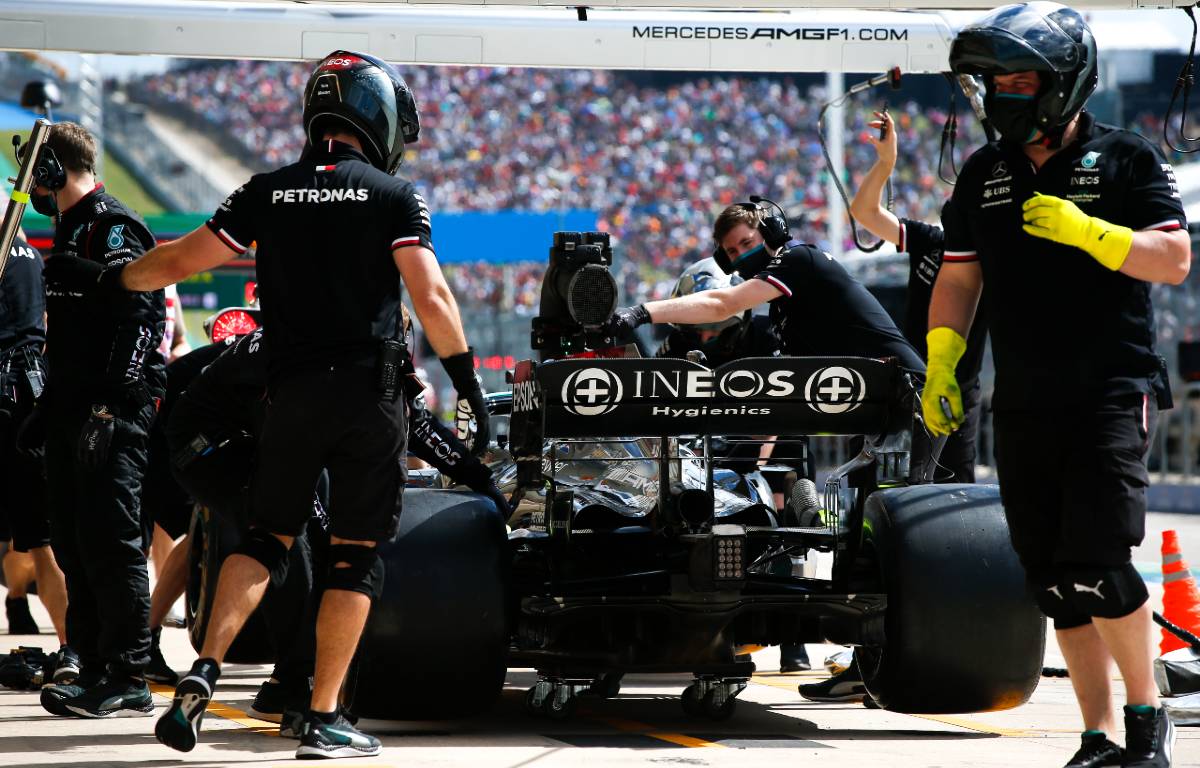 Toto Wolff says "two screws" were to blame for Lewis Hamilton's qualifying DSQ in Brazil as they became loose during the session.
Hamilton qualified fastest in Friday's qualifying for the Sao Paulo Grand Prix only to be referred to the stewards for an alleged technical infringement.
Jo Bauer, the FIA technical delegate, said in his report that Hamilton's DRS flap opening was greater than the permitted 85mm.
His W12's rear wing assembly was removed and impounded as the matter was investigated, Mercedes not permitted to examine it at the time.
The Brit was later disqualified from the results, forced to start Saturday's sprint qualifying from the back of the grid.
Wolff said at the time that Hamilton's wing had failed the test by "0.2 of a millimetre", the Mercedes motorsport boss adamant that something had gone wrong.
Scrutineers able to put 85mm ball through Hamilton's wing with DRS open! 😳🔍#f1 #formula1 #BrazilianGP 🇧🇷 pic.twitter.com/48hLVBPNpd

— Julian Pluym (@julianpluym1) November 13, 2021
The wing was eventually returned to Mercedes with Wolff revealing it was two loose screws that created the drama.
"We got the rear wing back and, as we thought, it was broken," he said. "It broke in qualifying.
"We didn't pass the 85mm slot gap test on the far right side. We passed it on the left and the middle, but not on the middle by a fraction of a millimetre and that's fine.
"We weren't allowed to inspect it, nor to make the argument that the part is being broken and consequently we found out that two screws became undone in qualifying and that caused that right side to be irregular.
"You know probably it was even detrimental to the lap time but it is what it is.
"It was reported to the stewards and that was very different to how these things were handled in the past where you would be able to patch up things that got broken during parc ferme but we've moved on."
Hamilton fought back from his P20 grid slot to finish the sprint qualifying in fifth place.
That meant he lined up P10 on the Sao Paulo Grand Prix grid, the result of a five-place engine penalty, with the reigning World Champion making his second charge in as many days to take the win.
He won the grand prix by 10 seconds ahead of Max Verstappen, reducing his deficit in the title race to 14 points.
"It's a race gone," Wolff said. "We were obviously able to turn it around.
"I wish that Lewis had been able to take more points from the sprint qualifying, but that is the past.
"I think now the rules are in a way reset and we're going to do the best out of it for the current grand prix and the next ones to come."