Mercedes asked Bottas to inspect Hamilton's car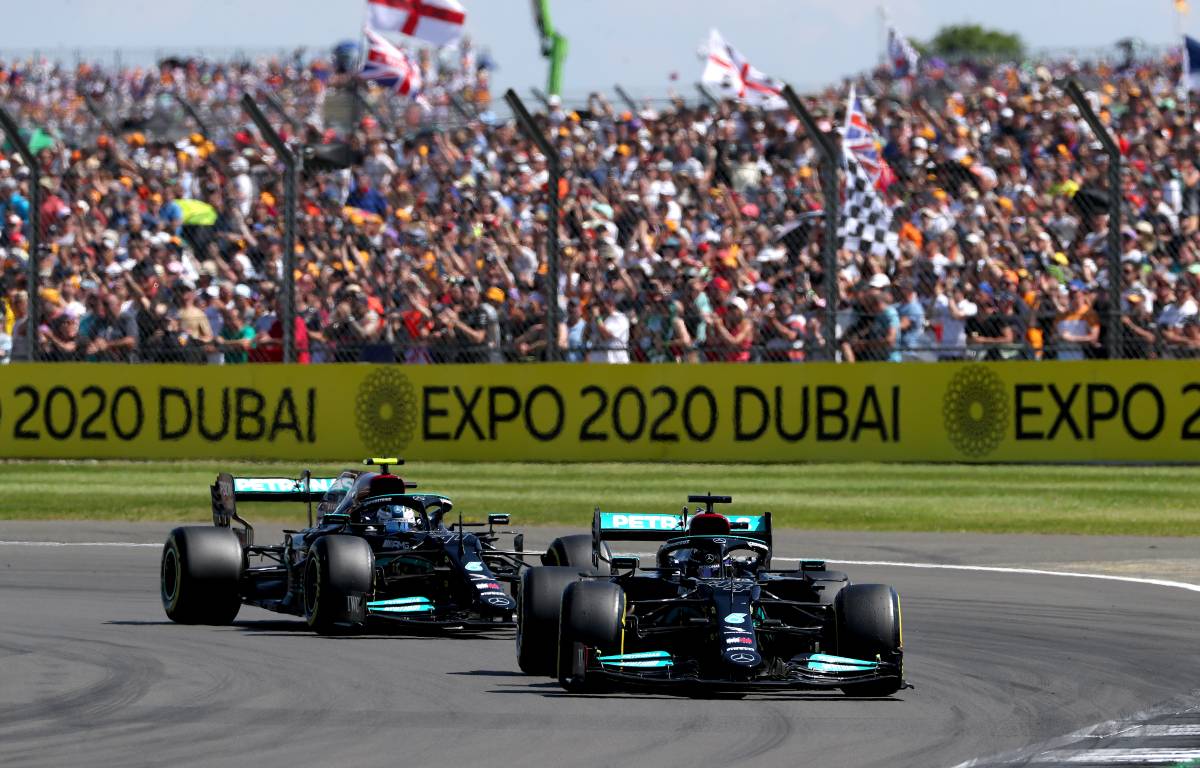 Mercedes asked Valtteri Bottas to look for signs of damage to Lewis Hamilton's car after his collision with Max Verstappen at the British Grand Prix.
In the most dramatic incident of the 2021 season so far, the two World Championship rivals clipped wheels at Silverstone's Copse corner on the opening lap and Verstappen's Red Bull went hurtling into the barrier.
There were immediate fears at Mercedes of damage to Hamilton's car and according to Andrew Shovlin, their trackside engineering director, the best thing that could have happened was the resulting red flag.
That enabled the team to fix the World Champion's front left rim, which had been cracked in the contact, with Shovlin saying it "would have been a DNF had it not been red-flagged" rather than ultimately the Briton's eighth victory in his home race.
Shovlin added: "But the rest of the damage was remarkably little – a tyre temperature sensor got knocked loose and was waggling around. It was the least important part on the front wing and the only bit that broke."
However, team radio footage has confirmed that Mercedes asked Bottas for a running check on Hamilton's car while the race was under double waved yellow flags.
Charles Leclerc had overtaken Hamilton for the lead in the immediate aftermath of the collision and so the Mercedes duo were in second and third positions.
Wolff praises Bottas' brilliant performance
Mercedes team principal Toto Wolff was delighted with the role Valtteri Bottas played in a crucial British Grand Prix for the team, lauding it a 'brilliant performance'.
Check out all the latest Mercedes merchandise via the official Formula 1 store
Then came the message from Bottas' race engineer, Riki Musconi: "Valtteri, you can go alongside Lewis, don't overtake him, have a look if you can see any damage on his car, just stay behind him."
After the Finn asked for, and received, confirmation that he should be looking on the left side of the car, he answered: "Honestly, I don't see a lot. Maybe some small bits on the front wing but…"
Musconi interjected with "thank you, you are staying out" before Bottas concluded that phase of the conversation with "yeah, looks pretty good".
During the red-flag stoppage, Mercedes mechanics were seen wrapping tape around the area where the tyre temperature sensor had come loose.
In the team's race debrief video, chief technical officer James Allison explained: "We didn't need to disturb the car in any way by putting a new front wing on because the small manufacturing differences between the front wings might have given us a slightly different balance.
"It was far more expedient just to fix the tiny bit of damage we had incurred with a bit of tape and glue rather than have to change the whole element.
"It was just the easiest thing for us to do at the time and the best way of ensuring we would have identical performance after the restart from what we had before."