Mercedes knew about W14 concept worries even before Bahrain weekend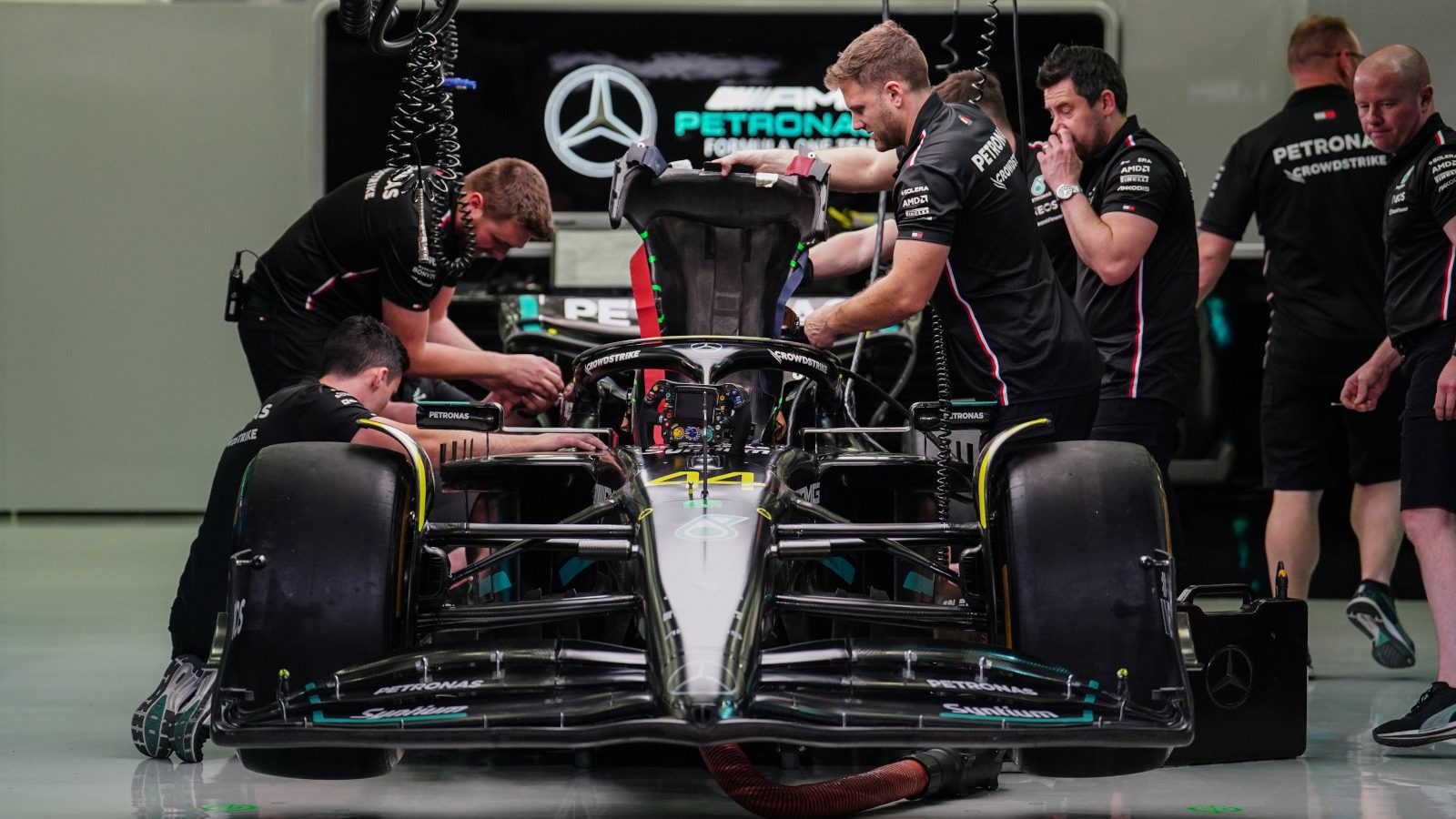 Bahrain was not the point where Mercedes found out their W14 concept was the wrong one, but it is not as simple as a sidepod change.
Team boss Toto Wolff wielded the axe on the W14 design after just one qualifying session of F1 2023, George Russell qualifying P6 and Lewis Hamilton P7 in Bahrain, with Hamilton claiming P5 and Russell P7 in the race.
Saudi Arabia was a better showing for the eight-time Constructors' champs, Russell crossing the line P4 and briefly promoted to the podium before a penalty for Fernando Alonso was overturned, but such performances are nonetheless way below the level Mercedes desire, the team wanting to fight for title glory once more.
And they are expected to search for a route back there by introducing major changes to the W14 as the season goes on, Russell teasing Imola, stop number six on the calendar, as the venue where the first big upgrade could arrive.
However, Mercedes did not need the opening rounds of F1 2023 to discover that they had gone in the wrong direction with the W14, as the wind tunnel had already told them that a change of approach was needed.
That being said, their trackside engineering director Andrew Shovlin explained that the answers do not simply lay within their unique zero-pod concept, which has been the glaring aspect of the W14, as well as its underperforming predecessor the W13, to point at for Mercedes' struggles.
As it stands the team are in a battle with Aston Martin and Ferrari to finish a rather distant 'best of the rest' behind Red Bull.
"You can look at your development rates in the wind tunnel, and before we even got to Bahrain, there were conversations about looking at bigger [concept] departures," said Shovlin, as per Motorsport.com.
"That's not looking at it in isolation for this year's car development, it's something we've done over the course of the last 10 years.
"If you're not finding the gains you need, you make a bigger change. You explore another area and often you want to unlock that.
"That had already happened before Bahrain. But perhaps the urgency to try and bring those bits to the track has gone up following the early races.
"Perhaps we've adopted the word concept to mean sidepod. This car is an evolution of the car that we had last year, and a lot of that is tied around where we've got the side impact structure. So now we're looking at bigger departures because it's evident that this hasn't given us the performance that we'd like.
"Saying that, there's other areas of the car that we know we need to improve as well. It would be very misguided to think if we go and put a different-looking sidepod on it, all of that gap is going to vanish.
"The reality is that the vast majority of that gap is going to have to come from other performance areas. We've got a lot of projects at the moment trying to bring performance over the next five races."
Hamilton has been by far the more vocal of the two Mercedes drivers this season, making his displeasure about the W14 clear, a car which he cannot "connect" with, while also accusing the team of not listening to his feedback when creating the challenger.
Shovlin is optimistic though that if Mercedes can get Hamilton feeling more comfortable in the W14 as F1 2023 rolls on, it should also have the same effect for Russell.
"There's things where the car hasn't gotten entry stability, and that means they haven't really got the confidence with it," said Shovlin. "It can be a bit tricky to bring the tyres in, and we're sliding around too much in the high speed.
"We're taking feedback from both drivers throughout every session, and that's getting fed into the development process. And, ultimately, I think if we improve the car for Lewis, we will improve it for George as well."
PlanetF1.com recommends
Lewis Hamilton enjoyed being right about W14 flaws: 'I'm the gateway to car performance'
Alpine concede Aston Martin 'caught everyone by surprise' with huge 2023 leap
F1 2023 driver salaries revealed: How much do Formula 1 drivers make?
Williams experience helping George Russell at Mercedes
Russell came into the Mercedes team in time for the 2022 campaign planning to be part of the title picture, while Hamilton shared those expectations as he looked to banish the spectre that is Abu Dhabi 2021 and clinch that record eighth title.
So far neither driver has been put in a position by Mercedes to achieve their respective goals, and Russell seems to be the driver who has adapted to this setback more efficiently, which is understandable.
Until 2022 Hamilton had won at least one race in all of his Formula 1 seasons, having started out back in 2007, so a car very rarely in the conversation for victory, especially after that Abu Dhabi hammer blow, was a bitter and unexpected pill to swallow.
Russell though is more than accustomed to trying to drag an underperforming car up the order and maximising every result, as that was pretty much his task at every round throughout his three seasons with Williams.
So, while Russell absolutely is not here to fight for anything other than victories, as he himself has consistently said, he is in fact more experienced at navigating the current tricky situation for Mercedes than Hamilton is.