Mercedes' technology director Mike Elliott expects Red Bull to remain their "strongest opposition", boosted further by Sergio Perez.
Armed with the W11, Mercedes romped to both the Drivers' and Constructors' Championships in 2020, making it the seventh year in a row they had wrapped up the title double.
The regulations have remained largely stable between 2020 and 2021 due to the delaying of the new rules until 2022, so logically that would suggest Mercedes are in prime position to stretch their title streak to eight.
But Red Bull in particular, whom Mercedes expect to be the "strongest opposition" on the 2021 grid, have added a new weapon to their arsenal.
That weapon is Perez, who has been brought in following his release from Racing Point to partner Max Verstappen.
Perez finished P4 in the 2020 Drivers' Championship, scoring his first career win in the process at the Sakhir Grand Prix.
The Mexican is a points-scoring specialist, something Red Bull have been missing over the past couple of seasons, and Mercedes are very much aware of that gap in Red Bull's game now being filled.
"When you look at the teams we are competing against you're obviously going to look at Red Bull," said Elliott in conversation with The Muscle Help Foundation when asked to name the strongest driver line-up outside Mercedes.
"They will be our strongest opposition and I think in Verstappen they have a very good driver, and I think Perez will be a strong second driver to him for scoring points when Verstappen doesn't or supporting in their bid for the constructors' Championship."
Outside of Red Bull, Mercedes also have their eyes on a few other drivers, including George Russell who is in contention for a seat with the Silver Arrows for 2022.
"Then I think if you look at the key drivers, [Charles] Leclerc is obviously a really good driver. It's going to be interesting to see how [Sebastian] Vettel gets on at Aston Martin, see whether he can reignite his career," Elliott continued.
"Then I think most Mercedes people, as well as looking at our own drivers, probably would also follow what George [Russell] is doing at Williams."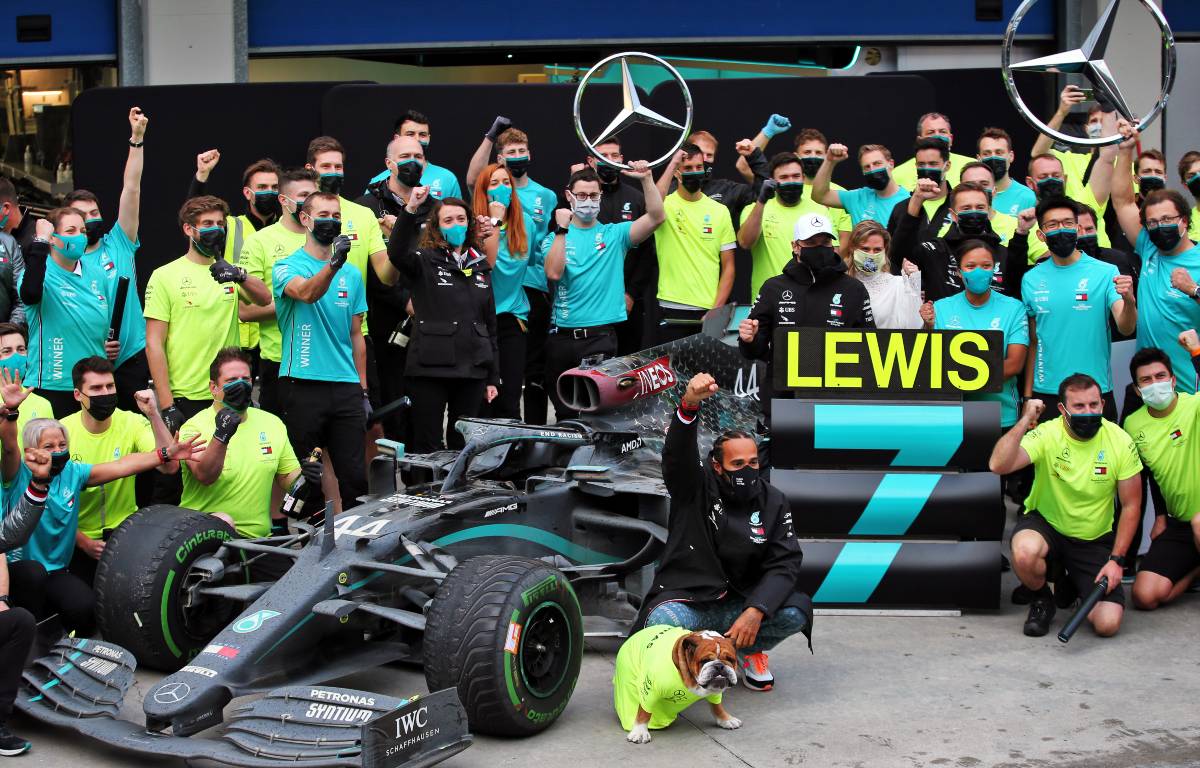 Get your hands on a limited edition Lewis Hamilton cap via the official Formula 1 store!
Despite Red Bull's acquisition of Perez, Mercedes remain strong favourites in 2021 with Sir Lewis Hamilton chasing a record eighth World Championship.
But the team certainly are not resting on their laurels – the day they do that is the day they "fail".
"There's a quote from Niki Lauda, he said 'you learn nothing from winning, it's from losing that you learn' because the reaction to a loss is huge, the emotional reaction to a loss is much more powerful than to gain," said Elliott.
"When you lose, you are driven to find out why. We see that in the team. When we lose a race we think 'why did we lose that?'
"The reaction to go and find out why, gather all the learning you possibly can, and turn that into the next step in performance is huge.
"And I know Toto [Wolff, team principal] said something in the press a few years ago which was 'the day we lose is the day the opposition should fear', and I think that is sort of taking Niki's comment to the extreme. But I think there is that sort of feeling within the team of 'yes, we've won seven but there's still a long way to go to perfection'.
"As soon as you start looking at yourself in the mirror and think 'we are the winners, we are the guys that have done it year after year' is the day you fail.
"You've got to have a level of humility. The opposition are strong, if we fall asleep they will beat us, and even if we don't fall asleep they may well beat us, so the best thing we can do is focus on how we keep getting better week in, week out."
Follow us on Twitter @Planet_F1, like our Facebook page and join us on Instagram!