Mexican Grand Prix 2022: Schedule, TV and how to live stream
If it's the Hallowe'en weekend it must be the Mexican Grand Prix, which this year forms round 20 of 22 in the Formula 1 World Championship.
It will not quite be Mexico's Day of the Dead, with track action taking place from October 28-30, but you can be sure the festivities will be evident at the Autodromo Hermanos Rodriguez.
And what would the local crowd like to celebrate most of all? A win for their hero, Sergio Perez, of course. He finished third last year behind his Red Bull team-mate Max Verstappen and Lewis Hamilton and if 'Checo' was to go two better this time, the fans' reaction would be simply off the scale.
Red Bull have both the Drivers' title – through Verstappen, of course – and the Constructors' crown wrapped up, so could this be a race when they put all their focus on helping Perez to make one of his biggest dreams come true? It would also stand him in good stead to finish P2 in the 2022 Drivers' list.
Here is everything you need to know ahead of the 2022 Mexican Grand Prix.
When is the 2022 Mexican Grand Prix?
Friday October 28
Free practice 1: 1300-1400 (1900-2000 UK time)
Free practice 2: 1600-1730 (2200- 2330 UK time (extra 30 minutes for Pirelli 2023 tyre testing)
Saturday October 29
Free practice 3: 1200-1300 (1800-1900 UK time)
Qualifying: 1500-1600 (2100-2200 UK time)
Sunday October 30
Race: 1400 (2000 UK time)
Where does the 2022 Mexican Grand Prix take place?
Autodromo Hermanos Rodriguez, built in 1959, is located in the south east of Mexico City, within the public park of the Magdalena Mixhuca Sports City.
The venue first hosted a Formula 1 World Championship race in 1963 and 20 more have taken place there since, the event returning to the calendar in 2015 after being absent for 22 years.
The race has proved a popular addition to the schedule since then, with an electric atmosphere created by the packed grandstands and some thrilling racing being produced on track.
The circuit is 4.304km long and consists of 17 corners in total, with the final one – the peraltada – being particularly famous.
The main straight, meanwhile, is among the longest on the calendar, with cars hitting speeds of around 230mph on it.
Some huge moments have taken place at the track in recent times, with Hamilton securing titles there in 2017 and 2018.
Where can I watch the 2022 Mexican Grand Prix?
In the UK, pay-TV broadcaster Sky Sports will show the entire race weekend, from FP1 to the race, on its dedicated Sky Sports F1 channel. You can also access a live stream of the coverage via Now TV.
Free-to-air broadcaster Channel 4 will broadcast highlights across the race weekend.
PlanetF1 will carry live timing and expert commentary on every session of the race weekend, from FP1 on Friday morning to the race on Sunday.
The Mexican Grand Prix will be shown live on TV on the following outlets in other key markets:
United States: ESPN, ABC
Canada: RDS (French), TSN (English)
Australia: Fox Sports
France: Canal+, C8
Italy: Sky Sport F1
Germany: Sky Sport F1
Spain: DAZN
Netherlands: Viaplay
Brazil: Band
Japan: DAZN, Fuji TV
What is the grid of the 2022 Mexican Grand Prix?
1 Max Verstappen Red Bull 1:17.775
2 George Russell Mercedes 1:18.079
3 Lewis Hamilton Mercedes 1:18.084
4 Sergio Perez Red Bull 1:18.128
5 Carlos Sainz Ferrari 1:18.351
6 Valtteri Bottas Alfa Romeo Racing 1:18.401
7 Charles Leclerc Ferrari 1:18.555
8 Lando Norris McLaren 1:18.721
9 Fernando Alonso Alpine 1:18.939
10 Esteban Ocon Alpine 1:19.010
11 Daniel Ricciardo McLaren 1:19.325
12 Guanyu Zhou Alfa Romeo Racing 1:19.476
13 Yuki Tsunoda AlphaTauri 1:19.589
14 Pierre Gasly AlphaTauri 1:19.672
15 Mick Schumacher Haas 1:20.419
16 Sebastian Vettel Aston Martin 1:20.419
17 Alex Albon Williams 1:20.859
18 Nicholas Latifi Williams 1:21.167
19 Kevin Magnussen Haas PENALTY
20 Lance Stroll Aston Martin PENALTY
[Correct with penalties applied as of Saturday 30 October]
What are the odds for the winner of the 2022 Mexican Grand Prix?
Max Verstappen: 4/6
George Russell: 9/2
Lewis Hamilton: 6/1
Sergio Perez: 17/2
Charles Leclerc: 22/1
Carlos Sainz: 40/1
[Odds correct as of Saturday 30 October after qualifying, odds provided by Planet Sport Bet]
What is the weather forecast for the 2022 Mexican Grand Prix?
Friday October 28 – 25C, sunny with light winds
Saturday October 29 – 24C, sunny intervals, light winds
Sunday October 30 – 21C, sunny with light winds
Information courtesy of BBC Weather
Directions to the 2022 Mexican Grand Prix
For those travelling to the race by air, the nearest airport is Benito Juárez International Airport, Mexico City's main travel hub. From there, the circuit can easily be reached by metro or taxi.
They are also the best options for those heading to the track from the city centre, with no car parking available at the circuit itself.
The track, located at high altitude, is sectioned into colour-coded zones and you will have to enter through the correct gate to access yours.
Address: Av, Viad. Río de la Piedad S/n, Granjas México, Iztacalco, 08400 Iztacalco, CDMX, Mexico
What are the odds for the 2022 Mexican Grand Prix?
Here are Planet Sport Bet's odds for the winner of the Mexican Grand Prix:
4/7 Max Verstappen
4/1 Charles Leclerc
11/2 Sergio Perez
11/1 Lewis Hamilton
12/1 Carlos Sainz
22/1 George Russell
200/1 and bigger the remainder
Which drivers have won the Mexican Grand Prix?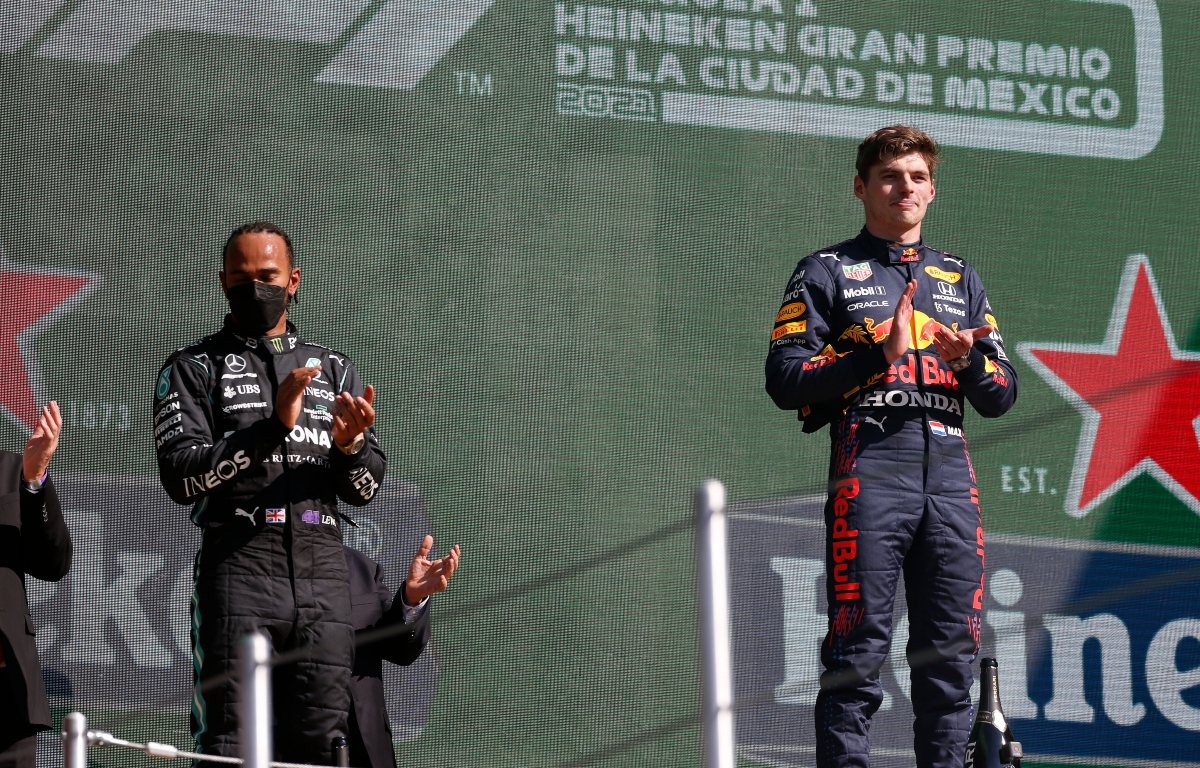 There have been 21 Mexican Grands Prix since the first one took place in 1963 and 15 drivers have tasted victory there, four doing so twice – and one became a three-time winner last year.
It has proved to be a strong circuit for British drivers with Jim Clark, Nigel Mansell and Hamilton all managing to win there twice. Clark actually has three to his name but the first of them, in 1962, was not an official championship race.
Therefore, with his 2021 success, Verstappen became the first driver to get three victories on the board, all within the last four editions.
Alain Prost is the only other driver to have won there more than once.
Winners of the Mexican Grand Prix since its return are as follows:
2021: Max Verstappen (Netherlands, Red Bull)
2019: Lewis Hamilton (Great Britain, Mercedes)
2018: Max Verstappen (Netherlands, Red Bull)
2017: Max Verstappen (Netherlands, Red Bull)
2016: Lewis Hamilton (Great Britain, Mercedes)
2015: Nico Rosberg (Germany, Mercedes)
What are the latest F1 Championship standings?
Max Verstappen 391 points
Charles Leclerc 267
Sergio Perez 265
George Russell 218
Carlos Sainz 202
Constructors' Championship
Red Bull 656 points
Ferrari 469
Mercedes 416
Alpine 144
McLaren 138
Tyre choices for the 2022 Mexican Grand Prix
It's race week, as @F1 heads to the Autodromo Hermanos Rodriguez for the #MexicoGP, where the high altitude of the venue adds to the technical challenge of the layout 🇲🇽

Here's everything you need to know: https://t.co/94lWryrT1W#F1 #Fit4F1 #Formula1 #Pirelli #Pirelli150 pic.twitter.com/3xShF3HbJB

— Pirelli Motorsport (@pirellisport) October 24, 2022
Due to the conditions that will greet the teams and drivers in Mexico City, Pirelli have opted to take the middle three compounds in their range.
Therefore, the C2 will be the hard, the C3 the medium and the C4 the soft.
Pirelli motorsport director Mario Isola said: "Mexico focuses on traction and braking. The circuit does not offer a lot of grip and the energy demands on the tyres are reasonably low, as the cars do not generate much downforce in the thin air at high altitude, especially in slow corners.
"This year, the circuit might be more front-limited as the current generation of car tends to understeer through slow corners – which Mexico has plenty of – and this can lead to some sliding on the front tyres.
"Due to the nature of the venue, the circuit tends to feature a dusty surface with plenty of track evolution. Understanding this and getting the tyre warm-up exactly right is likely to be the key to success."