Miami GP trying to be 'creative' with fan experience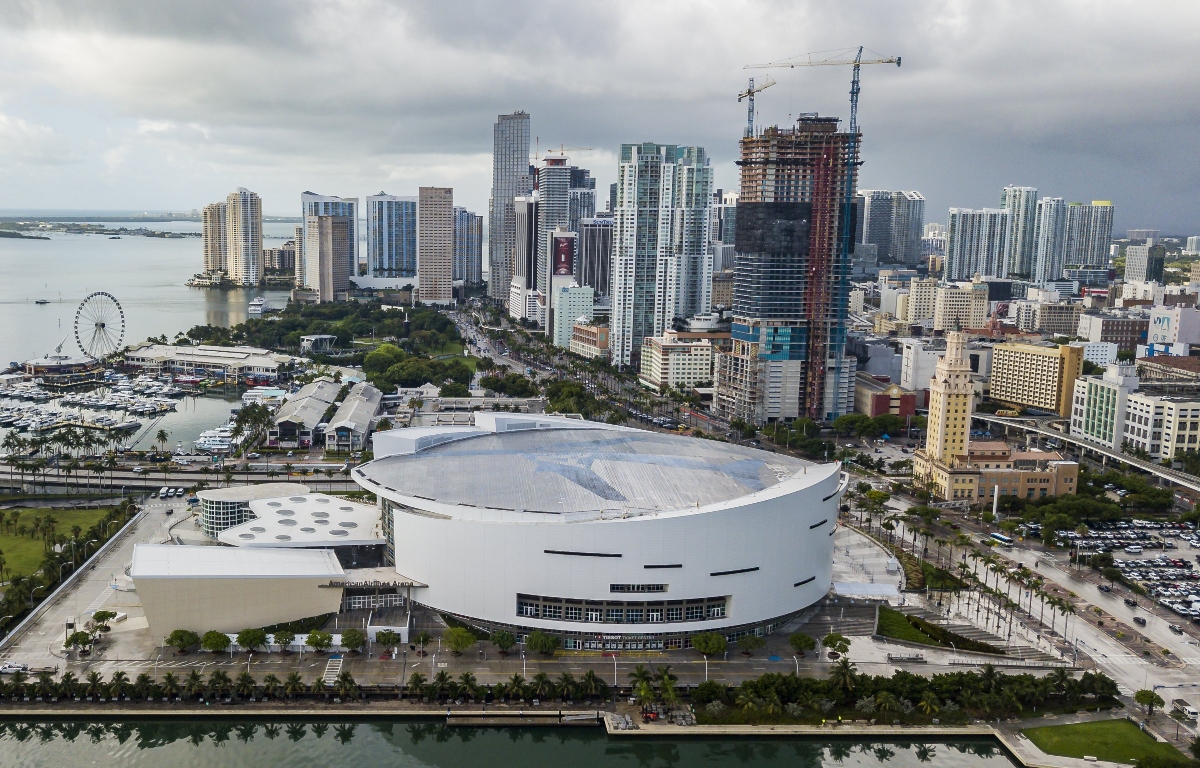 Miami Grand Prix organisers are looking to take a "creative" approach in their hope of providing a unique race for fans to attend next year.
The track is being constructed around Miami's Hard Rock Stadium – home of the NFL's Miami Dolphins – with the aim of trying to get Formula 1 fans in Florida to see the sport in a new way.
Tom Garfinkel, president and CEO of the Dolphins, has been overseeing development at the circuit and he confirmed that a "conservative" attendance of 80,000 will be allowed at the first running of the race, due in May 2022.
With that, he expressed his desire to have in place viewing points at the top of the stadium where the entire track is visible to fans, as well as adding to the fan experience at every corner – quite literally.
Mark your calendars! ✍️

The F1 Miami Grand Prix is coming May 8, 2022!

Learn more >> https://t.co/bnC0nwZHbm pic.twitter.com/LkCdKGHL1G

— F1 Miami Grand Prix (@f1miami) September 23, 2021
Check all the latest 2021 teamwear via the official Formula 1 store
"We'll have more to roll out in the coming months, but what we are trying to do is create an environment that has multiple products and experiences," Garfinkel said to ESPN. "We'll have traditional grandstands and we'll have a Paddock Club, but we're going to create a lot of hospitality experiences to go along with that.
"Ultimately, we want almost a campus environment where, on Friday, Saturday and even race day, people can get around different parts of the race track and experience different things, see different corners.
"With the stadium being at the centre of the race track, you can walk around the top of the stadium and really see every corner of the race track. I think that's pretty unique in and of itself and I think we have some infrastructure in place that we can use to provide good hospitality and good experience and we are trying to be as creative as we can be.
"[For the first year] we want to keep it smaller, more intimate and deliver a great experience to those that come," he said. "We'd probably have demand for twice that and we have room to add more grandstands and do more things, but I want to start at a smaller number, deliver a great experience and then expand over time."
A $5million fund has been put in place for residents of Miami Gardens and to offer support for local businesses, alongside funding a STEM [science, technology, engineering and maths] programme to be delivered in local schools.
Garfinkel hopes these measures will be able to connect local people with Formula 1, as well as plant the seeds for local children to have ambitions of working in the sport one day.
"We have had discussions with a couple of the teams and the driver representatives on a STEM project in Miami Gardens," he added. "Ideally, we'd like to see an environment where there are kids locally in Miami Gardens near our race track that are, years from now, engineering a Formula 1 car or working in a marketing department at a Formula 1 team.
"Of course, we'd love to see drivers and all that, but there are so many other jobs – someone could be working for ESPN in Formula 1 if they grew up near the Miami Grand Prix and fell in love with the sport, for example. We'd love to see this turn into that and that's what we're working towards."