Race: Verstappen closes gap to Leclerc with Miami victory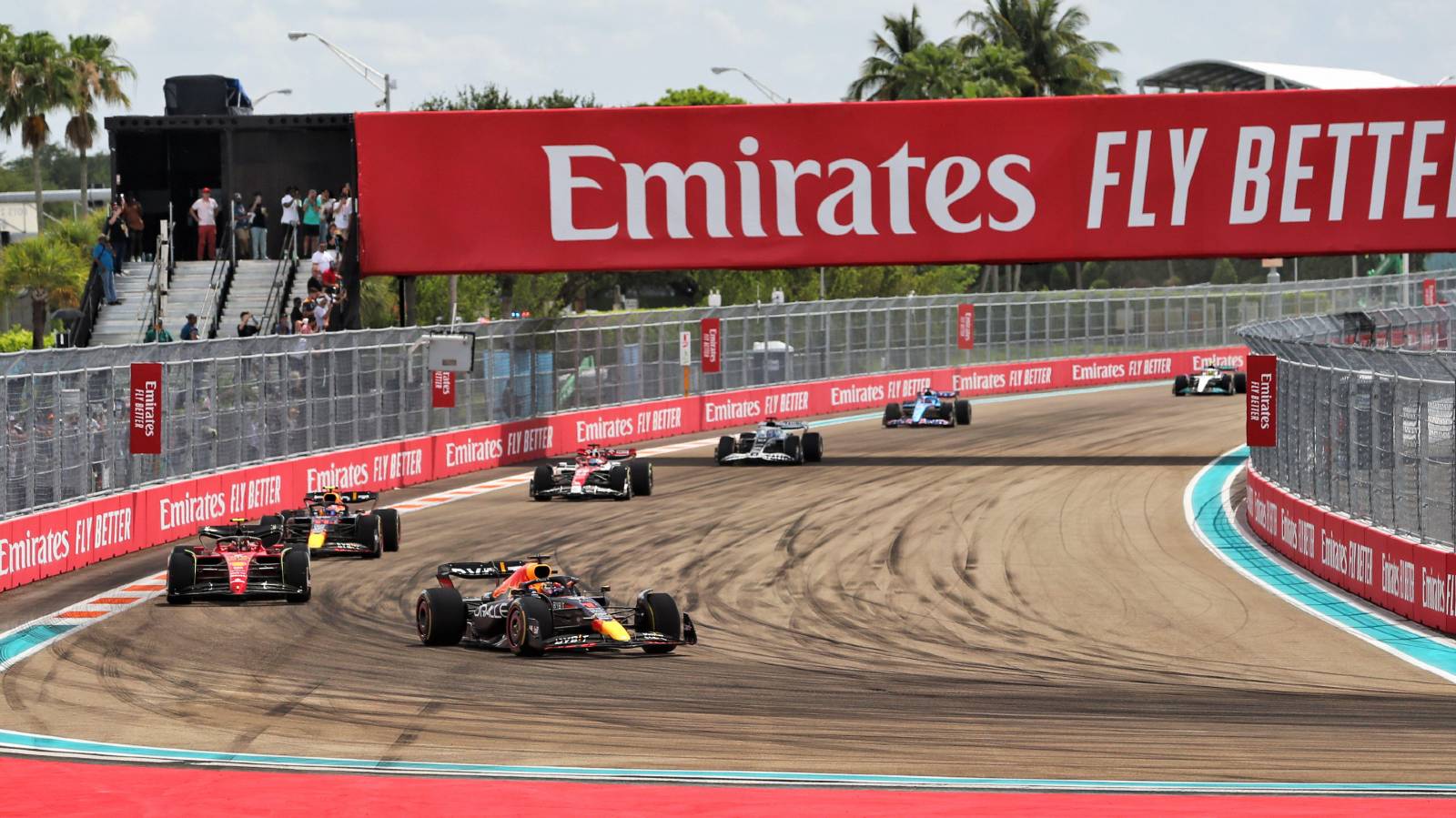 Max Verstappen secured his third win of the season after overtaking pole-sitter Charles Leclerc to win the first ever Miami Grand Prix.
The reigning World Champion, who also set the fastest lap, closed the gap on his title rival to 19 points by following up his Emilia Romagna Grand Prix success two weeks ago. The Dutchman has now won all three races he has finished this season.
Leclerc finished second ahead of his Ferrari team-mate Carlos Sainz, who was back on the podium after a poor spell of form at the previous two races.
On a grid packed to bursting point with the celebrity glitterati, it was not easy to spot at first but it emerged neither Aston Martin car was in the P10 (Lance Stroll) and P13 (Sebastian Vettel) spots in which they had qualified.
It transpired both AMR22s had a problem with the fuel being cooler than regulations allow, so to avoid any potential penalty they opted to start from the pit lane.
At the sharp end, Ferrari had secured their first front row lockout since Mexico 2019 but their hopes of holding those positions throughout the opening lap were thwarted by a flying start from Verstappen, who squeezed past Sainz in the opening series of corners.
Fernando Alonso was the big early mover, making up four places to seventh to get ahead of Lewis Hamilton, who dropped two as the pair banged wheels – but there was worse for his Mercedes team-mate Russell, who slipped back three positions to 15th.
Hamilton and Alonso going head-to-head. Then. Now. Forever. 😃#MiamiGP #F1 pic.twitter.com/zOdoprRVZJ

— PlanetF1 (@Planet_F1) May 8, 2022
Hamilton was soon back ahead of the Spaniard but feared he had damage from the collision with Alonso as he challenged Pierre Gasly in the AlphaTauri for P6, which he grabbed on lap six.
Zhou Guanyu had just passed Daniel Ricciardo for 13th when he was called into the pits to retire his Alfa Romeo on lap seven, becoming the race's first casualty. "I can't believe it," said the crestfallen Chinese driver over the team radio.
Up front, the two title favourites had pulled clear and at the start of lap nine, aided by DRS, it was Verstappen who moved ahead. Unlike in Bahrain and Saudi Arabia, however, there was no sustained duel over the next few laps and the Red Bull shook the Ferrari out of DRS range – especially after a Leclerc mistake at Turn 17 that cost him a second.
Perez was poised to challenge Sainz for third place until he reported losing power on lap 20, entering into an argument with his race engineer Hugh Bird who insisted nothing was terminally wrong with the car. It did prove to be only a temporary glitch, but the Mexican's troubles allowed Sainz some much-needed breathing space.
Leclerc was first of the top four to stop on lap 25, swapping his medium tyres for a set of hards after reporting the car was "so difficult to drive". Given Verstappen's increasing margin in the lead, there was no great danger of the undercut but the Dutchman stopped two laps later and came out with over seven seconds in hand of his chief rival.
LAP 25/57

Leclerc pits for a set of hard tyres and returns to the track in P4#MiamiGP #F1 pic.twitter.com/Q9JHto6tNR

— Formula 1 (@F1) May 8, 2022
Sainz and Perez both visited the pits a lap later and a slow stop for the Spaniard boosted the Red Bull driver's chances of a podium finish, but he was still five seconds off that target as the grand prix reached the halfway point.
On lap 36, as Vettel's original set of hard tyres began to cry enough and dropped him out of a DRS train also featuring the two Haas cars and Lando Norris, word came through the German's radio that a drop of rain was not too far away.
The anticipated street-circuit drama had not materialised at that point but Alonso and Gasly did their bit to help by making contact on lap 40, with the AlphaTauri driver the victim when trying to close the door on the Alpine trying to overtake him. That incident earned Alonso a five-second penalty.
The Frenchman, with his car compromised, surrendered P9 and began to drop down the order before the biggest incident of the race occurred, Gasly colliding with Norris which saw the McLaren spin into the barrier to bring out the Virtual Safety Car and then the Safety Car itself.
Not like this.#MiamiGP #F1 pic.twitter.com/CclzdOJ13G

— PlanetF1 (@Planet_F1) May 8, 2022
Of the leading contenders, Perez was the only one to stop under the Safety Car, acquiring a set of medium tyres that gave him every chance of challenging the Ferraris upon the resumption having not lost a position, still P4.
Lights turned green on lap 47 of 57 and DRS was enabled a couple of laps later, with the Mercedes duo gaining a position apiece due to a mistake from, ironically, Valtteri Bottas as Hamilton moved up to fifth and Russell sixth following a long first stint on the hard tyres that had worked in his favour. Russell, his mediums fresher than Hamilton's hard tyres, went on to pass his much more experienced team-mate.
Perez made an unsuccessful lunge on Sainz on lap 52 and that was not the only Ferrari-Red Bull battle as Leclerc was threatening Verstappen's lead, the Dutchman trying desperately to deny his rival DRS.
Further back, Mick Schumacher was on course for his first points but that prospect was thwarted by a collision with his compatriot Vettel, ruining both their races.
With Leclerc shaken off, Verstappen was able to coast through the final lap and made it three wins from as many grand prix finishes this year, Sainz completing a Ferrari two-three ahead of Perez.
Russell and Hamilton finished fifth and sixth ahead of Bottas, followed by Esteban Ocon who produced a storming drive from last on the grid after missing qualifying following a crash in practice and Alex Albon who brought Williams points for the second time this year.
Stroll, having started from the pit lane, rounded out the points after being promoted two places due to post-race penalties issued to Alonso and Daniel Ricciardo.
Classification
1 Max Verstappen Red Bull 1:31.458
2 Charles Leclerc Ferrari 3.786s
3 Carlos Sainz Ferrari 8.229s
4 Sergio Perez Red Bull 10.638s
5 George Russell Mercedes 18.582s
6 Lewis Hamilton Mercedes 21.368s
7 Valtteri Bottas Alfa Romeo 25.073s
8 Esteban Ocon Alpine 28.386s
9 Alex Albon Williams 32.365s
10 Lance Stroll Aston Martin 37.026s
11 Fernando Alonso Alpine 37.128s
12 Yuki Tsunoda AlphaTauri 40.146s
13 Daniel Ricciardo McLaren 40.902s
14 Nicholas Latifi Williams 49.936s
15 Mick Schumacher Haas 73.305s
16 Kevin Magnussen Haas 1 LAP
17 Sebastian Vettel Aston Martin 2 LAPS
R Pierre Gasly AlphaTauri 11 LAPS
R Lando Norris McLaren 17 LAPS
R Zhou Guanyu Alfa Romeo Racing 50 LAPS