FIA unmoved by Alonso's fresh Turn 1 protests
Michael Masi has responded to Fernando Alonso's criticism of drivers bypassing Turn 1 during the double-header of races at the Red Bull Ring.
The uphill run from the start line to the first of two sharp right-hand corners in the opening sequence saw various drivers run wide in the Styrian and Austrian Grands Prix, but not Alonso.
Instead, he was aggrieved that rivals could carry the momentum from their wide line through the run-off area back onto the track.
Video evidence indicated the Spaniard was referring to Charles Leclerc and, to a lesser extent, Pierre Gasly in the first of the two races and Daniel Ricciardo in the second, all of whom Alonso was directly competing with at that point.
The Alpine driver told Spanish reporters after the Austrian Grand Prix: "A little surprised or frustrated by the first corner. I overtook Leclerc and Ricciardo at the start, they passed the first corner and finished seventh and eighth.
"It is very good to go off the track because, of course, you save a lot of traffic in the first part of the race – instead of going in the group of 14 or 15, you go in the group of 10 and it's…interesting.
"Let's leave it there – for the next races I know where to go and where not to go, so well, we learn things."
Check out all the latest Fernando Alonso merchandise on the official Formula 1 store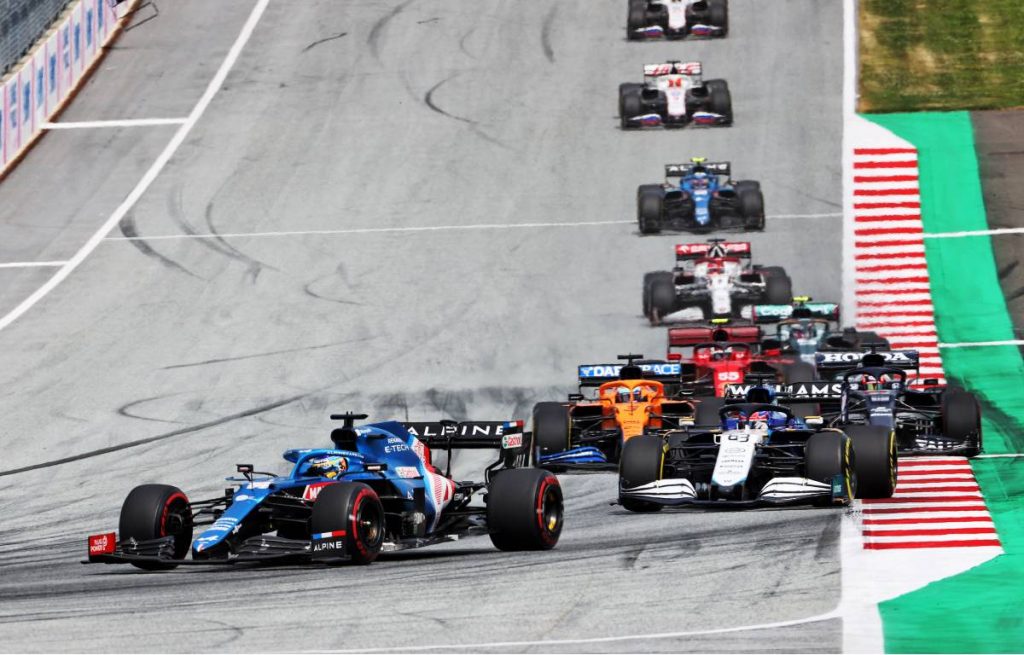 In fairness to Leclerc, the video evidence suggests there was nothing wrong with his line through Turn 1 at the start of the most recent race – it was Ricciardo and Mick Schumacher who ran widest.
Alonso likened the manoeuvre to a footballer carrying the ball out of the penalty area and then playing on without any punishment from the referee.
FIA race director Masi, however, insisted the stewards had seen no reason to take any action.
"One of the things we've always said, and it's been the case since Paul Ricard 2019, is that on the first lap, and the first few corners, if there are any, a car should come out behind the car that came in ahead of it into the corner," said Masi, quoted by Motorsport.com.
"We looked at the incident Fernando was referring to, and from the angles we could see at the time that's exactly what happened."
Masi therefore seems to suggest the driver entering the corner ahead, even if he ends up missing the corner, can exit still in front despite going off track.
"That's the general principle," he said. "Especially in circumstances like that, everyone has asked and we've looked at those things to help the drivers and teams if necessary. And that was looked at, at the time."
Follow us on Twitter @Planet_F1, like our Facebook page and join us on Instagram!