Michael Masi has bit back at calls to put gravel at Turn 2 at Sochi, saying that doing so "isn't a solution everywhere".
At the Russian Grand Prix this year, drivers were forced to return to the track via a narrow gap between the wall and bollards if they went wide at Turn 2.
This was done to ensure that they didn't gain time by going off-track, but it caused considerable issues.
Carlos Sainz miscalculated the gap on the first lap and hit the wall, destroying his car. After doing so, he said the corner shouldn't exist. Romain Grosjean meanwhile went through the bollards and destroyed them, bringing out a Virtual Safety Car.
Such issues led a number of drivers, including Sainz himself, to criticise the nature of the corner.
"A misjudgement by my side, a mistake. I still think that corner shouldn't exist. It's not a very nice corner to drive around, and it generates this kind of situation. But I just misjudged it," Sainz said.
"It's still not a corner that is well designed. You saw today in the race just how many people are missing that apex and having to go around the bollards, destroying the bollards, it's clearly not a great corner."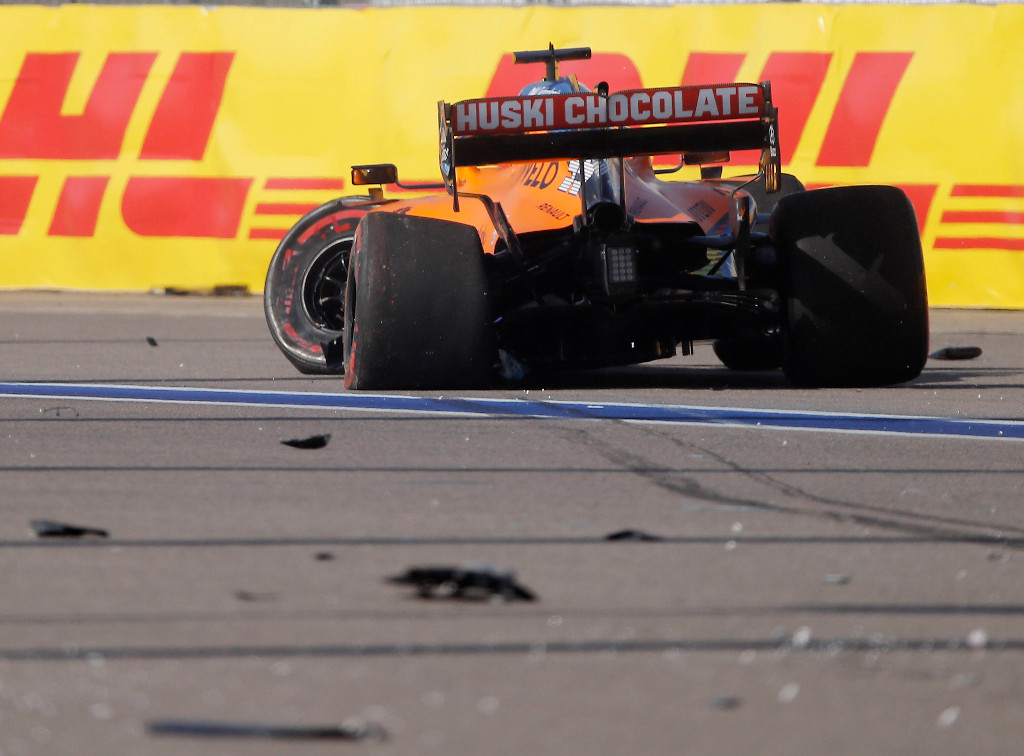 #
Many feel that, if the corner isn't to be changed, gravel should be put on the run-off area to ensure drivers will lose time without having to return to track via the tight gap.
However, FIA race director Masi doesn't think that this would solve the problem.
"Turn 2 has been one of those that's been a challenge in different ways each year," Masi told Motorsport.com.
"You fix things in one way, and it has another impact. So we're trying to find the best solution. And I think we've found a reasonable solution. Now is there room for improvement? Yes. There's always room for improvement."
"As I've said a number of times that there are different solutions for different circuits, different corners, taking everything into account. And gravel is not a solution everywhere.
"With regards to speeds in run-offs, one of the things that obviously we've tried to achieve and aim to achieve is primarily that the rejoin in such circumstances is effectively funnelled in a way that it's as safe as possible. That's the primary objective.
"Secondary is to slow cars down if possible within that area. However, the nature of Turn 2, because of literally the nature of the corner, it's very hard to find a one-size-fits-all solution. So we'll continue looking at it, and see what we can do."
Follow us on Twitter @Planet_F1 and like our Facebook page.