Mick: '20 years back' it would've been a different story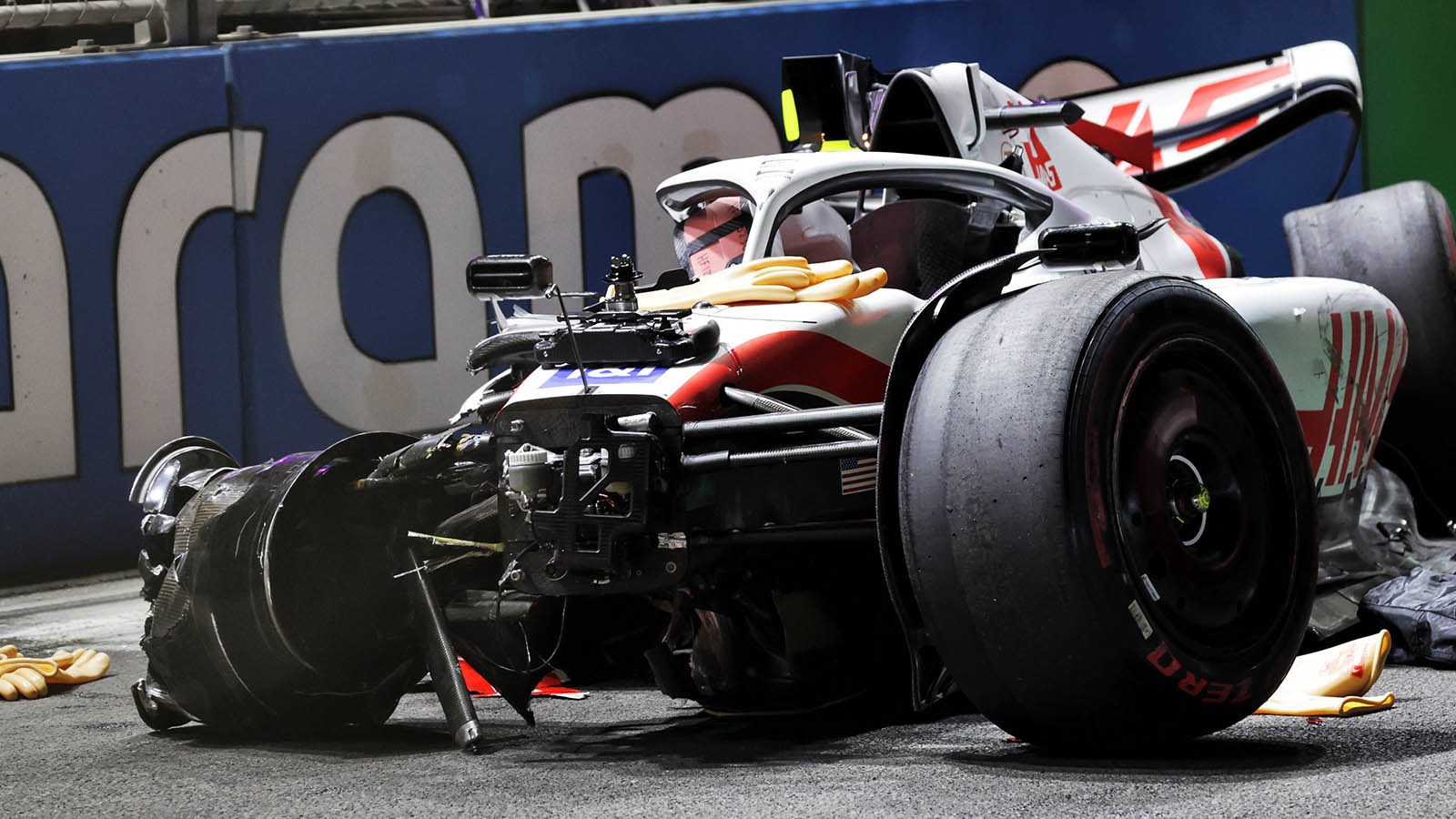 Mick Schumacher reckons "20 years back" he may not have walked away from his Saudi Arabian qualifying crash.
Schumacher suffered a horror crash in Saturday night's qualifying at the Jeddah circuit.
Mounting the Turn 10 kerb, the Haas driver lost control of his VF-22 and ploughed into the barrier nose-first at over 160mph.
Such was the force of the impact that he bounced off the barrier and had a secondary impact before his car came to a standstill down at Turn 12.
Although he was airlifted to hospital for precautionary checks, Schumacher was unhurt in the crash and was discharged later that same night.
"I feel all right, not too sore either," he told Sky F1. "It just shows the safety of these cars these days.
"To be able to walk away from this, I think 20 years back from here people wouldn't have been able to do that. So thank you very much to everyone involved in getting the safety up."
VB checking on Mick, what a man ❤️🙏 pic.twitter.com/6yFYppgdqg

— F1 Reaction Pictures (@FormulaReaction) March 26, 2022
Schumacher was ruled out of Sunday night's grand prix, not because of health issues but because of a shortage of parts should Haas suffer another big accident before heading to Melbourne for the Australian GP.
Speaking about his crash, the 23-year-old added: "It's interesting because most of the time when you have an accident, or you know something is going wrong, the time changes a bit, like it feels a bit slower.
"I saw the wall coming towards me, I knew I could prepare for impact and stuff. It was unfortunate because I had the car for, to sure, go into Q3 but we'll have to do it in Melbourne now."
This year Formula 1 took additional steps to improve the safety of the cars, those said to be responsible for almost half of this year's 43kg increase in the car's weight.
But while the cars may be safer, are the circuits?
The Jeddah Corniche Circuit was labelled the "most dangerous" on the calendar by Sergio Perez while Carlos Sainz questioned is it "worth it".
As for Schumacher, he said of the Saudi circuit: "I think there are things we have to have a look at. I don't know what will happen in the future but if (we return) we would have to have a serious discussion about it."
Former F1 driver turned Sky Sports commentator Jenson Button explained that the fact that Schumacher's accident continued rather than his car coming to a dead stop actually prevented injuries.
"I think last year we all knew it was an unbelievably quick circuit for a street circuit – concrete barriers, which are much harder to hit than tyres," said the Briton.
"People will probably say 'why aren't there tyres where he hit the wall', but you wouldn't want that because it would stop the car too quickly, the G-force would be through the roof and it would knock you out very easily.
"You need the concrete barriers, but maybe it's the angle of the barrier that needs to change. But when you watch that, it's a split second before he hits the barrier.
"He's lost control and is immediately into the wall because he hits the brakes, you see the lock-up and it's just before he hits the wall. It shows how quickly these cars are travelling through that section."
Mick was 'ready to go' but Haas needed to manage spares
Despite being '100%' after his crash on Saturday, Mick Schumacher was left out of Sunday's race as Haas needed to manage spares.