Schumacher okay as car splits in Monaco GP crash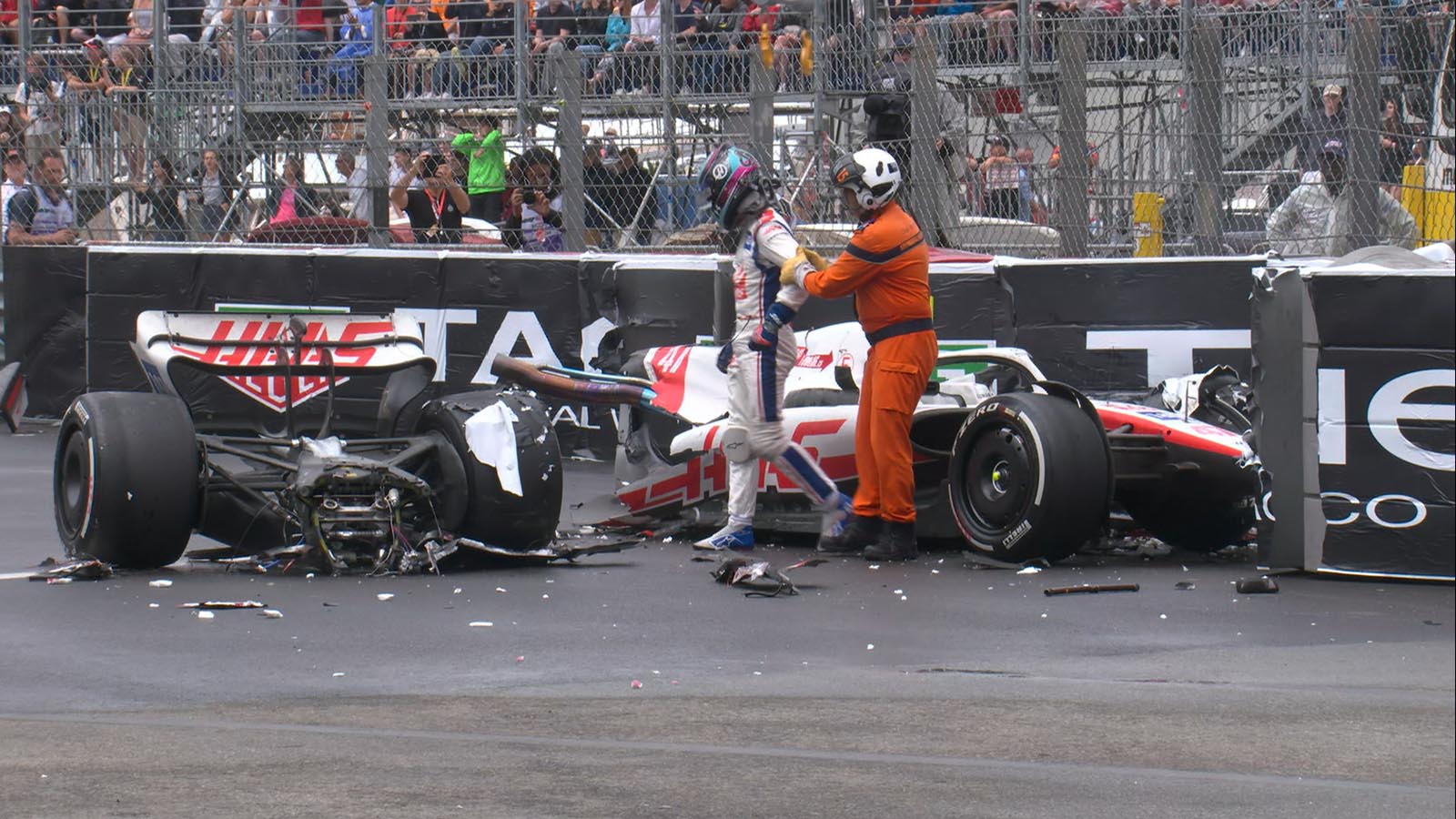 Mick Schumacher's Haas car split in half as he spun out of control and collided with the barrier during a wet Monaco Grand Prix.
The protection provided to the driver by a modern day Formula 1 car was again on display as despite the heavy crash into the wall, Schumacher was able to leave the car by himself and was seen speaking to a safety marshal as he walked off the track.
The incident occurred on the way to Turn 15 when the 23-year-old lost control of his car on the wet surface. He then clipped the wall with his front wing before being helpless as he spun and smashed into the Tecpro barrier.
Despite the wall being Tecpro, it was enough to snap the car in half with the rear wing and rear tyres entirely separately from the rest of the car.
Initially, the Virtual Safety Car was deployed before that was upgraded to the actual Safety Car. Later, the red flag was shown in order to allow the marshals to repair the barrier.
⚠️ SAFETY CAR ⚠️

Mick Schumacher walks away from his car after crashing into the barriers at the Swimming Pool section #MonacoGP #F1 pic.twitter.com/yHQszKxGpg

— Formula 1 (@F1) May 29, 2022
After the race, Schumacher said he only went about 10cm wide but it was enough to send him off the track.
"I'm feeling alright, it's very annoying," he said. "In terms of pace, we were definitely there and it's just a matter of keeping it on track – unfortunately I wasn't able to do that.
"The pace felt strong and it felt like we were able to attack and push. Unfortunately, I went a bit too wide, probably about 10 centimeters at the end, and that's enough to lose all grip that you thought you had and the result is what happened."
It was a race to forget for Haas with Schumacher being the second of the team's drivers to retire before even half of the race had been run.
Earlier, on lap 21, Kevin Magnussen became the first driver out of the race in what was also Haas' first DNF of the season.
The Dane was left to rue what could have been after a water leak caused an issue in the car.
"We had a power unit issue of some sort, so we had to retire the car – there was nothing we could do about that sadly.
"I really thought our pace in the race was good considering we were on a full wet on a dry line, I had been able to keep Gasly behind until our issue and I was closing on Bottas.
"It would have been really exciting around the pit stops to see what could have happened. It's unfortunate with no points today even though I think we had the car to do it, we knew we could fight."