Mick Schumacher drives father's iconic Jordan 191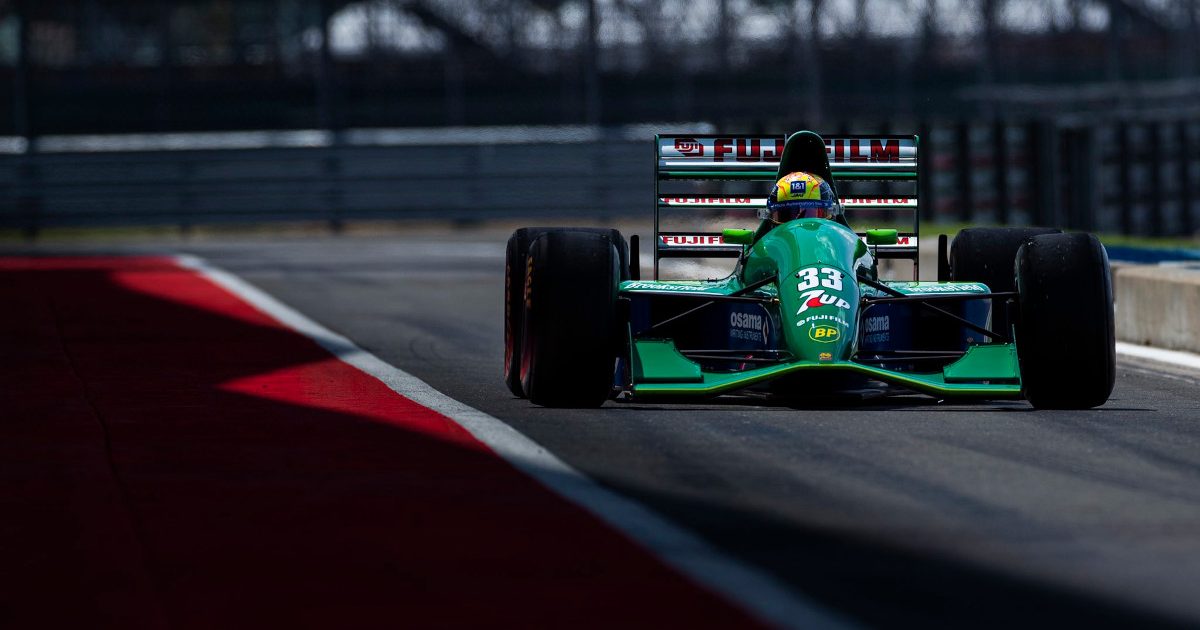 Mick Schumacher put his father Michael's first-ever Formula 1 car through its pace at Silverstone on Tuesday, testing the Jordan 191.
The Haas F1 team remained at the Silverstone circuit following the British Grand Prix, Schumacher and his team-mate Nikita Mazepin scheduled to test Pirelli's 2021 18-inch tyres.
But while his team-mate put the new tyres through their paces, there was another adventure on the cards for Schumacher.
Stepping into the past, he put his father Michael's 1991 Jordan through its paces.
Iconic 🤩#HaasF1 pic.twitter.com/ANH9PFSk9w

— Haas F1 Team (@HaasF1Team) July 20, 2021
With its green livery and 7 Up branding making it instantly recognisable, Schumacher and Haas released a few pictures of the moment.
Schumacher was behind the wheel of the Jordan 191, filming a segment for Sky F1 that will be shown before the Belgian Grand Prix.
I'm in my dad's car 🔥 #MSC47 pic.twitter.com/a2WnnsZa0r

— Mick Schumacher (@SchumacherMick) July 20, 2021
Check out the Haas collection via the official Formula 1 store
Michael Schumacher made his Formula 1 debut in the Jordan 191 at the 1991 Belgian Grand Prix, handed his opportunity by Eddie Jordan who needed a replacement driver after Bertrand Gachot was jailed for assaulting a taxi driver.
The German qualified the Jordan in seventh place before a clutch failure forced him to retire from the race.
The rest, as they say, is history with Schumacher going onto win 91 grands prix and seven World titles.
Jordan spoke about Schumacher's debut earlier this year, revealing that the German had "lied blatantly" to get the drive.
"He lied to me, he lied blatantly to me," the Irishman said on BBC Sounds' This Sporting Life.
"I asked him, prior to going there, had he been to Spa before? When you ask a racing driver 'have you been to Spa before?' you don't necessarily want him to answer 'yes, I was there as a tourist', you want to believe he was a driver there.
"But he had never set eyes on this track in his life. He had been there with his father years earlier when he was still doing karting but had never raced there.
"That's what makes what he achieved there that particular weekend even more remarkable."
Tuesday's adventure was not the first time Mick Schumacher had driven one of his father's F1 cars, putting in laps in the Benetton B194 at Spa back in 2017 and then driving the Ferrari F2004 at the 2020 Tuscan Grand Prix.