'Little aquaplane moment' eliminated Mick Schumacher from Friday practice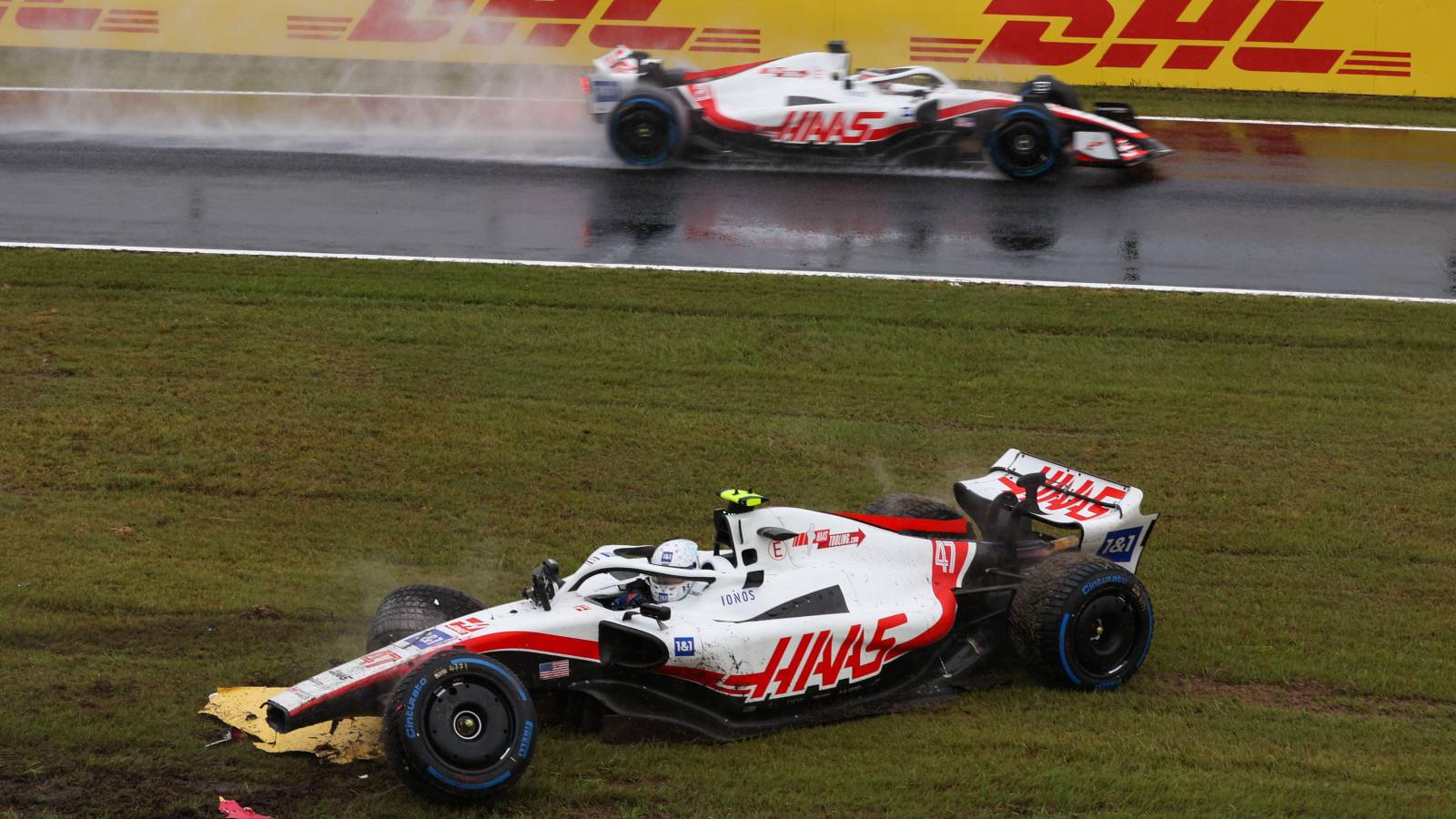 Mick Schumacher said a "little aquaplane moment" was the cause of his FP1 crash that meant his Friday at the Japanese Grand Prix went no further.
As expected, the drivers were met with rain for the first day of Formula 1 track action at Suzuka since 2019, although it seemed as if the FP1 session had passed without any major incidents.
That changed though when Schumacher, on his way back to the pits, lost control of the Haas VF-22 and hit the barrier at Turn 8.
With Haas needing to replace the chassis, it meant Schumacher did not get the chance to take part in FP2.
Keeping it short and sweet when explaining to the media what happened, Schumacher said: "It was quite rainy, had a little aquaplane moment."
Schumacher admitted he and Haas now have more work to do tomorrow, but he is confident about the pace in the VF-22.
His team-mate Kevin Magnussen ended both FP1 and FP2 up in P5, while Schumacher was P7 at the end of the first practice session.
"Of course it's not amazing, we lost some time, especially in the FP2 session because we didn't get to drive, mainly for safety reasons and the chassis," said Schumacher.
"So now we've got to do more jobs tomorrow, but I think the track is great, the car felt great today, so I'm sure we will be hopefully in a good position and tomorrow should be dry, so we'll see what we can do there."
A horrid start to the weekend for Mick Schumacher… #F1 https://t.co/inF0uMXojs

— PlanetF1 (@Planet_F1) October 7, 2022
Asked whether the Haas car is more suited to wet or dry conditions, since both are set to be experienced at Suzuka over the remainder of the weekend, Schumacher's feeling is a wet track is more advantageous for Haas.
So he hopes the risk of rain come race day will turn into reality.
"I assume it should suit both conditions," Schumacher stated. "We know for sure the wet conditions are preferred for us, but nonetheless we will give our best tomorrow.
"And as it seems right now, Sunday is supposed to be wet so we are looking forward to that."
Despite some fears that not many drivers would look to venture out in either session, both FP1 and FP2 saw plenty of them on the circuit to create a good amount of action.
Magnussen explained the conditions, for the most part, were actually good for running the intermediate tyres.
"I was worried we wouldn't get any running, but actually it was kind of good conditions for intermediates," said Magnussen. "Sometimes it was a bit too much for intermediates, but we've got quite a few laps [done]."
Magnussen was a bit less certain than his team-mate about whether wet or dry conditions are better for Haas.
"I don't know," he replied. "Wet conditions seemed okay. FP1 we were strong, FP2 I thought we weren't as strong.
"Although we were still fifth, we put new tyres on at the very end when nobody else did, so I think we had a bit of an advantage in that way."
Read more: Guenther Steiner labels Mick Schumacher's FP1 crash 'disappointing and frustrating'