Schumacher took lessons for the future in Verstappen battle
Mick Schumacher said his Silverstone battle with Max Verstappen was something he can learn from for when he is a title challenger.
After running over some debris earlier in the British Grand Prix, Verstappen's Red Bull RB18 was far away from its optimum performance level as the focus for the remainder of the race shifted to damage limitation.
Verstappen was able to hold on to an important points-finish, picking up six after crossing the line P7, though he had to fend off the late attention of Schumacher in the Haas, who was looking to make his first points-scoring result in Formula 1 that bit more productive.
Neither driver was willing to go conservative, Verstappen's defence described as "on the limit" of acceptable by former Formula 1 driver Jolyon Palmer, but it was the Dutchman who held his ground to cross the line P7.
The pair battled under similar circumstances at the 2021 Hungarian Grand Prix, and after the latest installment, Schumacher plans to use what he learnt down the line, when he hopes to be challenging to become World Champion.
Verstappen achieved that feat in 2021, and after Silverstone leads the 2022 Drivers' Championship with a 34-point lead over Red Bull team-mate Sergio Perez.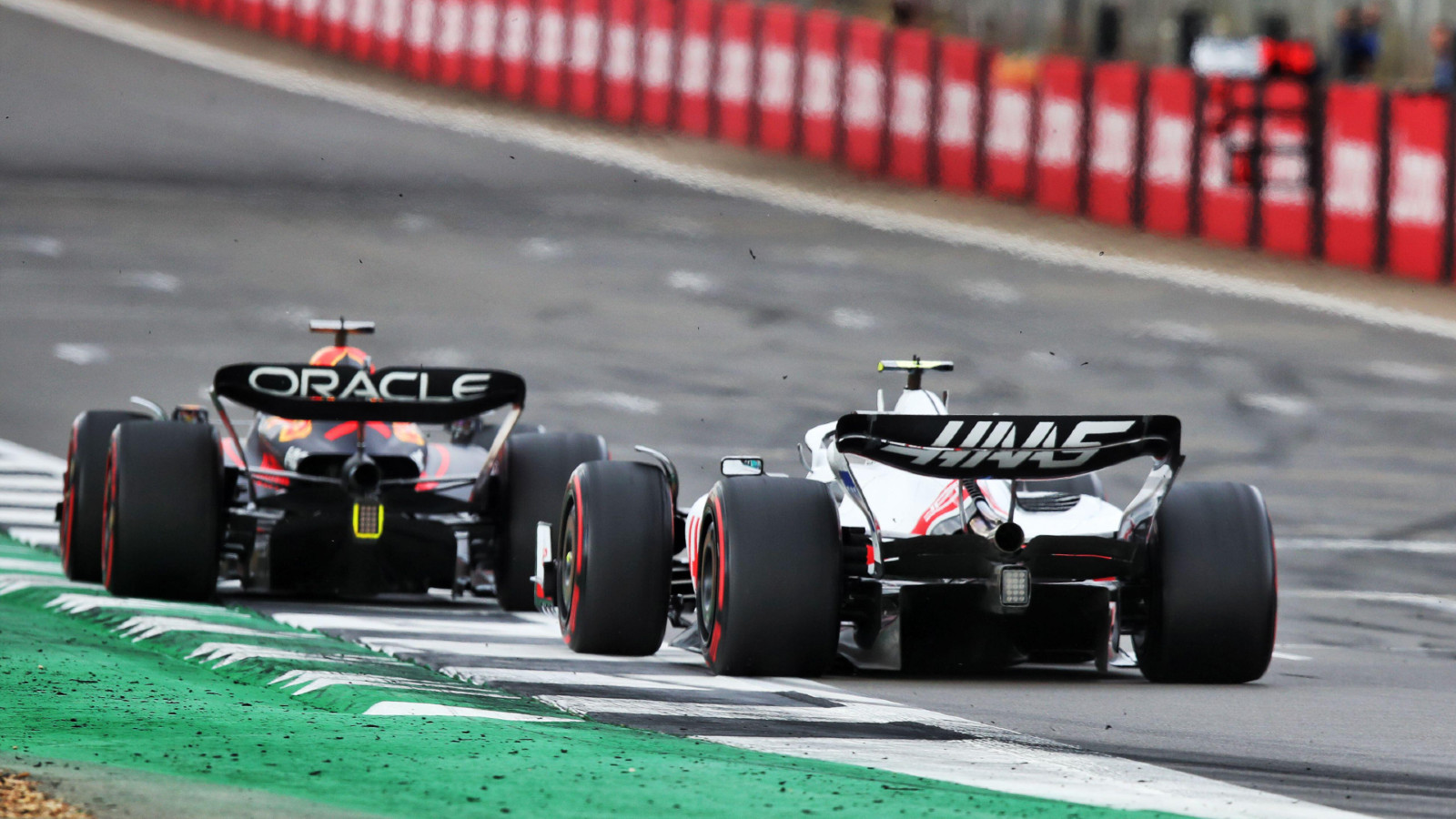 "It was obviously tough and I think that's something you can expect from Max," Schumacher told Channel 4 of that battle with Verstappen.
"But it's great to have that battle, something that I can learn for the future when it will be about trying to win the World Championship."
On what was his 31st Formula 1 start, Schumacher now has finally freed himself of that burden of scoring points in the series for the first time.
Schumacher felt that it would have been achieved earlier if it were not for "difficult races" scuppering that, but with the race executed to a tee in Silverstone, finally the points came.
Asked if those four points for a P8 finish validates his and Haas' hard work, Schumacher replied: "Yeah, for sure. We've been grinding for quite some time now and trying to really be on top of each and every every single moment and I think we've had some difficult races where we should have scored points.
"But, finally today, we managed to make a very clean race, clean strategy and the communication was just on point today."
Mick Schumacher given 9.5/10 for first F1 points
Mick Schumacher finally scored his first F1 points - and not before time, too.