Mick feels Mazepin dispute cannot be resolved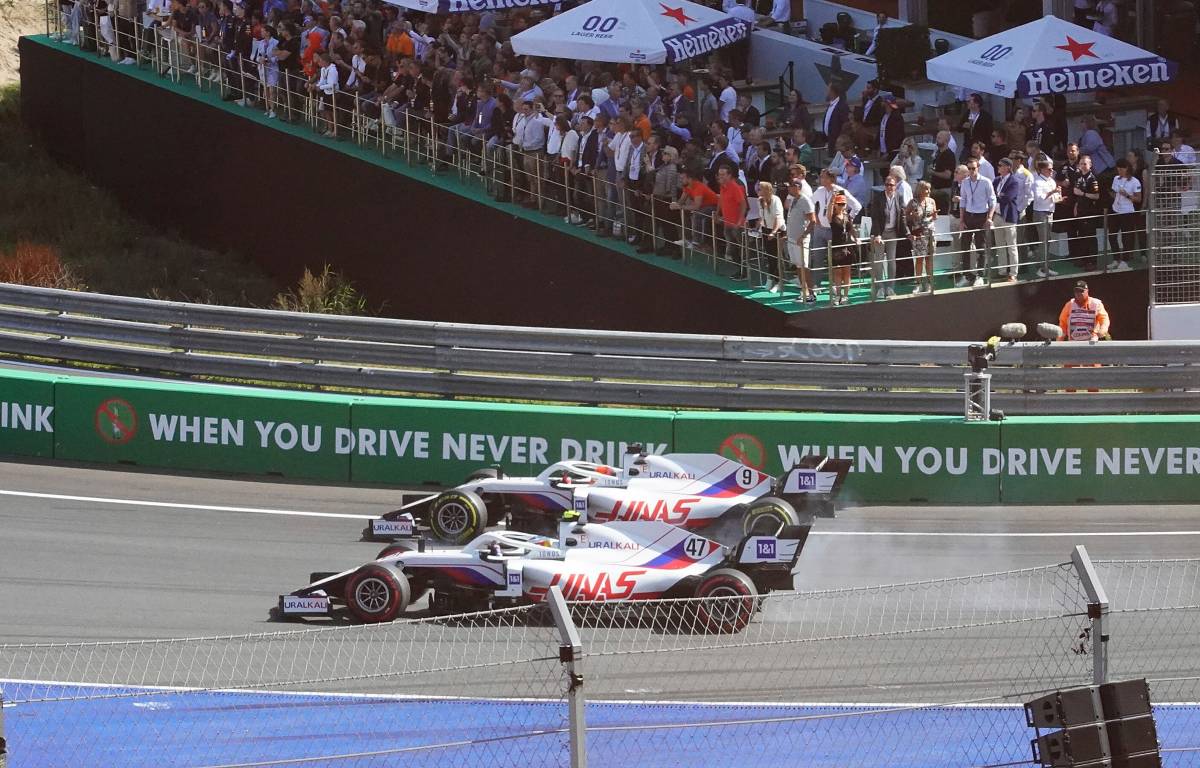 The relationship at Haas between Mick Schumacher and Nikita Mazepin has broken down with little immediate prospect of repair, it seems.
The rookies have had their spats this season, but several major flashpoints at the Dutch Grand Prix have left Haas with a driver headache.
Mazepin first took issue with Schumacher during qualifying at Zandvoort, accusing the German racer of ignoring the team's agreement by overtaking him and ruining his final Q1 lap.
Then in the race, Mazepin offered some extremely robust defence against Schumacher early on, several times forcing his team-mate towards the wall.
Those actions left Schumacher frustrated and rather confused.
"I think the experience of the track has been okay, but again there was a little coming together with my team-mate for some reason, which I don't understand," he told Sky F1.
"It seems like that's the way it is."
Asked if the pair of them can talk the situation through and put it right, Schumacher replied: "I don't think so, to be honest.
"It seems like he has this thing in his head where he wants to, by any costs, be in front of me.
"That's okay, I haven't anything against it. But I think if we go to the point where we defend very aggressively, against a team-mate where you don't have anything to gain, I think that is maybe not the right approach."
When mentioned that the Haas drivers, in the slowest cars, can only compare themselves to their team-mate, Schumacher responded: "But it doesn't justify the fact he pushes me to the wall.
"And basically pushes me to go into the pit lane.
"I just, again, think that's not the right way, and again we will probably have to have a talk with the team about it."
🚨Nikita Mazepin, Mick Schumacher'ın geçişini engelledi.#DutchGP | #F1 pic.twitter.com/AlVvmSCs2f

— Tutkumuz F1 🏎 #DutchGP (@F1tutkumuz) September 5, 2021
Check out the Haas collection via the official Formula 1 store
Going forward, Schumacher wants to see consequences for what he perceived to be Mazepin's dangerous driving, adding he was not the only driver to suffer from it.
"If I already had my front nose there I think it's a bit late to then swerve and basically push me into the pit lane," he told reporters.
"I think I'm not the only driver he did that to today. I'm sure a few people will look at it and hopefully consequences will come into play in the future."
In the end, it was a frustrating race for Schumacher who finished as the last of the classified runners in P18, the only driver three laps behind race winner Max Verstappen.
His race was not helped by an early stop when he required a front wing change after complaining of a lack of front-end performance.
"It seemed like there was an issue with the front wing," Schumacher explained to Sky F1.
"I'm not quite sure what, but I just felt like I was losing a lot of front end during the lap and then obviously we came in to change it.
"But when I saw them take the front wing off it looked like it wasn't damaged, but for some reason there was something that wasn't right so we had to do that to make sure."