Latest Mick v Mazepin battle was just 'hard racing'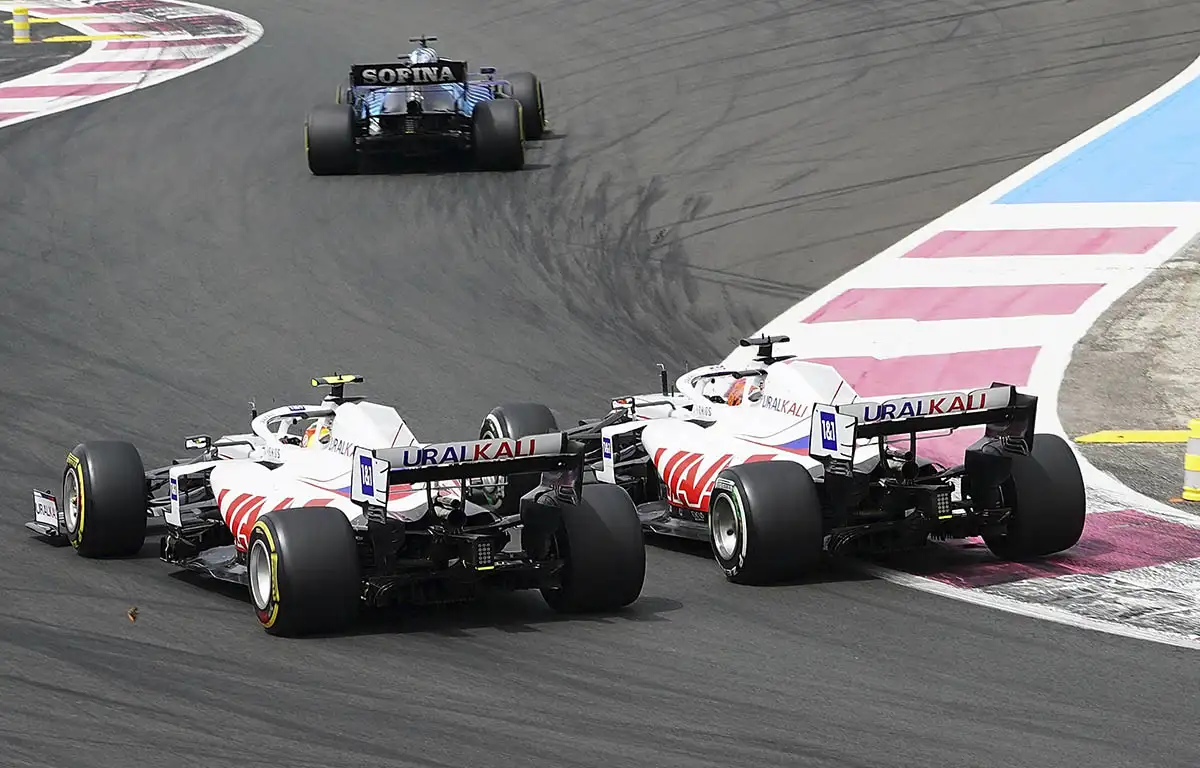 Haas boss Guenther Steiner has said the latest battle between Mick Schumacher and Nikita Mazepin was just "hard racing" between the duo.
The rookie rivalry escalated at round six in Baku when the two almost collided on the mad dash to the finish line and the duo were involved in another on-track squabble in the early stages of the French Grand Prix.
Mazepin's actions once again drew the ire of Schumacher, who said he was going to talk to the Haas team again about how his team-mate conducts himself during wheel-to-wheel racing.
But Steiner downplayed the latest incident between the two, where Schumacher was forced off the track at Turn 4 when Mazepin barged his way past.
"To be honest, when it happened, I didn't see it well," Steiner said.
"I need an overhead camera! I spoke with both of them and I think in the circumstances it was racing, but it wasn't unfair by any means.
"In my opinion it was hard racing. Mick tried to overtake George [Russell] I think and just had to slow down because it didn't happen, and Nikita took his chance and went inside.
"I spoke with both of them because I didn't see the picture completely so I came to the conclusion that it was racing but it wasn't unfair."
Essa briga do Schumacher x Mazepin ainda vai render muita lambança… pic.twitter.com/q2rv0jsjUw

— Blog Fórmula 1 🏁 (@blog_formula1) June 20, 2021
Check out the Haas collection via the official Formula 1 store
Mäzenin also did not make too much of the incident and said he was merely seizing an opportunity that Schumacher had created.
"I took an opportunity when it came," Mazepin said.
"I think that's good because the opportunities don't come very often being at the back, unfortunately just a lack of pace at the end.
"I think starting on the alternative strategy to just try something different wasn't the best because I think a lot of teams were caught out by the increased tyre wear than we were expecting, and it's difficult to judge the tyre management being on the other set of tyres.
"But nevertheless I had an opportunity early in the race, I took it, just not enough pace towards the end. Unfortunately these mediums don't last a very long time so they were finished before the race ended."
Schumacher was still able to finish ahead of Mazepin at the French Grand Prix – something he has managed to do in all but one race so far in this 2021 campaign.
Follow us on Twitter @Planet_F1, like our Facebook page and join us on Instagram!