Mick Schumacher confident his no-score in Mexico won't be a 'big factor' in Haas talks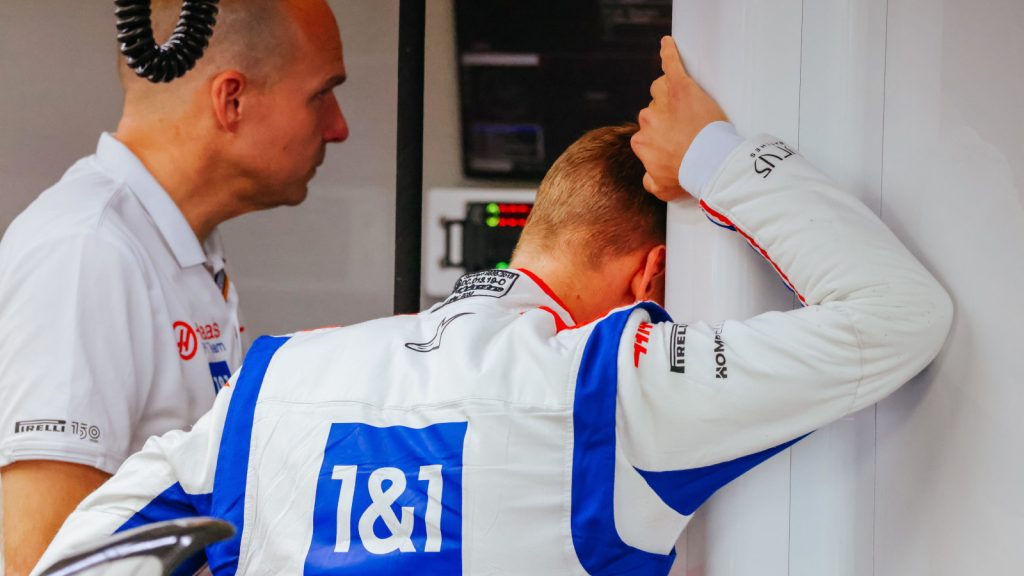 Despite recording his ninth successive race without a top-10 finish, Mick Schumacher is confident his disappointing Mexican Grand Prix will not affect his future.
After all, he says, the other Haas car also did not have pace.
Haas are holding out until the last minute to decide their 2023 driver line-up, the team wanting to give Schumacher as much time as possible to prove to them he can score points.
That, though, is not happening at the moment.
The German finished down in 16th place at the Mexican Grand Prix, his ninth race in a row without a top-10 result.
But having knocked on the door one week earlier in Austin, he insists he is not worried.
"The situation in Austin was we actually had the speed to score points," he told Sky Deutschland. "There was sixth place [up for grabs] there, which we would have been very happy about.
"There was no pace in Mexico. You could see that with both cars.
"That's why I don't think that will play a big factor in communication and contract talks."
Thank you Mexico 🇲🇽 #MSC47 #MexicoGP pic.twitter.com/Hqbg5RZVpr

— Mick Schumacher (@SchumacherMick) October 31, 2022
'The race pace wasn't there'
Neither Schumacher nor his team-mate Kevin Magnussen showed pace in the Mexican Grand Prix, the Haas team-mates only finishing ahead of the beleaguered Nicholas Latifi.
They had lined up 15th and 19th, Magnussen dropping five places on the grid after taking on new engine components, with neither able to make up any ground.
"I tried to use the outside line but I couldn't quite get around and then I couldn't get the tyres up to temperature," Schumacher explained.
"I wanted to keep the brakes as cool as possible here and accordingly I didn't have any temperature in the tyres.
"It's a shame because it had looked good on Saturday. In the end, the race pace wasn't there."
The 23-year-old reckons part of Haas' tyre struggles were due to a drop in track temperature.
"It was 10 degrees below what we had benefited from on Saturday in comparison between the third free practice session and qualifying," he said.
"When the track cooled down, our performance just wasn't there anymore. That's pretty unfortunate.
"But we are taking the positive with us and that was the great pace over one lap on Saturday.
"We just have to turn that into something positive now, hopefully to get in a good position for the next races."
A difficult afternoon in Mexico City 🇲🇽 #HaasF1 #MexicoGP pic.twitter.com/lHLM5NfGfY

— Haas F1 Team (@HaasF1Team) October 30, 2022
Pundits having their say
Team boss Guenther Steiner wants to announce Magnussen's team-mate in Abu Dhabi, the Austrian keen to put the driver, whoever it may be, in the car for the post-season test.
That means Schumacher really only has the Brazilian Grand Prix left to prove to Haas he can score points.
However, former F1 driver turned Sky pundit Timo Glock has urged Steiner not to only look at the last two races but at what the driver has done over the entire season.
Schumacher has two top-10s to his name, eighth at Silverstone and sixth at the Red Bull Ring.
"You have to see the whole season," said Glock. "You have to look at the development and he is going up.
"At the moment he has better speed than his team-mate. He has scored points, he has made few mistakes recently. You can't just evaluate the last two races."
Ralf Schumacher also believes his nephew deserves a third season with Haas.
"You have to be realistic," he said. "Mick has been the better driver since Silverstone. He can get more out of the car.
"The drivers should be seeded because next year you can use the experience and reap the results."
Read more: Conclusions from Max Verstappen's record-breaking win at the Mexican Grand Prix