Mick avoiding political 'mistakes' thanks to Vettel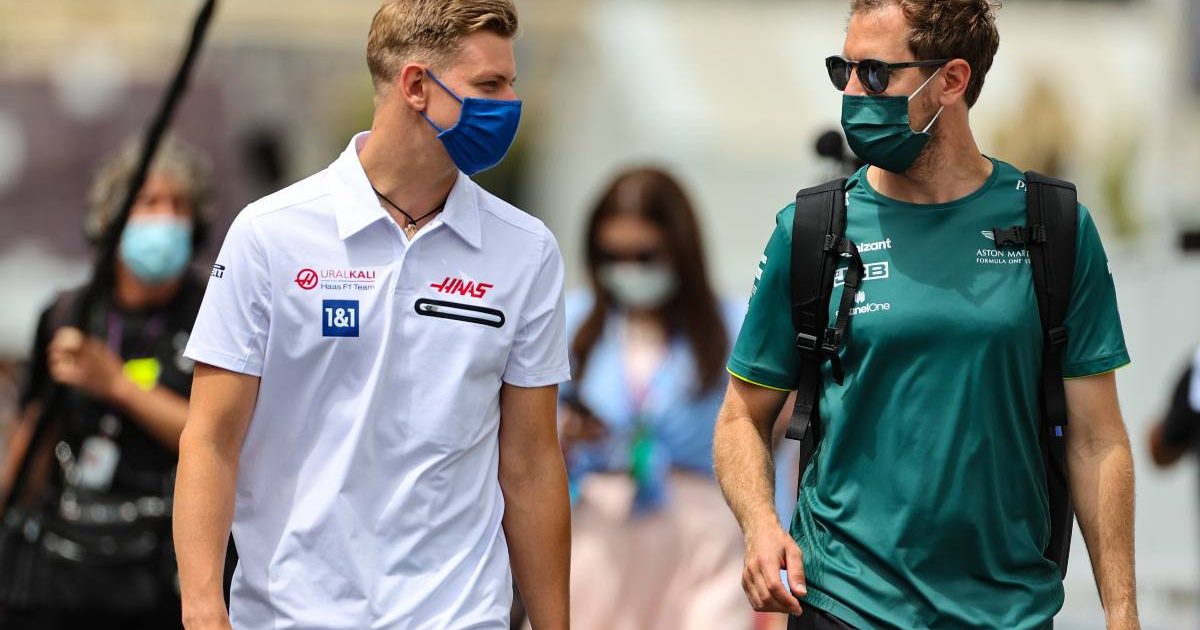 Mick Schumacher says Sebastian Vettel has answered all of his questions about Formula 1 –saving him from any political "mistakes".
The German duo have become established as one of the friendliest pairings in the paddock among drivers from rival teams, with the four-time former World Champion serving as something of a mentor to the Haas rookie.
For obvious reasons, Schumacher is unable to have his father with him at races, so Vettel has been on hand to offer guidance on how to become streetwise in F1.
Speaking to F1 Insider, the 22-year-old revealed how the Aston Martin driver had advised him on how to swim away from danger in what the interviewer referred to as the "shark tank" of the paddock.
"I had a lot of questions at the beginning – and he answered all of them," said Schumacher of his relationship with Vettel.
"I am very grateful for that. He knows my dad very well and has become my first point of contact in Formula 1.
"He has so much experience and has been through all situations before. But also in private he is an extremely nice person and a very good friend.
"Let's put it this way – I hope I can save myself a few mistakes with his advice."
Among the political situations Schumacher will have encountered is the internal dynamic at Haas, where the driver across the garage from him is Nikita Mazepin, son of the team's chief sponsor.
The two rookies have squabbled on and off track several times in their debut seasons, with various comments made in post-session interviews on race weekends especially, but Schumacher hinted the tension may have been milder than its perception outside.
"Internally, it was actually a less hard-fought duel," said the reigning Formula 2 champion who, like Mazepin, has been at the back of the field all season in an uncompetitive car.
"But it was new and unusual for me that certain topics were so openly discussed in the media. In the end, however, I didn't really dwell on it but just continued to do my thing."
Unsurprisingly for a rookie, Schumacher has racked up a few crashes, especially approaching the midpoint of the season, and received some not uncharacteristic criticism from Haas team boss Guenther Steiner.
However, he says that goes with the territory and was all part of the learning process.
"Everyone is allowed to express their opinion freely and openly," said Schumacher, who has been able to push himself closer to the rivals ahead at some recent races.
"The criticism has not influenced me negatively in any way. On the contrary, the performance that came afterwards is also somewhat related to it, because you are supposed to learn from criticism."
Slight signs of encouragement at Haas
Guenther Steiner claims that Haas are encouraged by their recent performance in Qatar.