Mick transported back to 'F3 and go-karting' at Portimao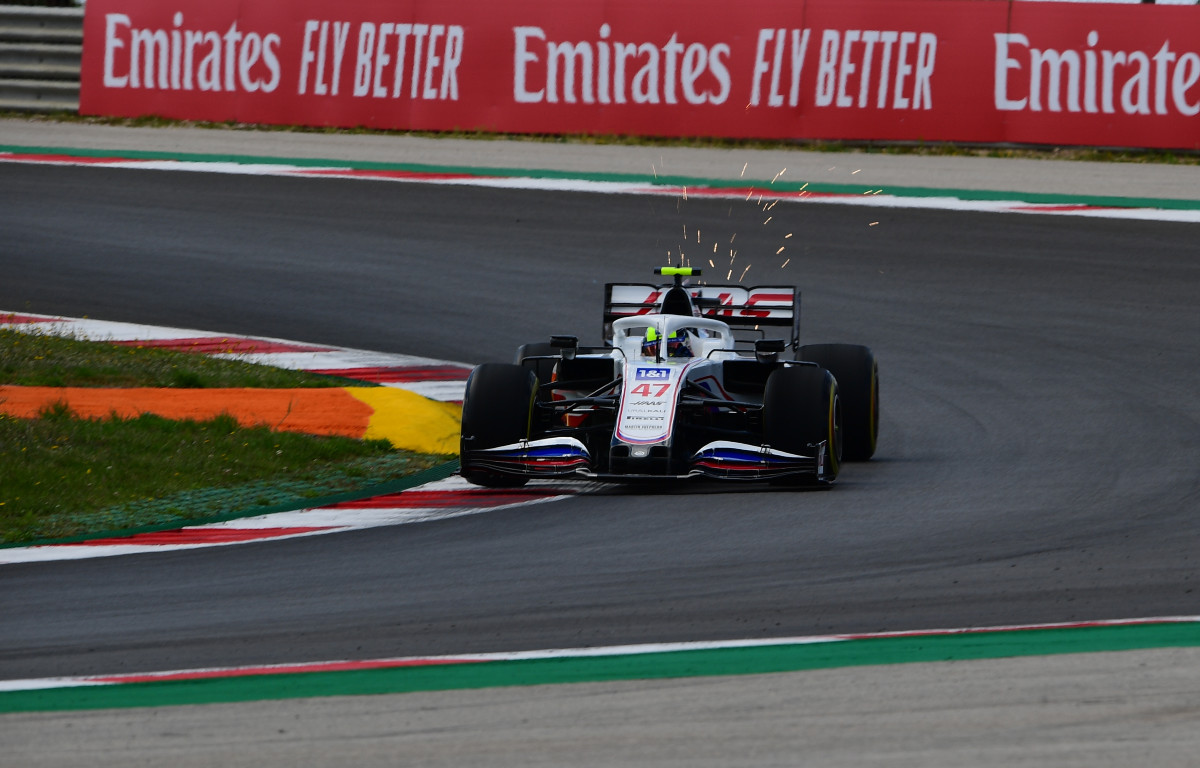 Mick Schumacher is starting to get to grips with the "lively" Haas VF-21 as he let it loose on Portimao's Algarve International Circuit.
The German is only two rounds in to his Formula 1 career, but driving at the back has already become a kind of "torture". Fortunately the Portuguese Grand Prix at Portimao could prove to be a slightly happier hunting ground.
Schumacher finished P18 in both Friday practice sessions, but from them took confidence that he could be "mixing around P15" come qualifying.
Until then though, the reigning Formula 2 champion was just enjoying unleashing the "lively" Haas around the spectacle that is Portimao, sliding it around like the good old days of Formula 3 and karting.
"Definitely a lot more slippery than what I'm used to, but definitely fun, we had a very lively car out there and it kind of brings memories back from F3 and go-karting slides," he told reporters.
"The track is quite impressive, there are blind corners and it is quite short but therefore it is very intense. We have a very long corner in the last part where the neck sometimes gets long, but it's definitely good training and fun.
"I think we are just getting into a window where it is more and more resilient and I'm getting more comfortable with a lively car, I think looking back at Imola we made a big step forward and I think here we were probably not as confident that we were going to be mixing around P15.
"But it seems like we are, obviously qualifying is always going to be a different question, some teams might turn up the engine a bit more than others so it's always interesting to see how we end up.
"But if we do a good job like we always do then we should be in a good window for tomorrow's qualifying."
Every Driver: ******! 🤬

Mick: Excuse me… pic.twitter.com/Fqgi2tkXTk

— Formula 2 Insider (@Formula2Insider) April 30, 2021
Check out the Haas collection via the official Formula 1 store
A lack of grip was one of the main talking points from the 2020 Portuguese Grand Prix as newly-laid asphalt greeted the drivers for their first visit.
Opinions were mixed on whether the track had become more generous with its grip allocation this time around, but Schumacher's team-mate Nikita Mazepin felt it was a "shame" that the tarmac did not allow for the track to be attacked at 100 percent.
He propped up the standings in both FP1 and FP2, comfortably the slowest driver.
"I think on average if you take all the circuits that we go to in F1 and F2, this is one of the least grippy ones and I would say it's a bit of a shame because the layout is really cool," he said.
"So if you could go a bit faster and be a bit more confident through it then that would be nice.
"It's a very fine line between you actually completing that lap and spinning, and then that puts you like three steps back.
"In that respect I think we had a good Friday. There is still a lot of stuff that I could extract from myself that I deliberately left on the table because taking the risk is a very dangerous game. Tomorrow is what matters."
Asked if it is a matter of simply lacking confidence, Mazepin replied: "It's about confidence, but it's also about balance which I didn't feel like I really had today, but it's the perfect time for learning.
"In the high-speed corners it is very inconsistent at the moment, there are gusts of wind coming around and I can only tell you how much it changes the car for us, but I would never be able to explain it.
"Also I found it very difficult in Bahrain for the first time when I saw it, and Imola was very low wind and now it's a windy place again.
"The very difficult one for us is Turn 14 because when you enter the corner the car sort of does the steering for you, but it should be better tomorrow I believe with the grip going up."
Follow us on Twitter @Planet_F1, like our Facebook page and join us on Instagram!