Schumacher 'pushing a bit too much' before Jeddah crash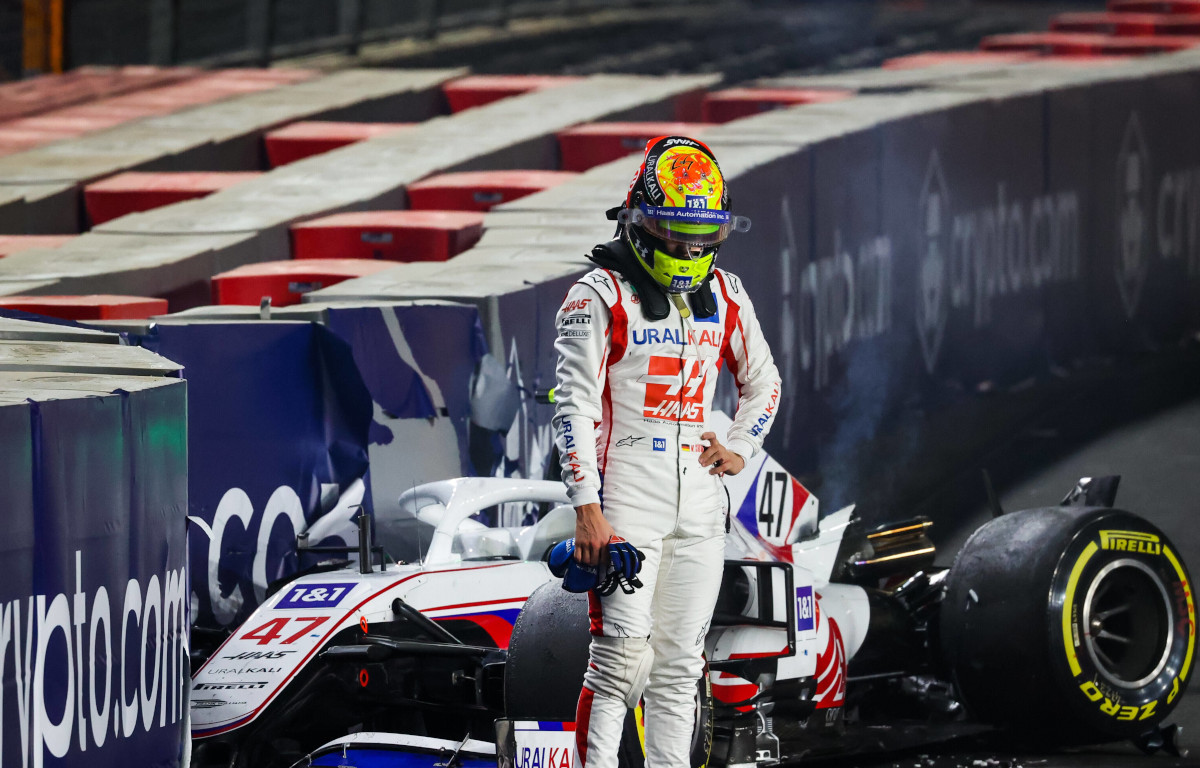 Mick Schumacher has held up his hand after crashing out of the Saudi Arabian GP, admitting he was "pushing a bit too much".
Starting Sunday's Saudi Arabian Grand Prix from 19th on the grid, the Haas driver made up on position off the line and, 10 laps in, was trying to close up to the back of George Russell's Williams.
However, it went horribly wrong for the rookie when he lost it through the left-hander of Turn 22, hitting the barrier at pace.
Asked by his team if he was okay, a rather subdued Schumacher replied: "Yeah I'm okay, sorry about that."
The German admits the crash was entirely down to driver error.
"Unfortunately it seems like I was pushing a bit too much trying to get back into the DRS window from George, and I lost it going into Turn 22," he told the official F1 website.
Prior to that he had been having a "good" night around the Jeddah Corniche circuit.
"The pace seemed to be there, we were comfortably keeping up with the Williams and I think that's really what we weren't anticipating.
"Therefore, obviously [I was] highly motivated, and maybe a bit too much in that case."
Unfortunately for Haas that was not the team's only crash of the night.
Replays show a squeeze for Leclerc and Perez on the restart

The chain reaction behind caught out Russell and Mazepin#SaudiArabianGP 🇸🇦 #F1 pic.twitter.com/zpFKpedhl2

— Formula 1 (@F1) December 5, 2021
Lining up P16 on the restart after his team-mate's red flag, Nikita Mazepin was caught up in the chain reaction caused by Sergio Perez's crash.
He slammed into the back of Russell's Williams, both drivers out of the race.
Explaining the crash from his perspective, the Russian driver said: "All of a sudden the car in front, who was George, he braked and I also tried to brake, but there was no way to stop from over 200 (km/h) to zero in that pace, and [I] just collected George.
"And then looking at the replay, there was a car on the inside. He tried to avoid it for himself but he wasn't the last car, so he reacted on the high side and I just couldn't avoid it.
"Because the track is so narrow, it's like a traffic jam and going full speed inside it."
It is a late-season repair bill that Haas really didn't need.
"A disappointing day," said team boss Guenther Steiner, "with two crashed cars in the penultimate race of the year.
"Mick just tried to keep up with the Williams, which didn't work out, and Nikita got himself into a position where he couldn't do anything about it – he was a passenger of whatever happened in front of him.
"Unfortunate but one more to go and then we move on."
Haas remains the only team yet to score a single point this season, P10 in the Constructors' Championship.
Double DNF for Haas
Haas had a double DNF at the Saudi Arabian GP.