'It's the car' theory not fair on Hamilton
Mika Hakkinen is totally against the argument that Lewis Hamilton's Formula 1 success is all down to the dominant Mercedes.
While there is no denying that the dominance of Mercedes in the turbo-hybrid era has provided Hamilton with the platform to become a six-time World Champion and match Michael Schumacher's record of 91 wins, Hakkinen can't support the idea that Hamilton's skill hasn't been the deciding factor.
"To win one Grand Prix is not easy, so to repeat that so many times over 14 years in Formula 1 is a very special achievement and one that Lewis has every right to be proud of," he wrote in his Unibet column.
"To win races and a World Championship requires many things, including a great car, strong teammate and excellent team of people to support you, and Lewis has benefitted from all of those things at Mercedes.
"But you also have to perform yourself because no matter how good your car is, you have to do the driving, operate the systems in the right way, execute the right strategy and, most importantly of all, be a really good racing driver."
Hakkinen himself is a two-time World Champion in Formula 1.
While driving for McLaren he won the title in 1998 and 1999, but at the end of the 2001 season the 'Flying Finn' decided to take a one-year sabatical.
That ultimately became full-time retirement though, and Hakkinen said having walked away from the sport at 33, he knew that Hamilton's 91 wins and six titles took an extreme level of commitment.
"I know how much energy it took to win the title twice, and when I stopped racing in Formula 1 I knew it was the right moment – at 33," he added.
"So no one should think that what Lewis has done is simply a question of having the best car. It requires ability, fitness, application and focus to keep on winning, and clearly Lewis has found the way to do that."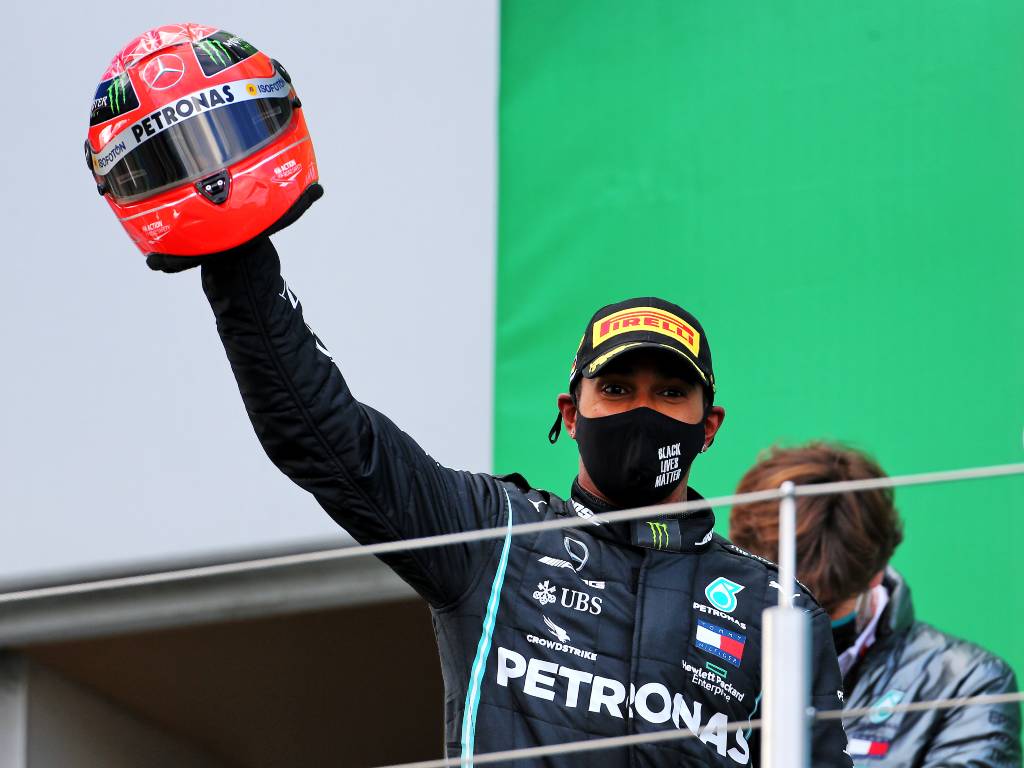 Get your hands on the official Mercedes 2020 collection via the Formula 1 store
But Hamilton is on course to smash Formula 1's ultimate records. He was presented with one of Michael Schumacher's helmets by his son Mick after that 91st career win at the Eifel Grand Prix, and Hamilton will almost certainly match Schumacher's seven world titles in 2020.
And Hakkinen has no idea where the Briton could ultimately set the bar.
"I was very happy to see Mick Schumacher present Lewis with one of his father's helmets at the end of the race," the Finn wrote.
"The Schumacher family is very strong, and Michael is a formidable competitor who will be the first person to recognise Lewis's achievements, so it was a good moment for Mick to represent him and acknowledge the record of 91 race wins being matched.
"We all now expect it to be broken very soon, and we cannot imagine what the new record will be before Lewis decides to retire. Michael, of course, still holds records such as the most wins in a single season – 13 – and his place in history is assured, but Lewis is right there with him at the top of the record books."
Follow us on Twitter @Planet_F1, like our Facebook page and join us on Instagram!