Mercedes should 'let the clock run' and keep Bottas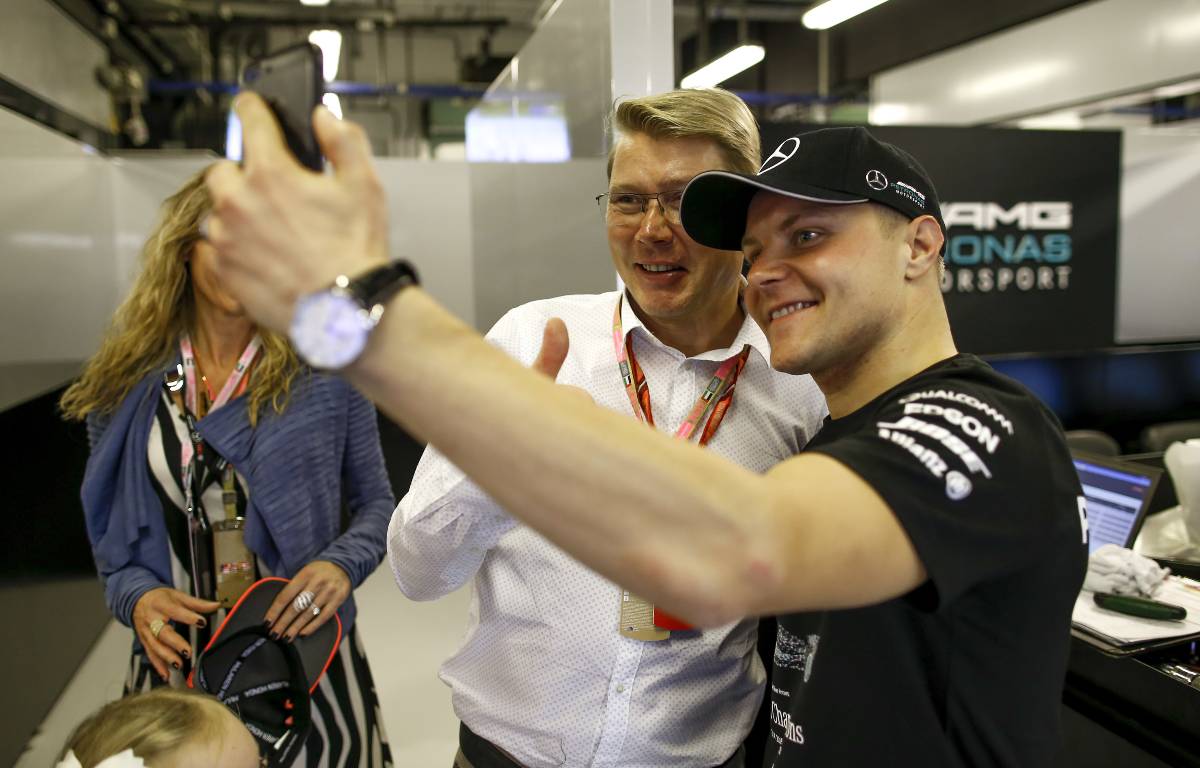 Mika Hakkinen thinks Mercedes should apply an 'if it ain't broke, don't fix it' approach to their driver line-up.
The two-time former World Champion has always been a huge supporter of Valtteri Bottas and it is no surprise that he should talk up his fellow Finn's credentials for remaining with the Constructors' title-holders.
The problem for Bottas, of course, is that even without the spectre of a fast-emerging George Russell getting towards the end of his three-year 'loan' from Mercedes to Williams and ready to step up, Lewis Hamilton's current team-mate has been enduring a disappointing season.
Mercedes team principal Toto Wolff fully recognises there is an imminent decision to be made between the "stability" offered by Bottas, who is in his fifth year with the team, and the prodigious "talent" of Russell.
Hakkinen believes the fact Mercedes have continued to win every Constructors' Championship with Hamilton and Bottas as a partnership is enough to leave things as they are, despite two big factors – that Red Bull have a big chance to dethrone them this year, and secondly that the new regulations for 2022 could also bring an end to their dominance.
"I don't know if he's going to be replaced by somebody," said Hakkinen during an interview with RTL.
"But if you study the facts and look at the results over the years when Valtteri has been at Mercedes together with Lewis, what the team has achieved with these two drivers…you cannot beat that. It's unbelievable. It's brilliant.
"If you look at the marketing results and look at what they have really achieved, it's the old saying in the world that if you have a clock that's working, don't open it, don't try to fix it, let it run, you know? My opinion is to let the clock run because it's running very well at the moment."
It's race week 🏁#VB77 #F1 #BelgianGP @MercedesAMGF1 @F1 pic.twitter.com/MaSYYdmR79

— Valtteri Bottas (@ValtteriBottas) August 23, 2021
View the latest Valtteri Bottas merchandise via the official Formula 1 store
The former McLaren driver says there is no substitute for Bottas' experience and also, due to his impressive single-lap pace, the developmental input he brings to the team.
"Valtteri has his ups and downs but to achieve the victory in the end, you need two drivers in a team scoring constantly, pushing each other close in the lap times," said Hakkinen.
"That way the development of the car, every grand prix, stays absolutely at the pinnacle. If one driver is half a second slower than the other, development of the car is obviously not optimum. It's only leaning against one driver's shoulders all the time.
"When you are putting a driver against a seven-time World Champion, it's not easy peasy. It's not just like 'I'm a fast, talented driver'.
"The experience these kind of guys have, it's unbelievable. You don't learn it from the internet, you don't read it from books. It's coming from the learning and studying and being there next to this kind of person becoming the World Champion.
"That's why what I see at the moment with Valtteri, he's a brilliant driver, an absolutely fantastic driver. Criticised far too much, but internally in the team I'm sure they say 'Valtteri, you are a fantastic racing driver'."