'Good conclusions' from Mugello melee review
Carlos Sainz has revealed "really good conclusions" were drawn from F1 drivers' discussion with the FIA about the Safety Car restart at Mugello which led to a big crash.
The McLaren racer had urged a "brainstorm" following the incident during the Tuscan Grand Prix in which he was among four drivers to crash out, the others being Kevin Magnussen, Antonio Giovinazzi and Nicholas Latifi.
The melee occurred when, after the Safety Car had entered the pits, race leader Valtteri Bottas backed up the pack before reaching the control line on the home straight. Some drivers anticipated the restart too early and accelerated before Bottas had, running into each other and spinning off the circuit.
The meeting with the FIA to review the incident took place on the Friday evening of the following race weekend, the Russian Grand Prix.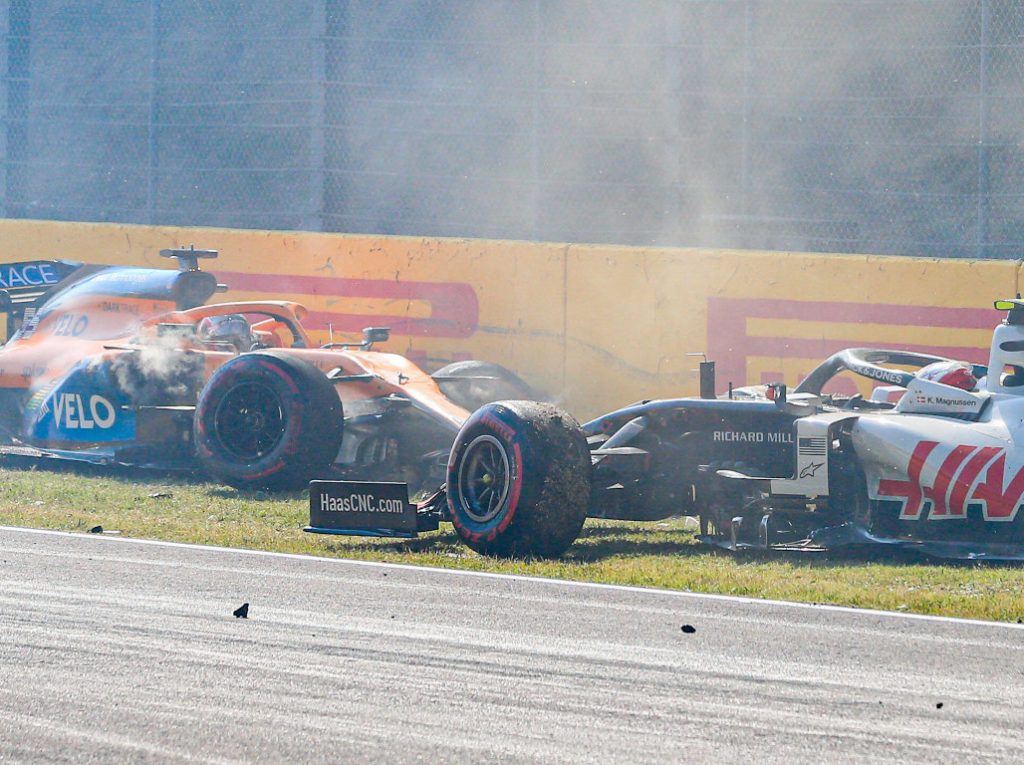 Get your hands on the official McLaren 2020 collection via the Formula 1 store
Sainz, quoted by Autosport, said: "I feel like we addressed the main points and all the things we had to talk about and clarify, together with other drivers and the FIA. I think we came to some really good conclusions.
"The FIA and the drivers will help each other to make sure we don't repeat the same situation again. I'm very pleased with the conversation we all had and the conclusions we took.
"I think there were other things that some drivers could have helped to avoid the accident. So a combination of some driver errors and the FIA maybe helping us out with the Safety Car. I think the combination of those two things will make the situation a lot better.
"And all that keeping in mind that Mugello is a very specific track, a very special restart, and that scenario normally wouldn't repeat itself for example at Sochi.
"So it was a very special case, a very special scenario, which I feel like we all could have done a better job. We all realise how dangerous the situation was and I'm sure everyone will try to make sure it doesn't repeat again."
Romain Grosjean, director of the Grand Prix Drivers' Association, was also caught up in the incident and voiced a fiery outburst over the team radio at the time.
He added: "I think we all work in the same direction. We are all in line with what happened and what we can do better.
"(FIA Race Director) Michael Masi, Ross Brawn, the drivers, I think we are all trying to find the best solutions that we improve safety, but we keep a good show going on as well."
Follow us on Twitter @Planet_F1 and like our Facebook page