Could 'fireworks' be coming to Mercedes if they are in the 2023 title hunt?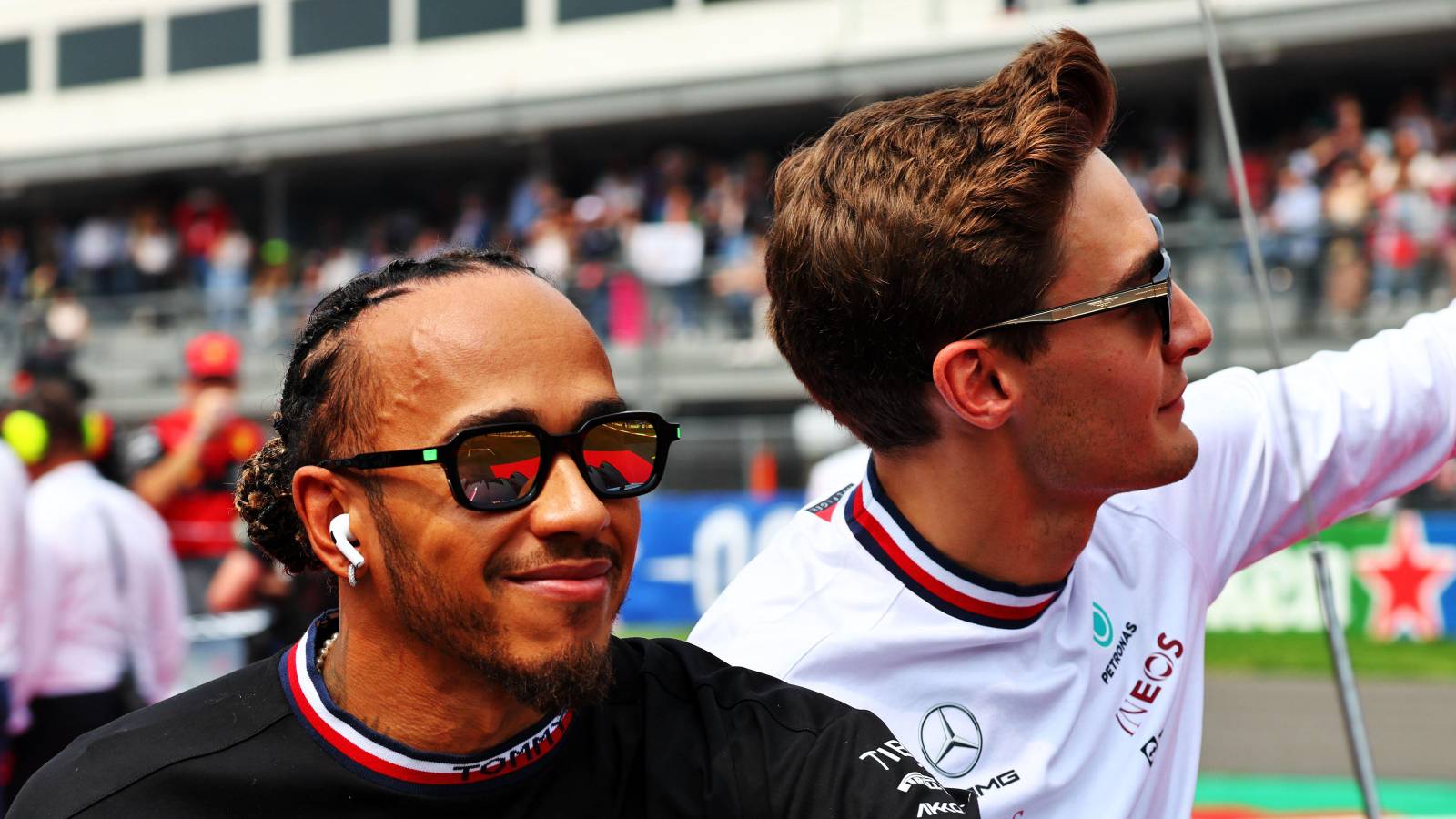 If Mercedes produce a front-running car in 2023, racing driver and Sky Sports presenter Naomi Schiff predicts this could bring "fireworks" between Lewis Hamilton and George Russell.
After a troubled start to 2022 which saw the W13 suffer arguably more than any other car from the effects of 'porpoising' – the 'bouncing' experienced through cars bottoming out under ground effect aerodynamics – Mercedes spent a large part of the year looking to erase the problem, while still having a slower package overall than Red Bull and Ferrari.
They still had the third-quickest car for much of the season however, with Hamilton and Russell largely working harmoniously together in their first year as team-mates at Mercedes.
Russell became only the third driver to outscore the seven-time World Champion in the same car over the course of the season too, with Hamilton going a full season without a win for the first time in his Formula 1 career.
The younger Briton also took his first pole position and victory in Hungary and Brazil respectively, but the two drivers still finished a significant distance behind runaway title winner Max Verstappen in 2022.
But if Mercedes are able to regroup and continue their late-season progress into producing a race-winning car in 2023, Schiff thinks this could be a recipe for some entertaining in-team action between the two next year.
"Mercedes are in a very fortunate position because they have two extremely talented drivers in their team," she said to Sky Sports at the launch of the new F1 Arcade in London.
"I think George did a great job this year to outscore Lewis, but I think there's been a lot behind that besides just pure on-track results.
"I think Lewis at the beginning of the season took a bit of the brunt of the struggles that they had and the changes they needed to make to the car.
"But having said that, they've both done a great job and I think we'll have a tough battle on our hands.
"If that car is in the place they expect it to be, I think it's going to be fireworks. We're going to see a great show."
Mercedes ready to fight back after 2022 dip in form
Mercedes strategy director James Vowles explained that the team's troubles this season have only made them bond more as a unit away from the circuit, which has united them in their push to get back to the front again.
With eight Constructors' titles in a row suddenly becoming a 244-point deficit to Red Bull to have to make up, he knows there is a lot of work to be done for the Silver Arrows to get back to the top of Formula 1 next year – even if that success is not immediate.
But with that, Vowles added he thinks the driver pairing at Mercedes is the best the sport has to offer.
"This team had to pull closer together than ever before. It's very easy in these circumstances, in these difficult times to pull apart and we didn't," he said in the team's post-Abu Dhabi debrief.
"The drivers pulled together, and I am confident we have the best driver line up on the grid. We have two incredible drivers pushing each other but working as a team to make the car better.
"We have a team both in Brixworth and in Brackley and at the track as well all working together with just one goal in mind and that is not to win anymore necessarily, it is to make sure that we understand the package we have so that we are back to our winning ways next year."
Read more: Daniel Ricciardo on the awkwardness of Oscar Piastri taking his McLaren seat